Bramhall Family Crest, Coat of Arms and Name History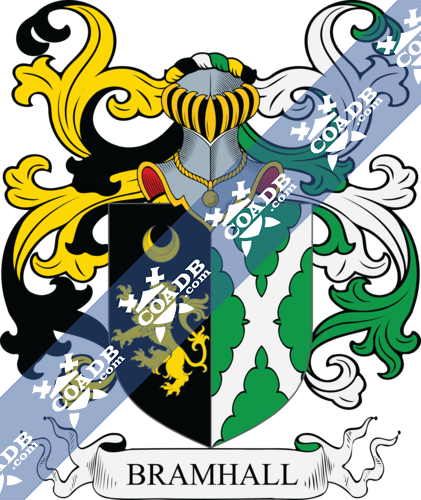 Bramhall Coat of Arms Gallery
Don't know which Coat of Arms is yours?
We can do a genealogical research. Find out the exact history of your family!
Learn More
Spelling variations include Bramall, Brammall, Brammald, Broomhall, and Broomal. It is a locational name meaning "of Bramhall", previously known as
Bromale, which is a township in the parish of Stockport. The d in Brammald is excrescent. One source asserts the name is best represented in the Sheffield district. One author claims a Bramhall is a place where goods are sold and that it originates from the Danish word bram, meaning goods for sale. Another source believes it derives from the Old English words brom healh, which means broom-covered hollow.
Early notables include Mathew de Bromale, co. Cheshire circa 1150, Hugh Bramhall of Hatherton in 1595, Hugh Bramall of Nether Peover in county Cheshire in 1653, Richard Bromall of Bitch in 1639 Margaret Broomhall of Little Peover in 1633, and Philip Broomhall of Knutsford in 1632. John Bramhall was the mayor of the city of Pontefract in 1602. There was also a mayor of Litchfeild, Staffordshire in 1781 with this surname as well.
The motto for this surname is Persta et praesta, which means "Stand fast and step ahead".
Blazons & Genealogy Notes
1) (granted by Segar. Norroy, to John Bramhall, Alderman of Pontefract, co. York, 1602). (granted by Segar, Garter, 1628, to John Bramhall, of Ripon, co. York, eldest son of Petes Bramhall, and grandson of John Bramhall, of Pontefract in the same co., descended from the ancient family of Bramhall, of Bramhall, co. Chester). Motto—Sanguine Christe tuo. (Rev. John Bramhall, Vicar of Terrington St John, and Rural Dean of Lynn, Marshland). Motto—Persta et proesta. Sa. a lion ramp. or. Crest—A lion pass. or.
2) (Cheshire and London; confirmed 21 Nov. 1628). Same Arms. Crest—A lion pass. or, on the shoulder a crescent upon a crescent for diff.
3) (Archbishop Bramhall, native of Pontefract). Same Arms. A crescent for diff., impaling Hawlet, vert a saltire engr. ar.