Brandon Family Crest, Coat of Arms and Name History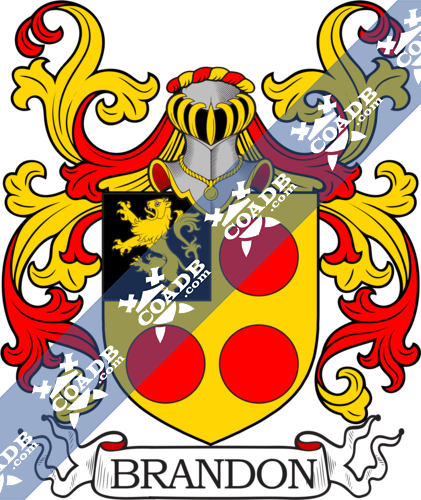 Brandon Coat of Arms Gallery
Don't know which Coat of Arms is yours?
We can do a genealogical research. Find out the exact history of your family!
Learn More
Brandon Origin:
England, Ireland, Germany
Origins of Name:
The Brandon surname derives from a variety of possible sources. First, the surname is of geographical origin after locations bearing the name Brandon in places such as Northumberland, Durham, Norfolk, Suffolk, and Warwickshire. The placenames are a combination of the Old English words "brom" meaning broom, and "dun" meaning hill. The surname Brandon could possibly be of Old French origin as a surname derived from ancestors named "Brand". Brand itself could derive from a German first name "Brando" which was used as a shorter version of various name combinations, for example "brand" meaning sword was an occupational name for a sword blacksmith. The surname was then passed down as "son of Brand" or "son of a sword blacksmith".
Variations:
More common variations are: Brandoni, Barandon, Brandone, Brandona, Brandton, Brandoin, Brandonn, Broandon, Brandaon
History:
England:
The first appearance of a geographical place was "Brandon" in Lincolnshire which dates as far back as 1060. "Brandum" as a geographical name appeared in 1086 in Norfolk in the Domesday Book. The Domesday Book also recorded "Brandune" in Warwickshire and other various spellings including Brandona, Suffolk, and Brandun, Norfolk.
The first known recorded spelling of the name is Leofric de Brandune in 975 in Norfolk in the Pipe Rolls.
Charles Brandon famously left for France to marry Princess Mary, Henry VIII sister, in Paris. Gerard Brandon was recorded as being christened in 1717 in Crevic, Meurthe-et-Moselle, France.
The surname Brandon is the 4584th most common name in Great Britain. The highest concentrations are in Essex.
Ireland:
Brandon is the anglicized form of the Gaelic Mac Breandain, meaning "son of Breandan". The surname was notably in County Kerry. The Mac Breandain line was a branch of Fitzmaurice. Brendon is a variant.
In County Ulster, the surname Brandon was introduced by Scottish and English settlers in the 17th century.
Scotland:
Helen Brandon in 1683 was recorded in Forfar, which could have derived from Northumberland's Brandon line.
The Brandon line also appeared in Scotland in the 17th century in Angus. John Brandon would emigrate from Scotland to Boston in 1716.
United States:
The first arrival of the surname Brandon in the United States was Martin Brandon in 1626 who arrived in Virginia. William Brandon in 1630 settled in Connecticut, and WM Brandon in 1653 arrived in Virginia. In 1653, Hugh Brandon came to the New World and later settled in Barbados with his wife and all of his servants. Many Brandons wold arrive in the 18th century. John Brandon in 1715 went to Boston, Massachusetts. In 1716, another Brandon of the same name, John, would also settle in Massachusetts. The 19th century saw many of the Brandon line arrive and settle in Maryland. In 1804, Jane Brandon, Thomas Brandon, Mary Brandon, Gerard Brandon, and Henry Brandon all would settle in Baltimore, Maryland.
Brandon is the 1127th most popular surname in the United States.
Canada
The ship Billow would sail for Canada, and Thomas Brandon, a worker, would arrive in Saint John, New Brunswick in 1833. He was one of the few Brandons that would arrive in the 19th century in Canada.
Here is the population distribution of the last name Brandon:
29,000 in the United States, 3,000 in England , 1,000 in Canada, 1,000 in South Africa, 1,000 in Australia
Notable People:
David Brandon (1813-1897) Scottish architect who had worked mainly with Gothic style architecture. He was partnered with Thomas Whyatt and worked at a number or English country houses and churches.
Alfred Brandon (1854-1938), Mayor of Wellington, New Zealand. He became a lawyer, and later mayor of Wellington. His son would later become a famous aviator.
Gerard Brandon (1788-1850), Governor of Mississippi. He served twice as Governor when it was in its infancy as a state. He was a war hero, and attended Princeton. He would go on to have 8 children.
Henry Brandon (1516), nephew of Henry VIII. His grandparents on his mother's side were Henry VII of England and Queen consort Elizabeth of York. Although he had a claim to the throne, he died at the age of 10.
Richard Brandon (17th century), English hangman. He was famous for being the executioner of King Charles I. A famous song in the gallows in the 15th century was "I had better to have lived in beggary, than to have fallen in the hands of Gregory".
William W. Brandon (1868-1934), Governor of Alabama. He was the 37th governor of Alabama from 1923 to 1927. He grew up in Tuscaloosa as the son of a minister.
Blazons & Genealogy Notes
1) Ar. two bars gu. a lion ramp. double queued or, pellettee. Crest—A lion's head erased ar. charged with two bars gu. on each three bezants.
2) (London). Or, four palets gu. on a canton sa. a lion ramp. of the field.
3) (Suffolk). Sa. two lions' gambs per saltire betw. as many lions' heads all erased ar.
4) (Suffolk). (Duke of Suffolk. Charles Brandon, K.G., was so created 1514, m. the Princess Mary, dau. of Henry VII., extinct 1551). Barry of ten ar. and gu. a lion ramp. or, ducally crowned per pale of the first and second. Crest—A lion's head erased or, guttee sa. ducally crowned per fesse ar. and gu.
5) Ar. four bars gu. a lion ramp. or, ducally crowned per pale of the second and third.
6) Barry of twelve ar. and gu. a lion ramp. ar.
7) (Elizabeth, dau. of Sir Robert Wynfyld, or Wingfield, to. Sir William Brandon, Knt., living temp. Henry VI. Sidney Ped. by Cooke, Clarenceux). Barry of ten ar. and gu. a lion ramp. or, ducally crowned per pale of the second and first.
8) Gu. two lions' paws erased in saltire or.
9) Sa. five fusils in bend or.