Brandt Family Crest, Coat of Arms and Name History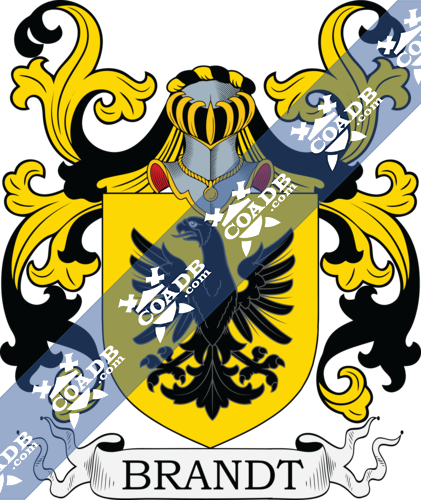 Brandt Coat of Arms Gallery
Don't know which Coat of Arms is yours?
We can do a genealogical research. Find out the exact history of your family!
Learn More
Surname Name Meaning, Origin, and Etymology
The German last name Brandt has two basic origin theories. First, it is a topographic name for a person who lived in an area that had been cleared by fire, deriving from the Middle High German word brant, from the brennen, meaning to burn.
Second, it is a baptismal surname mean "the son of Brand". The name derives from the Germanic masculine personal (first) name Brando, a reduced form of longer given names such as Hildebrandt, Sibrand, Gerbrand, Wolbrand, Albrand, and Herbrand, deriving from the word brand (firebrand or sword) or brinnan, meaning to flash. Hildebrand was a legendary chief vassal of the Germanic/Gothic King Dietrich von Bern, Theoderich of Verona, who was king of the Ostrogoths, regent of Visigoths, and ruler of Italy. One source asserts that Bavaria is the home of the Brandt family, as well as Saxony. Another source asserts this surname name is frequent in Hamburg.
Because several places in England bear this name (ex. Brandeston in Suffolk and Branston in Leicestershire), it is believe the name existed prior to the Norman Conquest of 1066 AD, and was brought into the country by Noresmen/Vikings (the Old Norse name was Brand or Brandr) who raided the coast and settled their in medieval times. The name was Anglicized to Brand or Brant. Brand ranks 1,647th in the United States and 1,092nd in England. Brant ranks 3,369th in the United States and 3,176th in England.
Mark Antony Lower writes the following in regard to this surname in his book Patronymica Britannica: "Ole Norse, brandr, a sword, whence the Old English brand, with the same meaning. As a personal name it occurs in the genealogy of the Northumbrian kings from Woden. It was a very common old Scandinavian name, and it is still used in Iceland…The name of the weapon taken from King Bucar by the Cid was Tizona, or the fire-brand. And he adds that "many swords were flamboyant; hence the word brand".
William Arthur's book An Etymological Dictionary of Family and Christian Names states the following in regard to this surname "In all the Teutonic dialects brand signifies to burn; also a sword, either from its brandishing, or from its glittering brightness. Brant, a hill; steep, high; Welsh, Bryn".
Spelling Variations
Common spelling variants or names with similar etymologies include Brandt, Braund, Braun, Brauns, Bront, Brande, Brandde, Brandte, Braend, Braendt, Brandis, Brendt, Brent, Brend, Brende, and several others. In Lower German, it is Brendeke and in South German it is Brandle and Brandel.
Popularity & Geographic Distribution
The last name Brandt ranks 885th in popularity in terms in the United Status as of the 2000 Census. The name ranks particularly high in the following six states: North Dakota, Minnesota, Wisconsin, Iowa, Nebraska, and South Dakota. In Canada, the surname ranks 1,939th in popularity. In Germany, the Brandt surname ranks 78th, it ranks 61st in Denmark, 151st in Sweden, 1,026th in Austria, 675th in Switzerland, 406th in Norway, and 922nd in Luxembourg. The surname Brandt frequency/commonness ranks as follows in the British Isles: England (6,817st), Scotland (9,780th), Wales (unknown), Ireland (6,284th) and Northern Ireland (8,430th).
Early Bearers of the Surname
The earliest known bearer of this surname was William Brant, who was recorded in the Domesday Book of 1086 AD, which was a survey or England and Wales ordered by William the Conqueror. Ralph Brand was recorded in the Pipe Rolls of London in 1184 AD. Hamo Braund was recorded in the Curia Regis Rolls of Bedfordshire in 1219 AD. Early bearers of this personal name include Hildebrand of Bremen, Hamburg in 1257 and a Brand, a shopkeeper in Stettin.
History, Genealogy, and Ancestry
A one Johan Pedersen Brandt was born in Aalborg, Denmark in 1595 AD and he married Mette Marie Christendatter with whom he had a son named Maren Johansdatter and had daughter with her named Maren Johansdatter Brandt or Budtz.
Johann Heinrich Brand was born in Langern, Niedersachsen who was born in 1746 who married Maria Dortheo Wichmann in Westfalen, Prussia in 1774 and he had the following issue with her: Johann Heinrich Christian Brandt, Johann Friedrich Wilehlm Brandt, and Catharine Sophia Dorothea Brand.
A one Jochen Brandt was born between 1582 and 1642 and he had a son named Georg Jurgen Brandt who was born in Holstein, Germany in 1647. He had the following issue: Joachim, Carl, Jonas, Dorothea Catharina, Georg, Anna Margaretha, and Sven Emanuel Brandt.
Gerard Brandt was born in Amsterdam, Netherlands in 1625. He married Susanna van Baerle and he had issue with her: Gerard, Cornelia, Anna, Caspar, and Joannes.
Frederick John Brandt was born in Germany in 1859. He married twice: Caroline and Friedike Elisabeth Johanna Lankow. He had the following issue prior to his death in 1945 in Yatesboro, Pennsylvania: Margaret Hanna, Frederich Johann, Lewis, William, Harry, and Peter.
Early American and New World Settlers
The book Genealogical Guide to the Early Settlers, mentions one person bearing this surname: Christian A. Brandt, a Hessian, born in Germany who came to America with the British Army during the Revolutionary War, and ended up staying. He had a son named Benjamin who joined a community of Shakers. He died in New Lebanon, Pennsylvania in 1851. Other settlers in colonial America bearing this surname include Randolph, Judith and Mary Brandt (Maryland 1674), Albertus Brandt (Pennsylvania 1691), Michael Brandt (Philadelphia 1732), Samuel Brandt (Philadelphia 1739), and Joost Brandt (Pennsylvania 1739). In Canada, one of the first documented bearers was Friedrich Brandt who arrived in Quebec in 1850.
Early Americans Bearing the Brandt Family Crest
I researched the following three resources and did not find any coats of arms for Brandt: Bolton's American Armory, Matthew's American Armoury and Bluebook, and Crozier's General Armory.
Mottoes
I have been unable to identify a Brandt family motto.
Grantees
We have 19 coats of arms for the Brandt surname depicted here. These 19 blazons are from Armorial General published in 1861 by the famous genealogist/heraldist Johannes Baptisa Rietstap. The bottom of this page contains the blazons (in French and English), and in many instances contains some historical, geographical, and genealogical about where coat of arms was found and who bore it.
Notables
There are hundreds of notable people with the Brandt surname. This page will mention a handful. Famous people with this last name include: 1) Richard Booker Brandt (1910-1997) who was an American philosopher who worked in the utilitarian and moral philosophy who received a PhD from Yale and became Chair of the Philosophy Department at the University of Michigan, 2) Rudolf Hermann Brandt (1909-1948) who was a German SS officer who was convicted of war crimes and was executed in 1948, 3) Gerard Brandt (1626-1685) who was a Dutch preacher, poet, and playwright, 4) Georg Brandy (1694-1768) who was a Swedish chemist and mineralogist who discovered cobalt, 5) Betsy Ann Brandt (1973) who is an American actress from Bay City, MI who is best known for her role in the hit TV show Breaking Bad, 6) Francis Frederick Brandt (1819-1874) who was an English barrister and author from Cheshire, 7) Heinrich Brandt (1886-1954) who was a German mathematician who was the first person to develop the concept of groupoid, and 8) Helen Brandt (1926-2013) who was a sculptor from Philadelphia who worked in New York.
Blazons & Genealogy Notes
1) ou Brand. Saxe, Bohême, Danemark – D'or au brandon de sable en barre allumé au bout supérieur et aux flancs Cimier le brandon mis en pal. English: Or a firebrand sable in bend sinister tinged with red at the upper tip and sides Crest: the firebrand in pale.
2) Prusse – D'azur à deux brandons au naturel en fasces l'un sur l'autre celui en chef jetant trois flammes de gueules Cimier trois flammes de gueules. English: Azure two firebrands proper fesswise in pale that in the chief throwing three flames gules Crest: three flames gules.
3) Prusse – (An., 23 avril 1819) – Écartelé aux 1 et 4 de gueules à deux foudres d'or aux 2 et 3 d'azur à trois baïonnettes contournées d'argent Cimier trois plumes d'autruche d'argent. English: Quarterly 1st & 4th gules two thuderbolts or 2nd & 3rd azure three bayonets reversed argent Crest: three ostrich feathers argent.
4) P. de Liège – D'argent à un arbre écoté de sinople terrassé du même acc de trois étoiles de gueules posées l'une au flanc dextre l'autre au canton senestre du chef et la troisième au canton senestre de la pointe. English: Argent a tree lopped vert on a mount of the same surrounded by three etoiles gules placed 1 to the dexter flank, the other to sinister canton of the chief and the third to the sinister canton of the base.
5) Poméranie, Livonie, Esthonie – D'argent à une tête et col de cerf au naturel Casque couronné Cimier une ramure de cerf au naturel Lambrequin d'argent et de gueules. English: Argent the head and shoulders of a stag proper Crowned with a helmet Crest: the antlers of a stag proper Mantling: argent and gules.
6) Suède – (An., 1646. M. ét.) – D'argent au chevron de sable côtoyé en chef de deux glands d'or tigés et feuillés de sinople la tige en bas et acc en pointe d'une feuille de chêne d'or en pal mouv d'un petit chicot au naturel en fasce l'écu bordé d'or Bourlet de sable et d'or Cimier un chicot au naturel en pal allumé au sommet entre deux proboscides coupées alternativement de sable et d'or Lambrequin d'or d'argent et de sable. English: Argent a chevron sable surrounded by in chief two acorns or stemmed and leaved vert the stem downwards and in base an oak leaf or in pale coming from a small tree-stump proper in fess the shield with a bordure or Crowned with a helmet, wreated sable and or Crest: a tree-stump proper in pale tinged with red at the top between two proboscides coloured alternately sable and or Mantling: or, argent and sable.
7) Twello (Gueldre) – D'or au griffon de gueules. English: Or a griffin gules.
8) Souabe – De gueules à un tronc écoté de sable posé en barre Casque couronné Cimier un rang de palissades trois d'argent et quatre de sable encerclés d'argent. English: Gules a tree-trunk lopped sable in bend sinister Crowned with a helmet Crest: a row of palisades [fence boards] three argent and four sable encircled [held together by a band] argent.
9) Souabe – Écartelé aux 1 et 4 d'argent à deux brandons de sable allumés au naturel passés en sautoir aux 2 et 3 d'azur à un membre d'aigle d'or mouv du flanc senestre Deux casques couronnés Cimiers 1° un vol contourné aux armes du 1 2° au griffon issant d'or sans ailes. English: Quarterly 1st & 4th argent two firebrands sable alight proper in saltire 2nd & 3rd azure an eagle's leg or coming from the sinister flank Crowned with two helmets Crest: 1st a pair of wings one wing in front of the other, with the back to the sinister [still trying to find a picture of this…] with the arms of the first, 2nd a griffin issuant or without wings.
10) Barons de Blaesvelt – Brabant – (Barons, 1 avril 1647. M. ét. le 16 mai 1850) – D'or à trois brandons de sable allumés au naturel posés en pals sur un tertre de sinople Cimier les meubles de l'écu (Comp Brand de Bühl). English: Or three firebrands sable alight proper in pale on a hillock vert Crest: the charges of the shield.
11) Comtes de Marconne – Artois – (An., 7 fév. 1587), de Galametz – Artois – D'azur à trois flammes d'or ombrées de gueules Cimier un chien assis d'argent. English: Azure three flames or shadowed [outlined] gules Crest: a dog sitting argent.
12) (Barons) – Bade – D'or à trois brandons de sable en pals allumés de gueules en haut et en trois endroits sur le flanc dextre posés sur un tertre de trois coupeaux de sinople Casque couronné Cimier les meubles de l'écu. English: Or three firebrands sable in pale alight gules at the top and three places on the dexter flank of a hillock of three peaks vert [I think this means on the dexter flank of each hillock, but I'm not certain] Crowned with a helmet Crest: the charges of the shield
13) Alkmaar – (vers 1670) – D'or à l'aigle éployée de sable. English: Or an eagle displated sable.
14) Flandre – Écartelé aux 1 et 4 de sable au lion d'or armé et lampassé de gueules aux 2 et 3 d'azur semé de fleurs-de-lis d'or ou d'argent Sur le tout d'or (ou d'argent) au lion de gueules. English: Quarterly 1st & 4th sable a lion or armed and langued gules 2nd & 3rd azure semy-de-lys or [alternatively argent] over the or [or the argent] a lion gules.
15) Hollande – Parti au 1 d'azur à la demi-aigle d'or mouv du parti au 2 de gueules au croissant figuré et contourné d'argent. English: Per pale 1st azure a demi-eagle or coming from the partition [issuant] 2 gules a crescent figured and reversed [facing to the sinister] argent.
16) Danemark – (An., 15 déc. 1679; comtes, 30 sept. 1771) – Écartelé aux 1 et 4 de sable à une salamandre d'argent aux 2 et 3 d'azur à un dauphin d'argent nageant dans une mer du même Sur le tout un écusson de gueules couronné d'or et ch d'une pomme de grenade d'argent Trois casques couronnés Cimiers 1° deux fourches de sable emmanchées d'or enfilées d'une couronne d'or 2° un sauvage issant de carnation ceint et couronné de lierre tenant une massue posée sur la couronne 3° une étoile d'or entre un vol d'argent Supports à dextre une aigle regardante de sable becquée et membrée d'or ch sur sa poitrine d'une étoile du même à senestre un lion regardant de gueules. English: quarterly 1st & 4th sable a salamander argent 2nd & 3rd azure a dolphin argent nageant in a sea of the same over the whole shield an escutcheon gules crowned or and charged with a pomegranite argent Crowned with three helmets Crest: 1st two pitchforks sable handles or ringed with crowns or [see http://www.blason-armoiries.org/heraldique/e/enfile.htm] 2nd a savage issuant carnation belted and crowned with ivy holding a club resting on the crown 3rd an etoile or between a pair of wings argent Supporters: to the dexter a eagle reguardant sable beaked and legged or charged on its stomach with an etoile of the same to the sinister a lion reguardant gules.
17) Danemark – (An., 7 fév. 1685. M. ét.) – Parti au 1 d'argent à deux fasces de gueules acc de trois grenades de guerre de sable allumées de gueules rangées en pal au 2 d'or au phénix de sable enveloppé de flammes au naturel Cimier un membre d'aigle d'or la griffe en haut entre deux proboscides d'argent. English: Per pale 1st argent two bars gules surrounded by three grenades [bombs] sable alight [flames at top] gules arranged in pale 2nd or a phoenix sable envelopped in flames proper Crest: an eagle's leg or the talons raised high between two proboscides argent.
18) (anciennement Brandt dit Flender) – Anhalt, Bavière – (Nob. du St.-Empire, 29 janv. 1778; barons: en Nassau, 3 mai 1862; en Anhalt, 19 août 1862; en Bav., 15 juillet 1861) – Parti au 1 d'azur à un tronc écoté d'or en pal le sommet enflammé au naturel au 2 d'argent à un crampon contourné de sable en pal croisé sur le milieu par une traverse du même Casque couronné Cimier le crampon du 2 entre deux troncs pareils à celui du 1 Lambrequin à dextre d'or et d'azur à senestre d'argent et de sable. English: Per pale 1st azure a tree trunk lopped or in pale the top enflamed proper 2nd argent a cramp [scaling hook] facing to the sinister sable in pale with a cross-piece in the middle of the same Crowned with a helmet Crest: the cramp of the 2nd between two tree trunks similar to those of the 1st Mantling: to the dexter or and azure to the sinister argent and sable.
19) de Brandt – Alost – De sable à six flammes d'or 3 2 et 1. English: Sable six flames or 3, 2 and 1.
=