Brickman Family Crest, Coat of Arms and Name History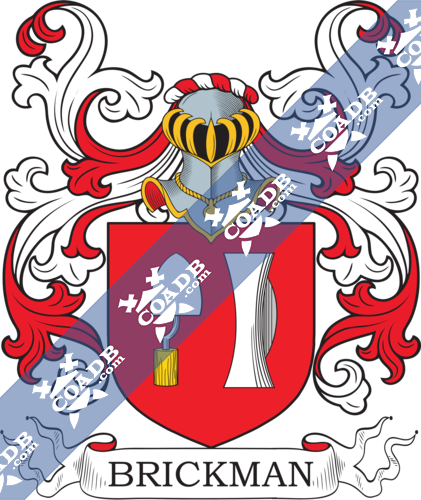 Brickman Coat of Arms Gallery
Don't know which Coat of Arms is yours?
We can do a genealogical research. Find out the exact history of your family!
Learn More
Brickman is an Anglo-Saxon name.  The name originally given to a dweller by or "keeper of the bridge" in various parts of England.  One relatively recent invention that did much to standardize English spelling was the printing press.  However, before its invention even the most educated people recorded their names according to sound rather than spelling.  The spelling variations of which the name Brickman has appeared include Bridgeman, Bridgman and others. More common variations are: Brickmann, Barickman, Brickeman, Brikman, Bricman, Brckman, Barrickman, Berrickman, Brickemann, Brickmann.
The surname Brickman first found in Sussex where one of the first records of the name was John Brygeman who noted in the Subsidy Rolls of that division in 1296.  The next reference of the name was John Bregman who noted in 1310 in Essex.  A few years later, John Bruggemon noted in the Premium Rolls of Warwickshire of 1332.  The same reference listed two versions of the following entry like William Breggeman and William atte Bregge.  In the Yorkshire Poll Tax records of 1379, we found Johannes Brigeman.
An examination of early immigration recordings and passenger ship lists revealed that people bearing the name Brickman arrived in North America very early like Jacob Bridgemen who settled in Virginia in 1654.  John Bridgeman settled in Virginia in 1663.  Walter Bridgeman arrived in Philadelphia in 1684.  Thomas Bridgman settled in Virginia in 1654.
Blazons & Genealogy Notes
1) Gu. a trowel ar. handle or, and a brick axe of the second.
2) Ar. three tubs gu.