Brockman Family Crest, Coat of Arms and Name History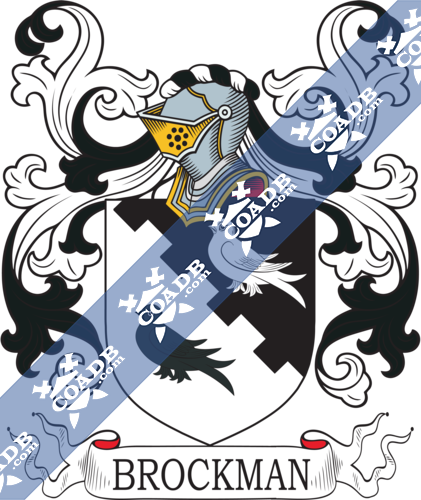 Brockman Coat of Arms Gallery
Don't know which Coat of Arms is yours?
We can do a genealogical research. Find out the exact history of your family!
Learn More
BROCKMAN
The English surname Brockman is a derivative of the old English word "broc" which translates to brook. It would have been used regarding someone who lived near a stream, as such it would be considered geographical. "Brock" is also a medieval name originating Brittonic or Welsh, for a Badger, with the latter addition of "Man" making the name as someone who hunts badgers. In the heraldic bestiary of fantastical creatures, Badgers are still referred to as a Brock. It is not uncommon then to see a Badger associated with this surname.
The variations in the spelling of the surname includes; Brockman; Brookmen; Brookman; and Brockmen among others. The variations in spelling of surnames, as well as many given names dating back to ancient times can be attributed to a lack of consistency regarding guidelines for spelling in use by the scribes who recorded such information, many of which were in the habit of spelling phonetically. The issue of multiple spellings of names in records was compounded by the diversity of languages in use in European countries at this time.
Until the Norman invasion and conquest, surnames were rarely if ever used. In the small settlements and villages which existed during earlier times in most of Britain, residents found little need for surnames as everyone in these communities knew each other and a given name would usually suffice. However, as communities grew and people began to migrate on a larger scale, along with the need of the government having a reliable way to track people for tax and census purposes, the Norman aristocracy's penchant for using surnames seemed the appropriate evolution to this problem. In most instances to distinguish themselves, one from another, those not of the noble class would often be identified by their given name plus their occupation while others may have been identified by their given name and one of their parent's names. There was a boundless supply from which surnames could be formed, in addition to the use of patriarchal/matriarchal names or reference to the individuals occupation, there were things such as defining physical traits, a familiar geographical location or a topographical landmark found near the individual's home or birthplace, the name of the village in which the person lived, and so much more. Over the course or time, surnames would come not just to represent an individual but whole families.
One of the earliest record of any variation of this surname is that of Eustace del Broc which appears in the Northampton tax rolls from 1130. The tax rolls, were a series of census and tax records kept by the English Treasury by order of King Henry I, with the oldest dating back to the 12th century. These documents are considered the oldest continuous set of records detailing English governance in the United Kingdom spanning a period of over seven centuries, they have proven invaluable to researches over the years.
The use of surnames also made the tracking of immigrants easier when people began migrating to America and the British Commonwealth countries of Canada, Australia. And New Zealand. Some of
the first recorded immigrants to the United States with this surname were Henry Brockmon who arrived in 1674 and settled in Maryland. James Brockmon landed in 1740 and settled in Maryland and John Brockmon landed in 1749 and settled in Maryland.
Worldwide, the highest concentration of people with the surname Brockmon are found in the United States, Australia, Canada, the United Kingdom, and the Netherlands. By state, the largest percentile of those with the surname Brockmon live in Kentucky, Nebraska, Iowa, Missouri, and Michigan.
There are many persons of note who bear the surname such as British born military leader and landowner, Sir William Brockman. He attended Oxford University, was the High Sheriff of Kent, was Knighted by King Charles I, and served in the Royal Army during the English Civil War.
American born United States Naval officer, Rear Admiral William Herman Brockmon, Jr., served in the military during World War II. He specialized in submarines, serving as Commanding Officer of the Nautilus during the Battle of Midway. For his part in this military campaign he was awarded the Navy Cross with two gold stars and the Presidential Unit Citation.
American born fashion designer, author, and professor, Helen Brockmon, was a professor at New York's Fashion Institute of Technology and Kansas State University in the College of Human
Ecology's Department of Clothing and Textiles. Brockmon's, The Theory Of Fashion Design, was integral in making a name for herself in the fashion industry.
To receive a complete surname meaning report by PDF you can order our SURNAME MEANING PACKAGE for $129.   This report is great to share with family and friends.  It includes everything you see above plus any other information we can find on the specified surname.  It does take approximately 10 to 15 days for us to complete this custom report.
To receive a direct lineage & coat of arms search for your specific line(s) you can order one of our GENEALOGY PACKAGES ranging in price from $249 to $999.   All research is completed by a professional genealogist with over 30 years' experience.  All reports and coat of arms files are sent by email in PDF and JPG format.
Blazons & Genealogy Notes
1) (Beachborough, co. Kent., granted 1606). Or, a cross formee fitchee sa. on a chief of the second three fleurs-de-lis of the first. Crest—On a sword erect ar. hilt and pomel or, a stag's head cabossed ppr. attired of the second; the blade through the head, and bloody at the point.
2) (Kent). Per bend embattled ar. and sa. two martlets counterchanged.
3) Per fesse indented or and az. three martlets counterchanged.