Brunton Family Crest, Coat of Arms and Name History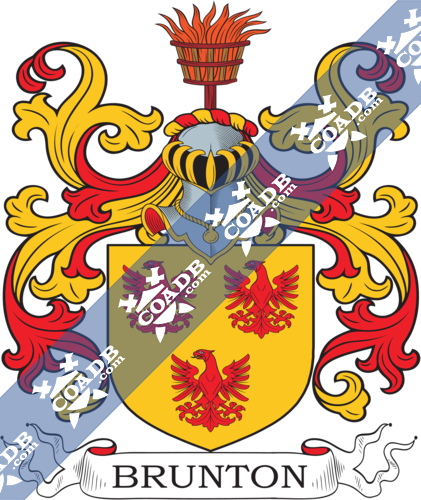 Brunton Coat of Arms Gallery
Don't know which Coat of Arms is yours?
We can do a genealogical research. Find out the exact history of your family!
Learn More
Brunton Origin:
England, Scotland
Origins of Brunton:
This name is of Northern English or Scottish geographical origin from either of two places in Northumberland called Brunton, or from the hamlet of Brunton in the church Criech, Fife. The older two, is listed as "Burneton" and "Brunton" in the Feets of Fines for Northumberland, dated 1242 – 1296, and are so called from the Olde English pre 7th Century "burna" which means a lake, water source or stream, and "tun," an area. So, the whole meanings of the name are "an area by a stream." The Scottish place name shares a similar meaning and derivation. The surname first shows on a list in England towards the end of the 13th Century. One Walter of Burntoun held part of Luffness, Scotland, in the period of Robert 111 (1390 – 1406), and a John Brountoun was the resident of Aliebank, Selkirkshire in 1558. Interesting name ancestors were William Brunton (1771 – 1851), engineer and inventor, employed in Boulton and Watt's, Soho, 1796 – 1818, and manufacturer of the first marine steam engine. George Brunton (1799 – 1836), Scottish advocate and a miscellaneous author was born in Edinburgh.
Variations:
More common variations are: Braunton, Bruneton, Bruinton, Bruenton, Bruniton, Bruntton, Brounton, Brunetton, Brauniton, Brenton.
England:
The very first recording spelling of the family was shown to be that of Adam de Brunton, dated about 1292, in the "Hundred Rolls of Shropshire." It was during the time of King Edward 1st, who was known to be the "The Hammer of the Scots," dated 1272-1307. The origin of surnames during this period became a necessity with the introduction of personal taxation. It came to be known as Poll Tax in England. Surnames all over the country began to develop, with unique and shocking spelling varietions of the original one.
United States of America:
Individuals with the surname Brunton landed in the United States in two different centuries respectively in the 18th, and 19th. Some of the people with the name Brunton who arrived in the United States in the 17th century included Grozel Brunton, who came to Salem, Massachusetts in 1745. Grizel Brunton, who landed in Salem, Massachusetts in 1775 and Archibald Brunton, who arrived in Mississippi in 1799.
The following century saw much more Brunton surnames arrive. Some of the people with the surname Brunton who arrived in the United States in the 19th century included James Brunton who settled in Philadelphia in 1840.
New-Zealand:
Some of the population with the surname Brunton who arrived in New Zealand in the 19th century included James Brunton at the age of 20, who was a farmer, arrived in Bluff. New Zealand aboard the ship "Christian McAusland" in 1875.
Here is the population distribution of the last name Brunton: United Stats 2,792; England 2,592; Canada 1,011; New Zealand 947; Australia 921; Scotland 847; South Africa 256; Germany 168; Ireland 153; Wales 135.
Notable People:
Alan Brunton (1946–2002), was a New Zealand poet.
Barbara Brunton, born Barbara Joan Brunton Gibb, (1927–2014), was an Australian stage and radio actress.
Colin Brunton (born 1955), is a Canadian film producer.
Dorothy Brunton (1890–1977), was an Australian musician and actress.
Gordon Brunton (born 1921), is an English businessperson.
Guy Brunton (1878–1948), was an English archaeologist and Egyptologist.
James Brunton was a Canadian justice.
Joseph Brunton (1902–1988), was an American Boy Scout leader.
Lauder Brunton (1844–1916), was a Scottish specialist and first of the Brunton baronets.
Martin Brunton (born 1983), is an English Pool Player. He was born in the year 1983.
Mary Brunton (1778–1818), was a Scottish novel writer.
Matt Brunton (1878–1962), was an English soccer player.
Neil Brunton (born 1969), is an Australian rules football player.
Paul Brunton (1898–1981), was a British scholar and professor.
Richard Henry Brunton (1841–1901), was a Scottish lighthouse builder active in Japan.
Robbie Brunton (born 1973), is an Irish soccer player. He was born in the year 1973.
Ron Brunton was an Australian anthropologist.
Samuel Brunton (born 1990), is a Cook Islands rugby league player. He was born in the year 1990.
Violet Brunton (1878–1951), was an English artist.
Blazons & Genealogy Notes
1) Motto—Fax mentis incendium gloriae. Or, three eagles displ. gu. Crest—A beacon with flames of fire ppr.
2) Motto, over the Crest—Lux et salus. Or, a garb betw. three eagles displ. gu. Crest—A beacon with flames of fire ppr