Brussell Family Crest, Coat of Arms and Name History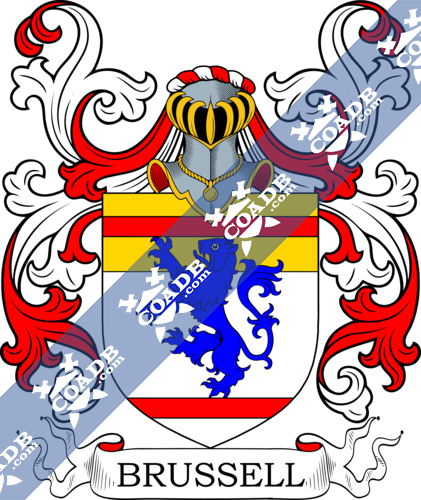 Brussell Coat of Arms Gallery
Don't know which Coat of Arms is yours?
We can do a genealogical research. Find out the exact history of your family!
Learn More
Listed as Brusle, Brussell, Brusshill, Brushell, Bruzell, Brussels and probably others, however, spelt this is a rare surname.  In some examples, it may be from the city of Brussels in Belgium, but in general, in so far as one can generalise, we suspect the origin is early French.  If so it may be a little and sometimes a patronymic of the famous surname Bruce, to mean Little Bruce or son of Bruce.  The surname Bruce first introduced into the British Islands at the time of the Norman Invasion of England in 1066, with that of Robert de Bruis. As noted in Domesday Book in 1086, he gave lands in Yorkshire, and it was from this family that the later Robert, The Bruce, King of Scotland in 1306, descended.  Spellings of this surname over the centuries included examples such as Richard le Breuys in the Premium Tax Rolls of Worcester in 1275, and it may be from spellings such as this, that the later forms including this surname, gradually developed.  The French spelling of the surname as applied to an earlier inhabitant of Brussels is Bruxelles, while the dictionary of French surnames also includes Brusle, from bruler, meaning hot, as in a hot place, and that is certainly a possible origin of this surname.
More common variations are: Brusselle, Broussell, Burussell, Bruassell, Brusell, Brussel, Brssell, Brassell, Brissell, Bryssell. The surname Brussell first found in Wurtemberg, where the name Brusselle became noted for its many sections within the region where each house acquired a status and command which desired by the princes of the region.
Some of the first settlers of this family name or some of its variants were: Johan Nikel Brusel who, accompanied by his wife and four children, arrived in New York, New York in 1709.  And other settlers who travelled to and established themselves along the eastern coasts of the United States and Canada during the 18th and 19th centuries.
Blazons & Genealogy Notes
1) Ar. a lion ramp. az. a chief gu. Crest—A lion's head erased gu.
2) Ar. a chief or, over all a lion ramp. az. depressed by two cottises gu.