Buckminster Family Crest, Coat of Arms and Name History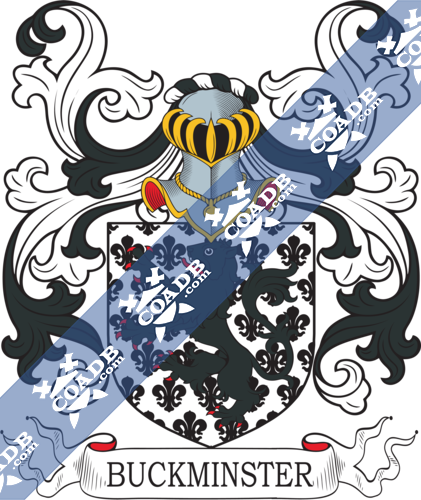 Buckminster Coat of Arms Gallery
Don't know which Coat of Arms is yours?
We can do a genealogical research. Find out the exact history of your family!
Learn More
Origins of Buckminster:
The ancestors of the Buckminster family produced their name to England in the wave of migration after the Norman Invasion of 1066. They resided in the settlement of Buckminster, Leicestershire.  The surnames acquired from residence at location.  The place name itself acquired from the Old English components, Bucca, which was a nickname for a person with a considered resemblance to a goat, and mynster, meaning monastery.  Before the last few hundred years, the English language had no fixed system of spelling rules.  For that reason, spelling variations occurred commonly in Anglo Norman surnames.  Over the years, many variations of the name Buckminster noted, including as Buckminster, Buckmaster, Buckmasters, Buckminsters, Buckmisters, Buckmuster and much more.
Variations:
More common variations are: Buckminister, Buckminester, Bukminster, Buckmenster, Buckmunster, Beckmenster, Begminster.
England:
The surname Buckminster first appeared in Leicestershire where they held a family seat as Lords of the Estate of Buckminster at the time of the Norman Invasion of England by Duke William of Normandy in 1066 AD in that shire.  Conjecturally they dropped from the 'son of Walter', a Norman noble, who held these lands from the Priest of Lincoln at the time of the taking of the Domesday Book survey in the year 1086 AD. The church in the village is said to be the site of baptismal of Anglo-Saxon converts.
United States of America:
Individuals with the surname Buckminster landed in the United States in three different centuries respectively in 17th, and 19th.    Some of the people with the name Buckminster who arrived in the United States in the 17th century included William Buckminster, who settled in Boston, Massachusetts in the year 1850. The following century saw more Buckminster surnames arrive.  Some of the people with the surname Buckminster who arrived in the United States in the 19th century included James Buckminster, who landed in New England in the year 1640.  Thomas Buckminster arrived in New England in the same year 1646.
Blazons & Genealogy Notes
1) (Peterborough; granted 24 March, 1578). Ar. semee of fleurs-de-lis, a lion ramp. sa.
2) (Leicestershire). Ar. a lion ramp. betw. eight billets sa.
3) (Northamptonshire). Ar. semee d'estoiles sa. a lion ramp. of the last. Crest—A demi lion double queued sa. holding a battle-axe or, headed ar.