Buckworth Family Crest, Coat of Arms and Name History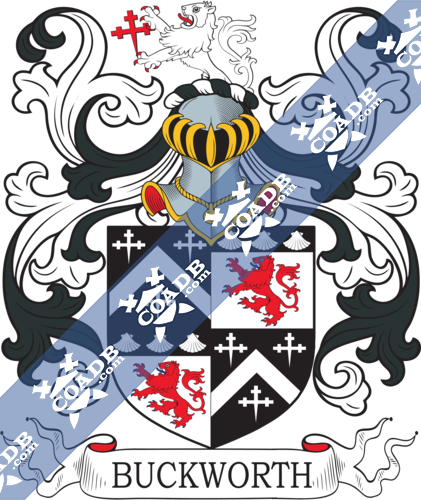 Buckworth Coat of Arms Gallery
Don't know which Coat of Arms is yours?
We can do a genealogical research. Find out the exact history of your family!
Learn More
Origins of Buckworth:
The name Buckworth is of Anglo-Saxon origin and acquired from when a family resided at Buckworth, in Huntingdonshire, a hamlet near Alconbury west of Huntingdon.  Alternatively, Buckworth was a hundred (a geographic division dating back to the Saxons) located in Surrey.  This reference dates back to the Domesday Book as Cherchefelle, but in 1199 became known as Reigate.  The Sound was what guided spelling in the essentially pre-literate Middle Ages, so one person's name was often noted under many variations during a single lifetime.  Also, before the advent of the printing press and the first dictionaries, the English language not regulated.  Therefore, spelling variations were common, even among the names of the most literate people.  Known variations of the Buckworth family name include Buckworth, Buckworthe and much more.
Variations:
More common variations are: Bukoworth, Buckwoorth, Beckworth, Bickworth, Backworth, Buckwarth, Bakworth, Buckroth, Beckwrth, Buckrath.
England:
The surname Buckworth first appeared in Huntingdonshire or probably Surrey, both dating back to circa Domesday Book.
United States of America:
Some of the people with the name Buckworth who arrived in the United States in the 17th century included John Buckworth who settled in Virginia in the year 1638. John Buckworth, who arrived in Virginia in the year 1638.  Thomas Buckworth who landed in Maryland in the year 1671.  Richard Buckworth settled in Barbados with his Wife and Servants in the year 1680.
Blazons & Genealogy Notes
1) (Cockley Cley Hall, co. Norfolk). Quarterly, 1st and 4th, sa. a chev. betw. three cross crosslets fitchee ar.; 2nd and 3rd, ar. a lion ramp. gu. on a chief sa. three escallop shells of the first. Crest—A demi lion ramp. ar. holding in dexter paw a cross crosslet fitchee gu.
2) (Sheen, near Richmond, co. Surrey, since of Broxbourne, co. Herts, bart.). Sa. a chev. betw. three crosses crosslet fitchee ar. Crest—A man's head full faced, armed with a helmet, the beaver open, all ppr.
3) (Fun. Ent. Ire.). Sa. a lion ramp. guard. per fess or and erm.
4) (London and Hertfordshire). Ar. two chev. betw. three bucks' heads cabossed sa.