Burd Family Crest, Coat of Arms and Name History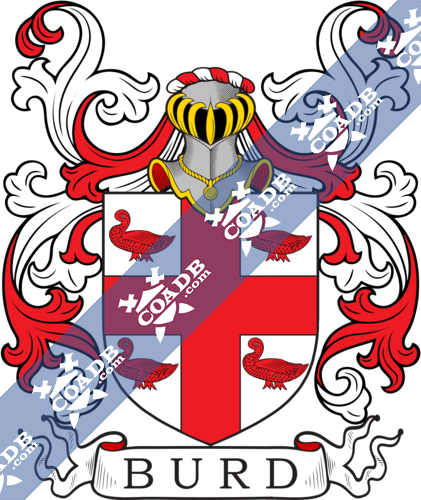 Burd Coat of Arms Gallery
Don't know which Coat of Arms is yours?
We can do a genealogical research. Find out the exact history of your family!
Learn More
Burd Origin:
England
Origins of Burd:
This name, with alternative spellings Byrd, Byrde and Bride, is of Anglo-Saxon origin, and acquires from the Olde English pre 7th Century "bridde" (Middle English "brid" or "bird"), meaning a bird, originally given as a nickname to one considered to bear a supposed similarity to a bird, i.e., bright eyed or active, or probably to one with a beautiful singing voice.  The surname first noted towards the end of the 12th Century, and other early records contain as Ralph le Brid(d), a witness in the 1235 Fine Court Rolls of Essex, and Richard Bird, a witness in the 1260 Assize Court Rolls of Cambridgeshire.  The variant spelling Bride, most closely matching the original Olde English "bridde", first noted as a surname in 1332, when John Bride noted in the Premium Rolls of Cumberland, and later in the Century, Johannes Bridde noted in the 1379 Poll Tax Returns of Yorkshire. Occasionally, Bird (and its variants) may have given as a metonymic professional name to a bird catcher, and as such was a shortened form of the name "Birdclever", noted in the 1427 "Calverley Charters of Yorkshire".  Henry Bird was an early settler in the New World, he noted as purchasing a ticket for the ship "Amity" sailing to London, in July 1679 from Barbados.  The Coat of Arms most related to the name is on a silver shield a red cross flory between four red martlets, a blue canton, the Crest being a red martlet.
Variations:
More common variations are: Burdy, Bourd, Burde, Burrd, Buird, Burda, Burud, Burdi, Burad, Burdo.
England:
The surname Burd first appeared in Cheshire at Broxton, a hamlet and civil church where they held a family seat from old times, long before the Norman Invasion in 1066.
The very first recording spelling of the family was shown to be that of Earnald Brid, dated 1193, in the "Pipe Rolls of Yorkshire". It was during the reign of King Richard 1, who was known as "Richard the Lionheart", dated 1189-1199.  Surname all over the country became a necessity with the introduction of personal taxation.  It came to be known as Poll Tax in England.  Surnames all over the country began to develop with unique and shocking spelling varieties of the original one.
Ireland:
Many of the people with surname Burd had moved to Ireland during the 17th century.
United States of America:
Individuals with the surname Burd landed in the United States in two different centuries respectively in the 17th, and 18th.  Some of the people with the name Burd who arrived in the United States in the 17th century included Symon Burd, aged 20, arrived in America in 1635.  Tho Burd, aged 16, arrived in Virginia in 1635.  Mary Burd, who arrived in Virginia in 1662.  Nath Burd, who landed in Virginia in 1662.  John Burd, who landed in Maryland in 1663.
The following century saw much more Burd surnames arrive.  Some of the people with the surname Burd who arrived in the United States in the 19th century included Edward Burd, who arrived in Virginia in 1714.  Margaret Burd, who landed in Virginia in 1724.
Here is the population distribution of the last name Burd:
United States 6,194; Brazil 620; Israel 542; England 452; Germany 403; Argentina 343; Canada 323; Russia 253; South Africa 219; Belarus 120.
Notable People:
Bashār ibn Burd (Arabic: 714–783), nicknamed al-Mura'ath, meaning "the wattled", was a poet of the late Umayyad and early Abbasid periods. Bashar was of Persian origin.  His grandfather taken as a captive to Iraq, but his father was a freedman (mawla) of the Uqayl tribe.  Some Arab scholars thought Bashar the first "modern" poet, and one of the pioneers of badi' in Arabic literature.  It believed that he used a great influence on the subsequent generation of poets.
Edward Burd (1749–1833), was an American Revolutionary War officer, agent and chief court clerk of the Pennsylvania Supreme Court.
George Burd (1793–1844), was a member of the U.S. House of Representatives from Pennsylvania.
James Burd (1726–1793), was a colonial American soldier in the French and Indian War and father of Edward Burd.
James M. Burd (born 1931), is an old member of the Pennsylvania House of Representatives.
Lettie Cowman, née Burd (1870-1960), was an American author and cofounder of the Oriental Missionary Society.
Steven Burd (born 1949), is the President and Chief Executive Officer of Safeway Inc
Blazons & Genealogy Notes
Notes: None. Blazon: Argent a cross between four martlets gules.