Burland Family Crest, Coat of Arms and Name History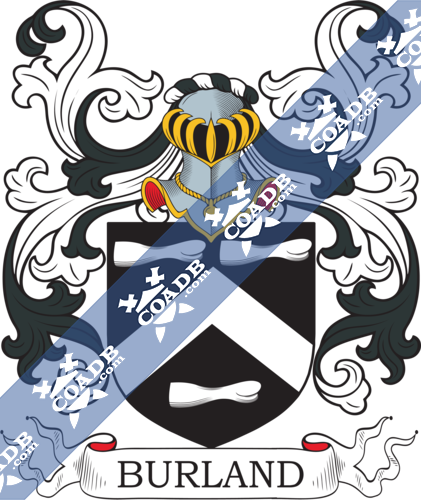 Burland Coat of Arms Gallery
Don't know which Coat of Arms is yours?
We can do a genealogical research. Find out the exact history of your family!
Learn More
Burland Origin:
England
Origins of Burland:
It is an English locational surname. It starts from the hamlet of Burland in the East Riding of Yorkshire, and was first noted in the famous Domesday Book of England in 1086. In this book, it appears as 'Birland,' a form which occasionally appeared as the surname spelling. The origin is from the pre 7th century Olde English 'burgh-landa', meaning literally 'the lands relating to the borough.' As to which 'burgh' or 'borough' pointed to by the place name is not clear. It may have been itself, but could even have been York, the district capital. The division of Cheshire also has a Burland hamlet of the similar meaning, but there are no surname records to appeared in Cheshire until the 18th century. It is much too late to have been a place of origination. The first record in that division considered having occurred when Elizabeth Burland married Joseph Royle at Knutsford, in January of that year. The name in Yorkshire much earlier and particularly well noted in the area known as 'The old kingdom of Elmet.' It is an area east of York. Records from this area include as Thomas Burland of Aberford in September 1542, William Burland of Monk Fryston in January 1612 and Alice Burland, who married Richard Kent at Barwick in Elmet, in December 1655.
Variations:
More common variations are: Bourland, Burlando, Burlandy, Burlandi, Burlyand, Burlland, Bureland, Buralanda, Burrland, Buorland.
England:
The surname Burland first appeared in Surrey, where they had given lands by King William after the Norman Invasion in 1066.
Ireland:
Many of the people with surname Burland had moved to Ireland during the 17th century.
United States of America:
Individuals with the surname Burland landed in the United States in two different centuries respectively in 17th and 19th. Some of the people with the name Burland who arrived in the United States in the 17th century included John, Burland In, who arrived in Virginia in 1639.
The following century saw much more Burland surnames arrive. Some of the people with the surname Burland who arrived in the United States in the 19th century included John, Burland In, who came to Virginia in 1639.
Here is the population distribution of the last name Burland: United States 525; England 500; Canada 142; France 110; Australia 97; New Zealand 33; Sweden 22; Bermuda 13; Wales 3; South Africa 2
Notable People:
John Boscawen Burland CBE FREng FRS (born in March 1936) is an Emeritus Professor and Senior Research Researcher at the Section of Civil and Environmental Engineering of Imperial College London.
Alan Burland (born September 1952) is a Bermudian pilot. He took part at the 1984 Summer Olympics in Los Angeles, where he placed fifth in the multihull class, together with Christopher Nash.
Brian Burland (April 1931–February 2010) was a Bermudian author, who was the writer of nine acclaimed novels that typically dealt with colonialism, family conflict, and race.
Cottie Arthur Burland (September 1905 – 1983) was a British writer and researcher. He studied at the Regent Street Polytechnic, graduated from the University of Westminster, and spent much of his forty-year job traversing from 1925 to 1965, in the Section of Ethnography at the British Museum in London.
Blazons & Genealogy Notes
1) Sa. a chev. betw. three burling irons ar.
2) Erm. on a chief embattled gu. three cinquefoils ar. Crest—A demi savage brandishing a scimetar ppr.