Bush Family Crest, Coat of Arms and Name History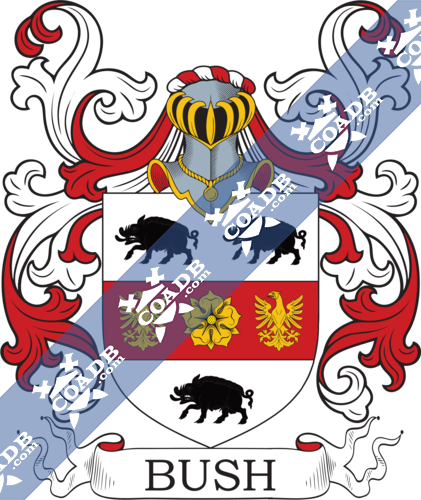 Bush Coat of Arms Gallery
Don't know which Coat of Arms is yours?
We can do a genealogical research. Find out the exact history of your family!
Learn More
Surname Name Origin
This English surname is local meaning "at the Bush". It is a topographic name assigned to a person who lived by a bushy area or thicket.  Alternatively, it is possible the surname may be a Viking name derived from Old Norse personal name Buski. In his book, English Surnames, published in 1875, Mark Antony Lower writes "Although it may seem exceedingly trivial that so insignificant an object should name one of the lords of the creation, there is little doubt of the fact."
Surname Meaning and Etymology
The surname is derived from either the Old English word busc (bush) or the Old Norse word buskr (bush). In his book, Patronymica Britannica,  Mark Antony Lower writes, "This word, now applied to a low thick tree, formerly meant a whole wood or grove (sylva, nemus), and this proper sense is retained in America and Australia. Atte-Busche therefore, in medieval writings, is equivalent to De Bosco, while the singular name Cutbush is simply a translation of Tailgebosch, Tallebosc, (Taille-bois) so common in Domesday. There is nothing clearer in the etymology of surnames than that the dissimilar appellations Cutbush and Talboys mean one and the same thing, or that Bush and Boys are identical".
Surname Spelling
Spelling variants include Bushe, Bysh, Busche, Buscche, Bysshe, Buscher, Bosch, and Boush. Foreign equivalents include Busche (German) and Busck (Swedish).
Early Bearers of the Surname
There are numerous early people bearing this surname: 1) Roger ate Busche recorded in the Suffolk Pipe Rolls of 1305 AD and 2) Richard de la Busce recorded in the Pipe Rolls of Yorkshire in 1181 AD. The name Bushy in the Roll of Battell Abbey (a commemorative list of the Companisons of William the Conquered). There are numerous listings in the Domesday Book, including De Bosch, a tenant in chief, and Busch, in Hertfordshire, a Saxon tenant. Early marriages involving this surname Thomas Bush to Ann Chambers in Canterbury in 1600 AD, as well as Luke Bush to Isabel Fleck in St. George's Chapel in Mayfair in 1747 AD.
Early American and New World Settlers
Several early Americans are discussed in the book, "Genealogical Guide to The Early Settlers of America", authored by Henry Whittemore in 1833. The first is Edward Bush, of Salem, who married Mary Hyde in October of 1665 and had one son named Edward (1667) and later married the widow Elizabeth Pittman and had the following issue with her: Elizabeth (1668), Edward (1682), Ann (1683), Benjamin (1685), Edward (1687), and Esewick (1693). The second person mentioned is John Bush, of Cambrige, MA, who took an oath of fidelity in 1652, and with his wife Elizabeth, had the following issue: Joseph (1654), Elizabeth (1657), Daniel (1659), Abiah (1661), and Mary (1662). Other sources document other bearers, including1) Jospeh Bush, who came to Barbadoes in 1635 from the port of London aboard the Alexander, 2) another Joseph Bush, who came to Virginia aboard the Transport in July of 1635, 3) John Bush, who was recorded living in Virginia in February 1628, 4) Susan Bush, aged 20, who came to Virginia in 1617 aboard the George, 5) John Bush, recorded as being buried in Elizabeth City in 1624, and 6) Walter Bush, who was recorded as being buried in the parish of St. Michael's in Barbados. There are numerous others including Thomas Bush (Virginia 1637) and Sarah and William Bush (North Carolina 1701). Ebenezer Bush Jr. (son of Ebenezer) married Miriam Noble in 1737 and had the following issue: Hannah, Ruth, Mary, Ebenezer, and Stephen.
Genealogy and Ancestry
The Bush family held a family seat (the principal residence of the landed gentry and aristocracy) in Yorkshire, Northern England. The famous genealogist Bernard Burke, in his book, mentions one branch of this family: Bushe of Glencairne. Burke traces the lineage back to John Bushe, a Colonel in the army, that had a grant of land in Kilfane in county Kilkenny in 1670. With his wife Mary Grey, he had four daughters (Elizabeth, Ann, Mrs. Woodroffe, and Mrs. Berkeley) and two sons  (Amias and Arthur). Arthur was on Dangen, and was Secretary to the Commissioners of Revenue. He married Ann Worsop and had the following children: Arthur (1692), William (1696), John (1705), Thomas, Mary, and Letitia (d. 1757).
Amias Bushe, the heir of Colonel John Bush, was High Sheriff of county Kilkenny in 1706, and married Eleanor Wandesford, the daughter of Sir Christopher Wandesford (the first baronet of Kikrlington) and by her has children: Christopher (who had a son named Amias) and Arthur. Arthur was High Sheriff in county Kilkenny in 1736 and was born in 1691. He attended Trinity Dublin College and married Martin and left the following issue with her: Amias (1716) and Reverened Thomas of Kilmurry (1627), Amias (1706), Elinor (who married Christopher Hewtson), and Elizabeth (who married Edward Deane of Terenure). Arthur was succeeded by his grandson, Amias. Amias married Elizabeth, the daughter and heir of Gervaise Parker, and died in 1773 leaving only one son and heir: Gervase Parker Bushe, High Sheriff of Kilkenny in 1768, who marries Mary Grattan and had eight children: Henry Amias (his heir), Reverend William of Templepoint (who has daughters Isabella and Letitia), Gervase Parker, Robert, Charlotte, Frances, Harriett, and Maria. Henry Amias Bushe was an Esquire of Glencairne High Sheriff of county Waterford in 1826 and married Lavinina Gumbleton. He was in turn succeeded by his brother-in-law, Richard Edward Gumbleton who died in 1819. He in turn was succeeded by Gervase Bush, of Glencairne in county Waterford, who was High Sheriff in 1837, and was a Lieutenant Colonel in the army of the 15th Hussars. He was born in 1806 and in 1857 married Georgina Agnes, the daughter of Lieutenant William Smart, with whom he had two issue: Francis Maria and Agnes Charlotte.
Notables
The most famous use of the name was by the Bush family political dynasty that by Prescott Bush (1895-1972), the son of Samuel Prescott Bush (1863-1948), who was a United States Senator from Connecticut. His son, George H. Bush was the 41st President of the United States, and his grandson, George H.W. Bush was the 43rd President of the United States, and his other grandson, Jeb Bush, was the governor of the state of Texas. They descend from John Bush (1593-1670) who was born in Messing, Essex.
Other notables who bore the last name include: 1) Vannevar Bush (1890-1974) who was an American engineer and inventory, 2) Sarah Bush (1788-1869) who was the stepmother of Abraham Lincoln, and 3) Irving Tar Bush (1869-1948) who was an American businessman involved in the oil and motion picture industry.
Mottoes
Mottoes for this family include 1) tandem fit surculus arbor, meaning "a shoot (or bush) at length becomes a tree" and 2) moderata durant, meaning "moderate things are lasting".
Blazons & Genealogy Notes
1) (Paul Bush, first Bishop of Bristol, 1542-54, granted by Barker, Garter). Ar. on a fesse gu. betw. three boars pass. sa. a rose betw. two eagles displ. or.
2) (Dylton, co. Wilts, granted by Barker, Garter, to John Bush, brother of Paul, Bishop of Bristol). Ar. on a fesse betw. three boars pass. sa. a fleur-de-lis betw. two eagles displ. or. Crest—A goat's head erased ar. armed or.
3) (formerly Daylwyn, co. Carmarthen, the name changed to Bushe when the family removed to England temp. Henry VIII). Az. a wolf ramp. ar. collared and chained or, in chief three crosses pattee fitchee of the second. Crest—A goat's head ar. attired sa. a crescent for diff. Motto—Hope me encourageth.
4) (Wiltshire). Ar. on a fesse gu. betw. three boars pass. sa. a fleur-de-lis betw. two eagles displ. or.
5) or Busse – (Heather, co. Lincoln). Ar. three bars sa. Crest—A sea wolf paly wavy of ten ar. and sa.
6) (Glencairne Abbey, co. Waterford, formerly of Kilfane, co. Kilkenny, of which family was Charles Kendal Bushe, Lord Chief Justice of Ireland). Quarterly, 1st and 4th, az. a wolf ramp. ar. collared and chained or, in chief three crosses pattee fitchee of the second: 2nd and 3rd, barry of six ar. and az. a bend compony or and gu. Crest—A goat's head couped ar. attired or. Motto—Moderata durant.
7) (granted In 1845 to Charles Bushe, Esq., of Kingstown, co. Dublin). Per pale. az. and sa., a wolf ramp. ar. ducally gorged and chained or, in chief three crosses formee fitchee of the last. Crest—A goat's head erased per fess ar. and az. armed or. Motto—Nil metuens superavi.
8) or Bush – Ar. out of a mount in base, a forest of trees vert. Crest—The trunk of a tree shooting out new branches ppr. and pendent therefrom an escutcheon ar.