Bustard Family Crest, Coat of Arms and Name History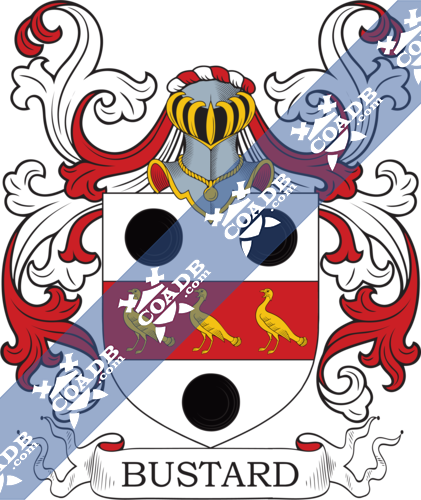 Bustard Coat of Arms Gallery
Don't know which Coat of Arms is yours?
We can do a genealogical research. Find out the exact history of your family!
Learn More
Surname Name Origin 
This surname derived from the nickname "the bustard", which is a large bird that was once popular in England, although is rate today. It is one of many names derived from birds (Bird, Blackbird, Wren, Turtle, Egles, Finch, Howle, Hawke, Duck, Dove, etc.). One of these arms is featured is as one of the 32 heraldic quarterings on a very large shield in the former priory church of St.Mary, Letheringham, a parish in Suffolk, England.
Surname Meaning and Etymology
This was a nickname given to someone whose physical appearance resembled that of a bird. It comes from the Old French words bistarde and bustard. Richard Stephen Charnock, in his book authored in 1868, Ludus Patronymic, under the surname Hazard, discusses the termination ard, art, or ert, used in thousands of surnames (ex. Buzzard, Canrd, Packard, and Stoppard), which is generally equivalent to son of and is derived from the German word art, meaning kind, species, or race. In his book, Patronymica Britannica, Mark Antony Lower writes "The names of animals have in all ages, and among nearly all nations, been applied as sobriquets to individuals, and these in modern times have acquired the force of surnames, and thus been handed down hereditarily. How common such names are in our family nomenclature, has often been made the subject of remark."
Surname Spelling
Spelling variations include, but are not limited to, Busteed, Bustead, Bowstead, Busterd, and Bustord.
Early Bearers of the Surname
Early bearers of this surname include: 1) John Bustard recorded in the Fines Rolls  during the reign of Edward II, 2) Robertus Bustardbank in the Poll Tax of Yorkshire in 1379 AD,  and 3) Joannes Bustard in the Poll Tax of Yorkshire in 1379 AD, 4) Robert Boszart in Hereford in 1177 AD, 5) William Bozart in Wales in 1358 AD, and 6) Peter Busard in Suffolk in 1274 AD. Other early recorded people with this last name are Elizabeth Bustard (who married Cristofer Hudson at S. Antholin in London in 1582), Charles Bustarde in county Oxford in 1589, Alice Bustard (who married John Greenwood in Canterbury in 1671), Joane Bustard (who married Vincent Whiddon at Bickleigh in 1610), Joseph Bustord (Dublin in 1769), and John Bustard (Castlefinn in 1865). Still others include William "of Nether Exe" Bustard, born in 1435 AD who was the father of John, and Franics Bustard born in 1740 in Devon, the husband of Grace. Another early occurrence of the surname was ‌in Great Bealings, also in Suffolk, where Reginald Bustard was Rector in 1338. Also, in 1576, Thomas Bustard was admitted as a pensioner to study at Corpus Christi College, Cambridge. In the west, Richard Bustard was appointed Vicar of Cadleigh in 1610.
Early American Settlers
Early settlers in the New World bearing this surname include John Bustard (Philadelphia 1874) and  John, James, Andrew, Adam, and Robert (Philadelphia, 1859-1880).
Genealogy and Ancestry
The last name Bustard was first found in county Devon where they held a family seat for hundreds of years, probably significantly earlier than the Norman Conquest. A one Anne Bustard, of Addlerbury was married to Myles Blount and had the following children with him: Thomas and Myles in the seventeenth century. A one Mary Ann Bustard, born in 1813 the daughter of John Busard, was buried at St. Peter and St. Paul in Shoreham, Kent, England in 1820. Several other Bustards are buried in the same cemetery.
Notables
The surname is very common in the United States: as of the 2000 census, there were only 399 people bearing this name. It is also uncommon in the United Kingdom: 124 instances were recorded in the 1881 Census. I have not been able to identify any recent, famous people bearing this surname.
Blazons & Genealogy Notes
1) (Devonshire). Ar. on a fesse gu. betw. three ogresses, as many bustards or.
2) (Orsett, co. Essex). The same, within a bordure engr. sa. (another, az.).
3) Same as of Devonshire. Crest—A bustard's head ar. betw. two wings gu. betw. the neck and wings as many cars of wheat erect or.
4) (Visit. Oxford). Sa. on a fess betw. three bustards or, as many cross crosslets of the field.
5) Ar. on a fesse gu. betw. three pellets, as many birds or, within a bordure engr. gold. Crest—As the preceding.
6) Ar. a fesse betw. three bustards gu.