Butts Family Crest, Coat of Arms and Name History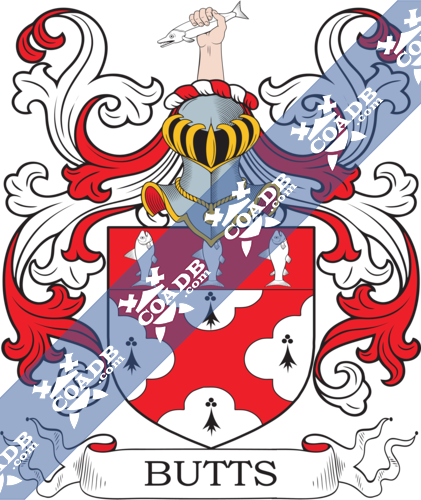 Butts Coat of Arms Gallery
Don't know which Coat of Arms is yours?
We can do a genealogical research. Find out the exact history of your family!
Learn More
Butts
The origin of the surname Butts or any variation of its spelling can trace its origins to either English or Old French. In either of these cases, it is thought to be topographical or occupational, originating from the word "but" which is defined or translated to mean an archery target or goal. In the context of the surname it would mean someone who lived near the archery butts or who was perhaps an archer themselves. This would make sense as surnames often acted as an indicator or representation of the birthplace of the individual by identifying easily recognizable landmarks. This worked well for the small settlements which existed at this time because people rarely traveled far from their homes and were familiar with the surrounding landscape.
Variations in the name's spelling exists, as with many names which date back to the early centuries. The variation in the spelling of names during this time period can be attributed to a lack of continuity regarding guidelines for spelling which was compounded by the diversity of languages in use in Europe at the time. The variations in the English spelling of the name include Butts, Butson, and Butting among others.
One of the first records of any variation of the name was Richard Filius But in 1137. There are additional records listing Walter Hubert But from Norfolk in 1170, Leuricus Butte, a Templar, in 1185, Robert William le But from Sussex in 1198, and Margery Butte in 1275.
The earliest records of immigrant to America bearing the surname Butts was Robert Butts who arrived in and settled in Virginia in 1640. Peter Butts landed in 1672 and settled in Virginia as well.
Worldwide, the highest concentration of people with the surname Butts live in the United States, Canada, New Zealand, the United Kingdom and India. By state, the largest percentile of those with the surname Butts live in West Virginia.
One of the most notable bears of this surname is William Butts. He attended Gonville Hall, Cambridge University where in 1509 he received his M.A. And in 1518 he received his M.D. He was a member of King Henry VIII court and the King's physician. In 1529 he was named a member of the Royal College of Physicians of London and in 1545 he was knighted.
Records also show in 1783, George Butt, a teacher, poet and clergyman, was appointed as Chaplin-in-Order to King George III. As such, he was considered part of the Royal Household of the sovereign of the United Kingdom, meaning he was part of the general government as well as the religious council for the King.
Charles Parker Butt was a Member of the House of Commons and was appointed Justice of the High Court and knighted in 1883, having been made a member of the Queen's Council(QC). Individuals who receive this honor are appointed by letters or patent declaring them one of Her Majesty's Council learned in the law. The appointments are awarded to lawyers of great eminence, generally barristers.
The inventor of one of the most popular board games of all times, Scrabble, was Alfred Mosher Butts. Alfred Butts was born in America and was an architect by trade. While he had done well as an architect, it was difficult for him to find work during the depression, so he set his mind on researching and developing a new game and in 1938 the game Scrabble was born. It should also be noted, in addition to his other talents, he was an artist as well. Six of his drawings were purchased by and on display at the Metropolitan Museum of art in New York City.
Colin Butts is a British author primarily of young adult fiction. He founded his own publishing company in order to print his first book. The sales of this book were successful to such an extent it attracted the attention of a major publishing house who took on the project were it went on to become a best seller.
W. E. Butts was a noted American poet who was the Poet Laureate of New Hampshire. During his career, he was nominated for a Pushcart Award, was finalist in 2005 for the Phillip Levine Prize in Poetry awarded by California State University at Fresno, and he was awarded the Iowa Source Poetry Book Prize. In addition to his writing he also taught creative writing workshops at the University of New Hampshire as well as being a member of the faculty at Mount Washington College and Goddard College.
Blazons & Genealogy Notes
1) (Norfolk). Gu. on a chev. betw. three estoiles or, as many lozenges of the field. Crest—A horse's head ar. on the head a plume of three feathers or and of the first, the face and mane covered with armour gold, bridled of the last.
2) (Norfolk). (Eases). Az. on a chev. betw. three estoiles or, as many lozenges gu. on a sinister quarter per pale ar. and az. two lions' gambs erased in saltire counterchanged. Crest—A horse's head, sorrel mane, plaited of the fourth and gold; on the head a skull-plate, with two feathers of the second and first.
3) (Norfolk). Erm. a chev. betw. three mullets, pierced, gu.
4) (Dorking, co. Surrey). Ar. a saltire engr. gu. betw. four erm. spots sa. on a chief of the second three fishes haurient of the first. Crest—A naked arm couped at the elbow, and erect ppr grasping a fish ar.
5) Sa. a cross or (another, ar.) betw. four plates.
6) (granted to George Medd Butt, Esq., of Tavistock Square, co. Middlesex). Az. two chev. engr. betw. four estoiles, three in chief and one in base or. Crest—A horse's head couped sa. semee of estoiles or, the mane plaited ppr. on the head a skull plate gold with two feathers az.
7) Ar. two torteaux in chief and a mullet in base gu. a chief nebulee az. Crest—A lion holding in the dexter paw a spear broken.
8) (Dublin; confirmed to Isaac Butt, Esq., LL.D., M.P. for co. Limerick, only son of the Rev. Robert Butt, of Stranorlar, co. Donegal, and grandson of Isaac Butt, of Adare, co Limerick). Motto—Possunt quia posse videntur. (the cross crosslet being adopted in commemoration of a descent through the Ramsays from the family of O'Donnell) Quarterly, 1st and 4th, gu. on a chev. engr. betw. three estoiles or, a trefoil vert betw. two lozenges of the field, for Butt; 2nd, or, three bars az. on a canton gu. a lion's head erased ar., for Cox; 3rd, ar. an eagle displ. and in chief betw. two pellets a cross crosslet fitchee sa., for Ramsay. Crest—A horse's head erased ar. charged on the neck with a trefoil vert, on the head and mane plaited or, a plume of three ostrich feathers of the first.