Callow Family Crest, Coat of Arms and Name History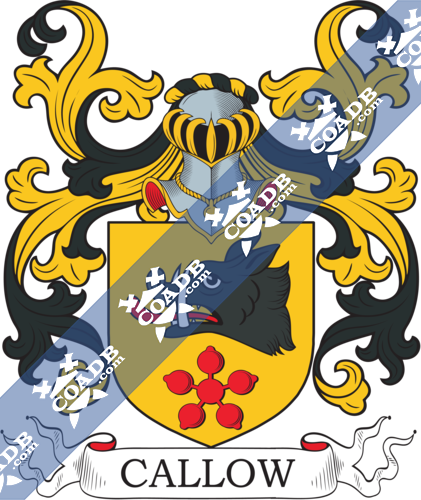 Callow Coat of Arms Gallery
Don't know which Coat of Arms is yours?
We can do a genealogical research. Find out the exact history of your family!
Learn More
Callow Origin:
England
Origins of Callow:
There are three possible origins of this interesting name, the first being that it is geographical from places in Derbyshire and Herefordshire. Two of the places, near Wirksworth and Hathersage, in Derbyshire, acquire from the old English pre 7th Century "cald," which means cold, cool and "hlaw," which means a slope. While Callow near Mappleton and in Herefordshire get their names from "calu," which means nude or naked, and "hlaw," which means a hill, slope. Another possibility is that this is a Manx name, an Anglicized form of the Gaelic "Mac Caolaidhe," and a patronymic (the "mac" mentioning "son of ") from the particular name "Caoladhe," a derivation of "caol," which means thin or good-looking. Callow was first brought in England, via Sussex, from Bordeaux in the 13th Century and a family became settled in Norfolk, determine their origin to Nicholas de Kalewe (1286), who it thought came from a line of Dutch or Flemish traders. Records in London show that the name was reintroduced in the 18th Century by French Huguenot exiles who had fled murder and sought refuge in Britain, e.g., Anne Caillou, named at the French Huguenot Parish at Threadneedle Street in March 1730.
Variations:
More common variations are: Calow, Calljouw, Cauellow, Gallow, Collow, Kallow, Cullow, Callaw, Calhow, Caljow.
England:
The origins of the surname Callow appeared in Worcestershire where people held a family seat from old times. Someone say better before the invasion of Normans and the entrance of Duke William at Hastings 1066 A.D.
The very first recording spelling of the family was shown to be that of Brichric se Calewa, dated about 1070, in the "Old English Bynames of Somerset," Huntingdonshire. It was during the time of King William I, who was known to be the "Conquerer," dated 1066-1087. The origin of surnames during this period became a necessity with the introduction of personal taxation. It came to be known as Poll Tax in England.
Ireland:
Many of the people with surname Callow had moved to Ireland during the 17th century.
United States of America:
Individuals with the surname Callow landed in the United States in two different centuries respectively in the 17th and 19th. Some of the people with the name Callow who arrived in the United States in the 17th century included Christian Callow who settled in New England in 1698.
The following century saw much more Callow surnames come. Some of the people with the surname Callow who arrived in the United States in the 19th century included John R Callow, who came to America in 1807. John Callow arrived in Philadelphia in 1813.
Canada:
People with the surname Callow who settled in Canada in the 18th century included Stephen Callow, who landed in Nova Scotia in 1749. Mr. Thomas Callow U.E. landed at Harbor Roseway [Shelburne], Nova Scotia in October 1783 was traveler number 202 aboard the ship "HMS Clinton," picked up in September 1783 at Staten Island, New York.
Australia:
Some of the individuals with the surname Callow who landed in Australia in the 19th century included Elizabeth Callow, an English prisoner from Chester, who was transported aboard the "Arab" in December 1835, settling in Van Diemen's Land, Australia.
New-Zealand:
Some of the population with the surname Callow who arrived in New Zealand in the 19th century included Robert Callow, aged 35 and Emily Callow, aged 22, both came to Nelson aboard the ship "Sir Charles Forbes" in 1842
Here is the population distribution of the last name Callow: England 2,721; United States 1,556; Australia 956; Canada 362; South Africa 310; Isle of Man 240; Wales 158; Scotland 118; New Zealand 99; France 86.
Notable People:
Christos Callow (born 1955), is a Greek musician.
Eleanor Callow (born 1927), is an old Canadian baseball player.
Henry Callow (died 2006), was a Manx justice.
Kenneth Callow (1901–1983), was a British biochemist.
Simon Callow (born 1949), is an English actor.
William Callow, (1812–1908), was a British artist.
William G. Callow (born 1921), is an American justice.
Blazons & Genealogy Notes
1) (Justice of Common Pleas, 1487). Ar. on a chev. betw. three leopards' faces sa. as many annulets of the field. Crest—On a ducal coronet a peacock ppr.
2) Or, a boar's head erased sa. in base a cinquefoil gu.