Camacho Family Crest, Coat of Arms and Name History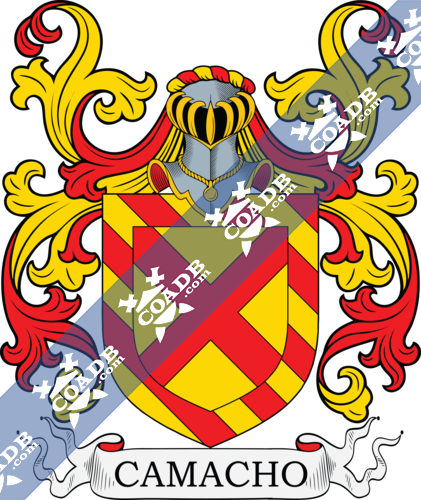 Camacho Coat of Arms Gallery
Don't know which Coat of Arms is yours?
We can do a genealogical research. Find out the exact history of your family!
Learn More
Surname Meaning, Origin, and Etymology
Camacho is a surname that comes from the Iberian Peninsula of the middle age, however, its true origin it may be much deeper into the past, as much as in the pre-Christian era. It is very probable that Camacho has a Gaelic beginning and it may come from the old word "camb" which means twisted or disfigured. This establishes that it started as a nickname, used to refer someone with maybe bow legs or another deformity that was very noticeable. Despite this not so honorable roots, this surname was not a shame for its bearers and was proudly passed from father to children as any other last name.
There is another possible origin for Camacho because according to some experts, this is a local surname that comes from towns on the regions of Almería and Murcia, Spain. The main intention behind Camacho is the same that in any other surname, offering an easy way to distinguish people with the same first name, so it wouldn't be hard keeping the record of the population at the moment of collecting taxes.
The first record of this last name belongs to Juan Camacho, a knight who served King Jaime I of Aragón in his military campaign across the region of Valencia since 1228 until 1245 to add this territory to the Crown of Aragón. Actually, Valencia is considered the birth of place of the surname Camacho.
Spelling Variations
The surname Camacho is not strange to spelling variations and as any other medieval European surname, it counts on some of them. It is necessary to remark that during the middle age, there weren't the grammatical rules that exist today many languages were still evolving. As a product of this lack of rules, sometimes there was not a right way of writing certain words of surnames, so people would write them in different ways.
Actually, some scribes used to write words according to how they heard them, so each one of them would have a unique way of writing. Some families used to add different endings to their surnames to make them different than the one from other branches of family or to express to whom they were loyal. Thanks to all these factors, some of the most common spelling variations for Camacho were Camachón, Camachon, Camachos and Camachuelos. It is important to remark the relevance of the accent mark in Spanish because it has the faculty to distinguish words, which is why Camachon and Camachón are considered two different spelling variations.
Popularity & Geographic Distribution
Even when it seems that Camacho had a high popularity in the middle age, it didn't keep this quality because according to the census of 2014, Camacho is the 748th most common surname in the world with approximately 694,325 bearers. The country with the highest amount of users of Camacho is Mexico, followed by Colombia in second place and Venezuela at the fourth position. The highest density of Camacho is in the Northern Mariana Islands.
Early Bearers of the Surname
There are good records of old bearers of Camacho. Some of them were Bartolome Camacho Zambrano, a Spanish military officer from 1510, Juana Camacho who appeared in a record of the family from June 2, 1662 in the Distrito Federal, Mexico, Joshua Camacho on January 19, 1729 in Vera Cruz, Mexico, Antonio Camacho y Madueño who was made Count of Robledo de Cardeña in 1772 in Spain, Heliodoro Camacho who was a military man from Bolivia in the 19th century and Juan Francisco Camacho a politician from the 19th century in Spain.
History, Genealogy, and Ancestry
Unfortunately, we weren't able to find high-detailed records of families with the surname Camacho. The ones we found are very short and most of them from Chile such as the one of Juan Camacho who had its offspring with Nicolasa Hidalgo, daughter of Francisco Hidalgo and María de la O Martínez, their daughter was Petronila Camacho who got married to Agustín Pastene. This last marriage didn't have any children, however, Petronila left all of her assets to Ventura Camacho, whom she raised.
Another record was the one of Alonso Camacho who got married to Leonor Robledo Escobar, daughter of Gabriel de Robledo y Ramos de Torres and Leonor Flores de Escobar y Alvarez de Tobar. The daughter of Alonso and Leonor was Eusebia Camacho de la Concha, who got married to Nicolás Gil de Montenegro y de las Cuevas, son of Juan Gil de Montenegro and Bernardita de las Cuevas Riberos. The children of Eusebia and Nicolás were Juan Gil de Montenegro y Camacho de la Concha, José Gil de Montenegro y Camacho de la Concha, Bernarda Gil de Montenegro y Camacho de la Concha and Ventura Gil de Montenegro y Camacho de la Concha.
A third genealogical record of Camacho is the one of Rodolfo Camacho Allende who got married to Luisa Jego Dufloc. They had a son, Hernán Camacho Jego who was a dentist and got married to Silvia Frey González, daughter of Pablo Frey Pahl and Marta González Navarrete. Hernán and Silvia had two children Hernán Camacho Frey and Cristian Camacho Frey who got married to a woman with the last name González, but there are no records of her first name. Their children were Alejandro Camacho González, Macarena Camacho González, and Cristian Camacho González.
Early American and New World Settlers
Some of the first bearers of Camacho in traveling to America were Antonio Camacho, who arrived in Hispaniola in 1512, Cristóbal Camacho who landed in America in 1512, Benito Camacho who also did the travel in the same year, Martín Camacho who landed in America in 1527, Bartolomé Camacho Zambrano who arrived in Colombia in an expedition from 1536, Gonzalo Camacho who arrived in America in 1811 and Benito and Cristobal Camacho who did it during the next year.
Mottoes
We were unable to locate any documented mottoes for the Camacho family.
Grantees
We were unable to locate any documented grantees for the Camacho family.
Notables
Some of the most remarkable bearers of Camacho have been Carlos Camacho (b. 1945) a Colombian actor, Héctor "Macho" Camacho (1962-2012) a boxer from Puerto Rico, Nemesio Camacho (1869-1929) a businessman and politician from Colombia, Ignacio Camacho (b. 1990) a Spanish football player, Jessica Camacho (b. 1982) an American actress and Salvador Camacho (1827-1900) a businessman, lawyer and politician from Colombia.
Blazons & Genealogy Notes
1) Estrémadure – D'or au sautoir de gueules à la bordure coticée d'or et de gueules. English: Or a saltire gules a bordure bendy or and gules.
2) Espagne – De gueules à une tour sommée d'une tourelle d'or accostée de deux pins de sinople le tout soutenu d'une terrasse isolée au naturel chaque pin surmonté d'une étoile (8) d'argent. English: Gules a tower surmounted by a turret or accompanied by two pine trees vert all upon an isolated mount [not touching the edges] proper each pine surmounted by a etoile of eight points argent.