Camden Family Crest, Coat of Arms and Name History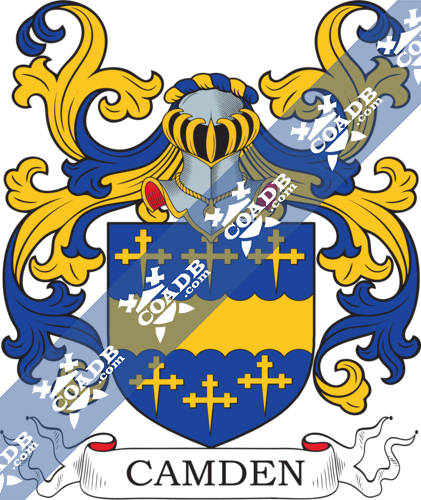 Camden Coat of Arms Gallery
Don't know which Coat of Arms is yours?
We can do a genealogical research. Find out the exact history of your family!
Learn More
Camden Origin:
England
Origin of Camden:
This interesting and unique name is of an Anglo-Saxon origin, and is a habitational surname acquiring from either one of the areas now known as Broad Campden and Chipping Campden, near Evesham, in Gloucestershire. The original agreement was listed in the Domesday Book of 1086 as "Campedene", clearly showing the development from the ancient English pre 7th Century "campa-denu", from "campas", which means camp, from the Latin word "campus", which means clear, plain, together with "denu", which means Dale. The area name means "Dale with camps or an area bounded by something." By the 14th Century, the agreement had parted, and was listed as "Cheping Caumpedene" and "Brodecaumpene." Habitational surnames frequently were derived by those old residents of a place who shifted to another place and were thereafter best recognized by the name of their mother town. The new surname can appear as Camden and Cambden. Among the recordings of the name in London is that of the wedding of Thomas Cambden and Alice Rugg, at St. Stephen and St. Benet's, in February 1696.
Variations:
More common variations of this surname are: Camaden, Cameden, Camodien, Camadena, Cammaden, Comden, Camdon, Cumden, Gamden, Kamden.
England:
The surname Camden first appeared in Gloucestershire where they held a family seat from early times; some say well before the Norman invasion and the entrance of Duke William at Hastings in 1066 AD.
The first recorded spelling of the family name is shown to be that of Ebrard de Campeden, which was dated 1190, in the "Cambridgeshire Pipe Rolls," during the reign of King Richard I, known as "The Conqueror," 1189 – 1199. Surnames became necessary when governments introduced personal taxation. In England, this known as Poll Tax.
United States of America:
Some of the people with the name Camden who settled in the United States in the 19th century included Charles Camden who arrived in Philadelphia, Pennsylvania in 1850. Joseph Camden, who landed in Arkansas in 1860. Willis Camden, who came to Arkansas in 1860.
Here is the population distribution of the last name Camden: United States 3,604; England 414; Canada 219; Australia 184; New Zealand 24; Russia 6; United Arab Emirates 2; Thailand 2; Brazil 2; South Africa 1.
Notable People:
Marquess Camden is a name in the aristocracy of the United Kingdom. It was created in the year 1812 for the politician John Pratt, 2nd commander Camden. The Pratt family descends from Sir John Pratt, Chief Judge from the year 1718 to 1725. His third son from his second marriage, Sir Charles Pratt, was also an outstanding advocate and leader and gave services as Lord judge between the year 1766 and 1770.
Archie Camden (1888–1979) was a British bassoonist. He was a lecturer and player of international acclaim. His career started in 1906 when he attended the Hallé Orchestra, where he became senior administrator bassoonist in the year 1914. In the year 1933, he shifted to the BBC Band Orchestra, where he survived until 1946 when he took up the same post in the Royal Philharmonic Orchestra. He was also one of the first bassonists to experiment with registering.
Johnson Newlon Camden (March 1828 – April 1908) was a United States politician from West Virginia. He was born in Collins Settlement, Virginia (now West Virginia), he then joined the school in Sutton. He was selected as a student to the United States Military Academy at West Point from the year 1846 until 1848 when he retired. He received an education in law, was accepted to the bar and started practice in Sutton in 1851. He was selected the same year to try to gain the authority for Braxton division.
Johnson Newlon Camden Jr. (January 1865 – August 1942) was a United States politician from Kentucky. His father, Johnson N. Camden, had been an American politician from West Virginia.
Peter G. Camden (May 1801, in Amherst Division, Virginia – July 1873, in Jennings, Missouri) was the ninth mayor of St. Louis, Missouri serving from the year 1846–1847. He was a representative of the American Party.
William Camden (May 1551 in London – November 1623 in Chislehurst) was an English history writer, professor, geographer, and reporter. He was famous as a writer of Britannia, the first survey of the islands of Great Britain and Ireland, and the Annales, and the first detailed historical account of the rule of Elizabeth I of England.
Blazons & Genealogy Notes
1) (William Camden, the author of "Britannia"). Az. a fesse engr. betw. six crosses crosslet fitchee or.
2) Or, a fesse engr. betw. six crosses crosslet fitchee sa. Crest—On a pile or, six estoiles gu.
3) Ar. a fesse gu. betw. three torteaux. Crest—A cross pattee per pale sa. and erm. betw. two wings counterchanged.