Capper Family Crest, Coat of Arms and Name History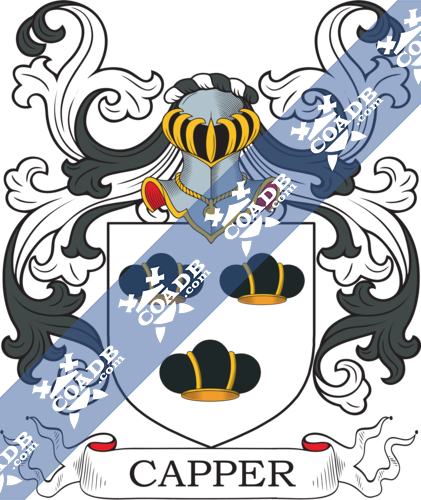 Capper Coat of Arms Gallery
Don't know which Coat of Arms is yours?
We can do a genealogical research. Find out the exact history of your family!
Learn More
century included William Samuel Capper, a seaman, arrived in Kangaroo Island aboard the ship "Lady Mary Pelham" in 1836. Francis Capper arrived in Adelaide, Australia aboard the ship "Salacia" in 1850. John Capper arrived in South Australia in 1856 aboard the ship "Navarino." William Capper and Andrew Capper, both arrived in South Australia in the same year 1856 aboard the ship "Blundell."
New-Zealand:
Some of the population with the surname Capper who arrived in New Zealand in the 19th century included Edward Henry Capper, Emma S. Capper, Susannah Capper, Charles Edward Capper and Julia Eve Capper, all arrived in Auckland, New Zealand aboard the ship "Ocean Mail" in the same year 1875.
Here is the population distribution of the last name Capper: England 2,640; United States 1,467; Australia 863; South Africa 365; New Zealand 303; Wales 226; Germany 168; Canada 126; Brazil 111; Northern Ireland 107.
Notable People:
Andy Capper (born 1973), is an English reporter.
Arthur Capper (1865–1951), was an American political leader.
Charles Capper is an American biographer.
Charles Capper (politician) (1822–1869), was a British Member of Parliament.
Blazons & Genealogy Notes
1) (Chester). Ar. three caps sa. banded or.
2) (Lincoln's Inn, and Bushey, co. Hereford). Or, on a chev. gu. three roses ar. a canton of the second. Crest—A ram's head couped…
3) (Ashurst, co. Kent). (Birmingham, cos. Warwick, and Stafford). Az. a chev. engr. erm. betw. two bees volant in chief, and a beehive in base or, on a chief of the last as many bucks' heads cabossed sa. quartering Smallwood; viz., chequy ar. and sa. on a bend erminois three billets az. Crest—A dexter arm embowed, vested az. cuffed erminois, the hand grasping a staff in bend sinister ppr. thereon hoisted a banner of the first, fringed and charged with a bee volant or.