Carbonell Family Crest, Coat of Arms and Name History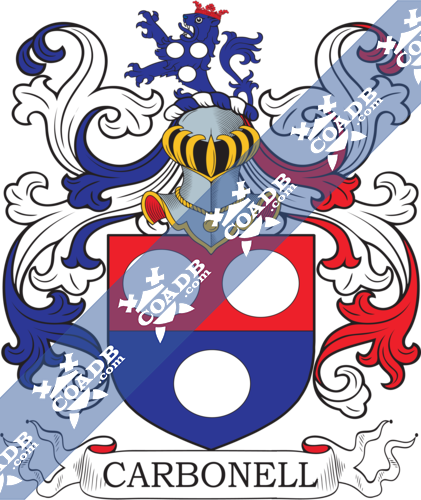 Carbonell Coat of Arms Gallery
Don't know which Coat of Arms is yours?
We can do a genealogical research. Find out the exact history of your family!
Learn More
Carbonell Origin:
England, Ireland
Origins of Carbonell:
This interesting name with different spellings such as, Carnell, Carnelley, Carbonell, and Cardinal, has two possible sources, the first of which is a professional name for a crossbowman who was an expert in fighting from the fortification of castles. It acquires from the Anglo-Norman French "carnel" which means fortification, hollow. The second may be a reduced form of the surnames Carbonell and Cardinal. Carbonell acquires from the Old French "carbon," which means charcoal, a nickname for a person with a brown coloring or hair black as coal, the essential qualities of charcoal. The name was sometimes complicated with the surname Cardinal and became Carnall. The surname Cardinal acquires from the Old French "Cardinal," which means first, prime, the parish celebrity, a pageant name or a pet name for a chief or a person who continually dressed in red. One Hugo de la Karnell appears in the Feet of Fines for Huntingdonshire, 1247. In September 1629, Andrew Carnall named in St. Mary's, Whitechapel, Stepney, London.
Variations:
More common variations are: Carboneli, Carbonella, Carbonello, Carbonnell, Carboneill, Carbonelle, Carboonell, Carbbonell, Carbonel, Carbnell.
England:
The surname Carbonell was first found in Normandy, where this remarkable family were fathers of Cerisy in the arrondissement of St-Lo.
The very first recording spelling of the family was shown to be that of William de la Kernel, dated about 1244, in the "Cartulary of the Monastery in Ramsy," Cambridgeshire. It was during the time of King Henry III who was known to be the "The Frenchman," dated 1216 – 1272. The origin of surnames during this period became a necessity with the introduction of personal taxation. It came to be known as Poll Tax in England.
Ireland:
Many of the people with surname Carbonell had moved to Ireland during the 17th century.
United States of America:
Some of the people with the surname Carbonell who settled in the United States in the 19th century included Jaime Carbonell at the age of 33, landed in Puerto Rico in the year 1804. Jose Antonio Carbonell, who landed in Puerto Rico in 1816. I Carbonell at the age of 40, landed in New Orleans, La in the year 1823. In Carbonell, who arrived in New Orleans, La in the year 1829. Juan Carbonell at the age of 35, arrived in New Orleans, La in the year 1831.
Here is the population distribution of the last name Carbonell: Spain 17,603; Philippines 11,922; Cuba 9,785; Colombia 4,664; Mexico 2,984; United States 2,932; Venezuela 2,684; Argentina 2,643; Peru 1,753; Guatemala 1,353.
Notable People:
Daniel Carbonell was a Cuban baseball player
Jaime Guillermo Carbonell was born in July 1953. He is a computer scientist who has made critical donations to the advancement of natural language processing tools and technologies. His expanded research in machine translation has resulted in the advancement of many state-of-the-art language translations and artificial skill systems. He got his B.S. degrees in Physics and Mathematics from MIT in 1975 and did his Ph.D. under Dr. Roger Schank at Yale University in 1979.
Manuel Carbonell (October 1918 – November 2011) was renowned as the last of the Cuban Master artist. He was part of the generation of Cuban artists, which included Wifredo Lam and Agustin Cardenas, that studied at the Escuela Nacional de Bellas Artes "San Alejandro," Havana Cuba.
Néstor Gastón Carbonell was born in December in the year 1967. He is an American actor. He is probably most popular for his roles as Richard Alpert in ABC's drama series Lost, and Mayor Anthony Garcia in the Christopher Nolan films The Dark Knight and The Dark Knight Rises.
Teresa Gisbert Carbonell de Mesa was born in the year 1926. He is a Bolivian designer and art professor. She specializes in the history of the Andean region.
Tomás Carbonell Lladó was born in August in the year 1968. He is an old professional tennis player from Spain.
Blazons & Genealogy Notes
1) (London, and Caen, Normandy; granted 1694). Per fesse, gu. and az. three plates. Crest—A demi lion az. crowned gu. on the shoulder three plates.
2) (co. Norfolk). (quartered by Wingfield, of Tickencote, co. Rutland. Sir Thomas Wingfield, m. Margaret, widow of William Carbonell, and dau. and heir of William Bovill, ante 1378, Visit, co. Rutland). Gu. a cross ar. a bordure engr. or.
3) (co. Suffolk). Gu. a cross ar. fretty sa.
4) (Woodbury, co. Devon). Gu. a cross ar. a bordure or. Crest—A sword in bend ppr.
5) Sa. three swords in pale, two points downwards and one upwards, ar. pomelled or.