Carpenter Family Crest, Coat of Arms and Name History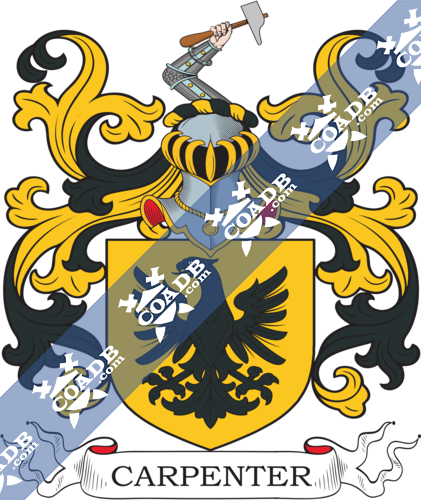 Carpenter Coat of Arms Gallery
Don't know which Coat of Arms is yours?
We can do a genealogical research. Find out the exact history of your family!
Learn More
Carpenter Origin:
France, England
Origins of Carpenter:
The surname of Carpenter is said to have been introduced to the country of England following the Norman Conquest of 1066. It is an occupational surname for someone who works with wood, and derived from the Old French word of "carpentier," the Late Latin word of "carpentarius," and the Gaulish word "carpentum." All of these words can be translated to mean "cart," often of the wooden variety. Since the worked with wood, or transported carts made out of wood, meaning that he actually carried out this job. Occupational surnames were not originally hereditary surnames. They only became hereditary if the son followed in his father's footsteps for a career; then the surname became hereditary and was used by the children and spouse of the son.
Variations:
More common variations are: Carpentero, Carpenteri, Carpeneter, Carpenteir, Carpenterr, Carrpenter, Carpennter, Carppenter, Carpenteur, Caarpenter
England:
The first recorded spelling of the surname of Carpenter can be found within the country of England. One person, who was recorded to have the name of Godwin Carpentar, was mentioned in the Feudal Documents from the Abbey of Bury St. Edmunds, which was located in the County Suffolk, in the year of 1121. This document was ordered, decreed, and written under the reign of one King Henry I, who was known throughout the ages, and commonly referred to as "The Lion of Justice," and who ruled from the year of 1100 to the year of 1135. Other mentions of the surname of Carpenter throughout the country of England include one Ralph Carpenter, who was recorded as living in the County Yorkshire in the year of 1175, one Hugh le Charpenter, who was recorded as living in the County Wiltshire in the year of 1273. Those who bear the surname of Carpenter within the country of England can be found in large concentrations in various areas around the country. Those who bear the surname of Carpenter can be found in high populations in the areas in and around the city of London, as well as many of the southern counties within the country.
United States of America:
Throughout the 17th Century, many European citizens migrated to the United States of America in order to escape the poor living conditions of their home country. This large movement of people became known as the European Migration. The first people to land in the United States of America, which was then known as the New World, were also some of the first settlers within this unchartered country. The Carpenter family, which consisted of Agnes Carpenter, Alexander Carpenter, Dillen Carpenter, and Julia Ann Carpenter all found themselves settling within the country in the year of 1620. Shortly following the Carpenter family was one person by the name of Priscilla Carpenter, who landed in Plymouth, Massachusetts in the year of 1621. Those who bear the surname of Carpenter can be found in large populations throughout the states in the United States of America. The areas that have the highest concentration of people who bear the surname of Carpenter can be found in high numbers and groups within the central and eastern states of Ohio, Michigan, New York, and within the state of Pennsylvania.
Here is the population distribution of the last name Carpenter: United States 145,204; England 14,471; Canada 5,345; Australia 5,322; South Africa 2,082; Wales 1,230; Brazil 1,097; New Zealand 959; Mexico 890; France 698
Notable People:
Charles Congden Carpenter (1921-2016) who was a herpetologist and naturalist from America
William "Kyle" Carpenter who was a Marine from America who was awarded the Congressional Medal of Honor in the year 2010 for his combat actions
Francis Bicknell Carpenter (1830-1900) who was a painter from America who was best known for his painting which is displayed in the United States Capitol and depicts the first reading of the emancipation proclamation
Karen Anne Carpenter (1950-1983) who was an America musician who specialized in vocals and drumming and who with her brother Richard made up the band "The Carpenters" and whom died from premature heart failure in connection with her anorexia nervosa
Scott Carpenter (1925-2013) who was a Naval Officer from America who took part in the Mercury Program as an astronaut and was the second American to orbit the earth on May 24th in the year 1962 who was also known for his famous quote "Godspeed John Genn"
Bobby Carpenter who was born in the year 1983 is a professional football player with the National Football League as a linebacker
Blazons & Genealogy Notes
1) (Earl of Tyrconnel, extinct 1853, descended from an ancient Herefordshire family). Motto—Per acuta belli. Paly of six ar. and gu. on a chev. az. three crosses crosslet or. Crest—A globe in a frame, all or. Supporters—Two horses per fesse embattled ar. and gu.
2) (exemplified to Hon. Walter Cecil Talbot, of Kiplin, co. York, second son of Henry John Chetwynd, eighteenth Earl of Shrewsbury, Waterford, Wexford, and Talbot, by Lady Sarah Elizabeth Beresford, his wife, dau. of Henry, second Marquis of Waterford, and his wife, Lady Susan Carpenter, only dau. and heir of George, second Earl of Tyrconnel, upon his assuming the name of Carpenter instead of that of Talbot, by royal licence, 1868, in compliance with the provisions of the will of Sarah, Countess of Tyrconnel, widow of John Delaval, last Earl of Tyrconnel). Motto—Per acuta belli. Paly of six ar. and gu. on a chev. az. three crosses crosslet or, and (for distinction) a canton erm. Crest—A globe in a frame or, charged (for distinction) with a cross crosslet az.
3) (Barbadoes, formerly in Ireland: granted by Roberts, Ulster, 1646). Motto—Audaces fortuna juvat. (Fun. Ent. of Capt. Philip Carpenter, principal serjeant at arms of Ireland, d. 1675). Paly of six ar. and gu. on a chev. sa. three plates, each charged with a cross pattee of the second. Crest—A demi lion ramp. gu. holding betw. the paws a cross pattee vert.
4) (Ireland, Fun. Ent. of John Carpenter, d. 2 March, 1655, aged 70 years, buried at St. David's Church, Naas, co. Kildare). Same Arms, the plates charged with a cross crosslet sa. Crest—An alligator ppr.
5) (granted 1661). The same Arms. Crest—A church ppr.
6) (London, Herefordshire, Gloucestershire, and Kent). Paly of six ar. and gu. on a chev. az. three crosses crosslet or. Crest—A sphere or, in a frame sa.
7) (London). Az. two bars or, in chief three crosses crosslet of the second. Crest—A stag's head ar. with two wings endorsed az.
8) (Somersetshire; granted 1663). Vert an escallop shell ar. betw. two palets or. Crest—A snail pass. ppr. the shell ar.
9) (Cobham, co. Surrey and Sussex; granted 4 March, 1663). Ar. a greyhound pass. and a chief sa. Crest—A greyhound's head erased per fesse sa. and ar.
10) Or, an eagle displ. sa. Crest—A dexter arm embowed in armour holding in the hand ppr. a hammer or.
11) Per pale or and az. an eagle displ. counterchanged. Crest—An arm in armour erect and embowed grasping a passion nail all ppr.
12) Per pale indented az. and sa. three eagles displ. or. Crest—A falcon with wings expanded ar. beaked, legged, and belled or.
13) Az. two lions ramp. combatant or.
14) (Worcestershire). Paly of six az. and gu. Crest—A coney sejant ar.
15) (Kent). Per pale vert and gu. a bend erm.