Carney Family Crest, Coat of Arms and Name History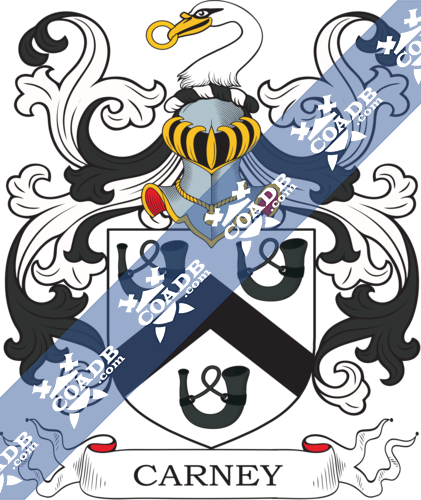 Carney Coat of Arms Gallery
Don't know which Coat of Arms is yours?
We can do a genealogical research. Find out the exact history of your family!
Learn More
Carney Origin:
Ireland
Origins of Name:
The surname of Carney is of Irish origins, and derives from the ancient Gaelic name O' Catharnaigh, which translates to mean the male descendant of a warlike chief. The surname of Carney is specific to the Connacht province, and clustered specifically in County Mayo. The alternative spelling of Kearney is found in all four provinces. Another origin of the surname Carney is found in the Gaelic name O' Cearnaigh, which derives from the word "cearnach" meaning to be victorious. It is said that the O' Catharnaigh warlike chief was also nicknamed "Ai Sionnach" or "The Fox" which is another surmised meaning of this name.
Variations:
More common variations are:
Carney, Carny, Carnie, Cairney, Carrney, Careney, Cairney, Carneey, Carneay, Carneyi, Carnney, Caroney, Caarney
History:
Ireland:
The first recorded spelling of the surname Carney is in the year 1084, under the name of Tadhg O' Catharnaigh, at Teffia in County Meath, Ireland, under the reign of King Turlough, King of Ireland, who ruled from the year 1072, to the year 1086. Other recordings of this name come through church records and surveys of this time period. Though these names have different spellings, it is important to note that this surname of Carney has derivatives in two different Gaelic words and surnames, and that the spelling varies due to location, as well as due to the phonetics and literacy ability of both the recorder and the person dictating their surname.
The next recording of someone with the surname of Carney in Ireland was in the christening of Mary Carney, who was the daughter of Edward and Mary Carney, on June 5th, 1664, in Dublin, Ireland, at St. Michas.
Another recording of this surname of Carney can be found in the marriage records of James Kearney and Catherine Martin on December 29th, 1794, at St. John's Limerick.
In the 19th century, many Irish citizens and their families fled the country in order to escape the Irish Potato Famine. Among these Irish citizens who fled was James Corney, and his son, who was also named James Corney, who left the port of Liverpool, and boarded a ship headed to New York to escape the Irish Potato Famine. Corney and his son were among the first recorded people with the surname Carney, or it's variant spellings, to emigrate to the New World. In the year, 1801, Thomas Carney arrived in America and settled there, and three years later, in the year of 1804, Nicholas Carney, who was nineteen years of age, Elinor Carney, who was sixteen years of age, and James Carney all settled in the city of Baltimore, Maryland. In that same year, the year of 1804, Martin Carney landed in the city of New York, New York. Many Irish settlers also emigrated to Australia, New Zealand, and Canada during the 19th century in order to escape the Irish Potato Famine, and search for a better life for them and their families, spreading the Carney surname further around the globe.
Carney Today:
United States 39,755
England 5,942
Australia 2,408
Ireland 1,561
South Africa 1,425
Canada 1,164
Germany 504
Scotland 256
Wales 226
New Zealand 211
Notable People:
Chris Carney (1980-2015) who was the singer for "The Prom Kings" from America
John Joseph Carney (1866-1925) who bore the nickname of "Handsome Jack" and was a MLB (Major League Baseball) player from the America
John Michael Carney (born in 1964) who was a former NFL (National Football League) placekicker from America
Christopher P. "Chris" Carney (born in 1959) who was a former Member of the U.S. House of Representative from the state of Pennsylvania in the year 2007 to the year 2011, and also was an American politician
Charles Joseph Carney (1913-1987) who was who was a U.S. Representative from Ohio in the year 1970 to the year 1979, and was an American politician
Alan Carney (1909-1973) who was an actor and comedian from America, and was born with the name David Boughal, but later changed his name to Alan Carney
C. S. Carney Jr., who was an Alternate Delegate to the Democratic National Convention from Tennessee in the year 1936, and was an American Democratic politician
B. E. Carney, who was a former Member of the West Virginia State House of Delegates from Kanawha County in the year 1905, and was a politician from America
Andrew Carney, who was a former Alternate Delegate to the Republican National Convention from West Virginia in the year 1900, and also was a Republican politician from America
Charles Carney, who was the former Chair of the Schuyler County Democratic Party in the year 1942, and was an American Democratic politician
Blazons & Genealogy Notes
1) Ar. a chev. betw. three buglehorns stringed sa. Crest—A swan's head and neck erased, in the bill an annulet.
2) (Fun. Ent. of Lettice, dau. of Edward, son of Richard, son of Richard Carney, and wife of Hugh Ridgate, Councillor at Law, buried at St. Werburgh, Dublin, 11 July, 1671, and confirmed by St. George, Ulster, to Sir Richard Carney, Athlone, afterwards Ulster). Ar. three lions ramp. gu. on a chief az. a sphere betw. two pheons or. Crest—A gauntletted hand lying fessways holding a sword erect all ppr.
3) (Cashell, co. Tipperary; Fun. Ent., Ellen, wife of Edward Carney, d. 8 Jan., 1658). Ar. three lions ramp. gu. on a chief of the last a gauntletted hand couped at the wrist, holding a dagger betw. two pheons all or, quartering per pale or and sa. three lions' gambs erased barways counterchanged. Crest—A gauntletted hand lying fessways holding a sword erect all or.
4) (Killmallock, co. Cork). Motto—Semper fidelis. Ar. a lion ramp. gu. armed and langued az. on a chief gu. three pheons or. Crest—A gauntletted hand ar. holding a sword ppr.
5) Erm. a chev. betw. three hunting horns strung sa. Crest—A hand fessways issuing from a cloud, and pointing to a crosier in pale all ppr.
6) (Nash, co. Glamorgan). (Ewenny, co. Glamorgan. The heiress m. Turberville). (Dimlands, co. Glamorgan). (St. Donats Castle, Bridgend). Mottoes—Above the shield, "En tout loyal," under the arms, "Fy ngobaith sydd yn nuw." Gu. a pelican on her nest with wings displ. or, feeding her young and vulning herself ppr. Crest—A pelican displ. with two heads sa. issuing from a ducal coronet ppr.
7) Or, three lions pass. sa.