Carrillo Family Crest, Coat of Arms and Name History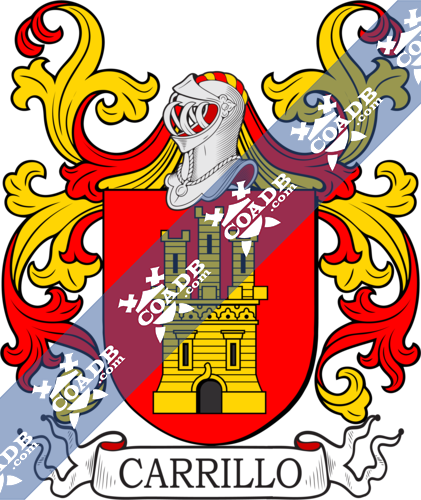 Carrillo Coat of Arms Gallery
Don't know which Coat of Arms is yours?
We can do a genealogical research. Find out the exact history of your family!
Learn More
Carrillo Surname Name Meaning, Origin, History, & Etymology
This popular Spanish last name developed as a nickname for a person with a peculiarity of the jaw or cheek, from the Spanish word carrillo, meaning cheek, a word with an uncertain origin. The book Dictionary of American Family Names states the following in regard to Carrillo: "It appears to be a diminutive of carro 'cart', 'wagon', and it has been suggested that the reference is to the movements of the jaw in chewing". A second, but similar, theory is it developed as a name denoting a person who was shameless or bold, someone who had the characteristic of being "cheeky", from the Middle English cheke, Old English ceace, or the Middle Low German kake, meaning jawbone. Spelling variants or names with similar etymologies include: Carriello, Carillo, and Cariello.
The name first established itself in the Kingdom of Castile, a powerful state located on the Iberian Peninsula (modern day Spain) during the Middle Ages that existed between 1065-1230 AD, and existed as the County of Castile beginning in the 800s AD.  The noble House of Carrillo was one of the most ancient and aristocratic families in Europe. This Spanish noble house had several important branches, including: Carrillo de Albornoz, Carrillo de Mendoza, Carrillo de Figueroa, Carrillo de Toledo, and Carrillo Tablas. The House also produced three Catholic Cardinals: Cardinal Alonso Carrillo de Albornoz, Cardinal Alonso de Carrillo Laso, and Cardinal Alvarez Carrillo de Albornoz. The most famous military leader of the family was a man who led the Spanish forces to victory at the Battle of Binonto in 1734, Jose Carrillo de Albornoz, the 1st Duke of Montemar, who was the Viceroy of Sicily at the time, and was ennobled by King Philip V of Spain for his deeds. The family had many notable members who were somehow related, including Emperor Agustin of Mexico (1783-1824), Queen Fabiola of Belgium (1928-2014), and the 1st Duke of Alba, Garcia Alvarez de Toledo (1424-1488).
Wikipedia offers the following legend on the origin of the Carrillo family and surname: "According to a family origin legend, two brothers sharing royal bloodline accidentally killed a favorite courtier of the King of Italy, which forced them to flee into hiding to avoid his rage (it is said that the brothers dueled with the courtier over the honor of a beautiful Spanish maiden). The brothers eventually arrived in Spain after being placed under the protection of Fernán González of Castile. (their country of origin is unknown). There they were so loyal to each other, they never left each other's side, and hence were called by the Castilians Carrillo, which is given several false etymologies: 'loyal or devoted', implying that the brothers were very close one to another like the 'carillon bells of the church towers', or comparing them to 'two wheels on a cart'. The brothers endeared themselves to the Castilians, and married two daughters of the Count. He gave them the titles of Count of Priego for the elder brother, and Marquis De La Guardia for the younger. All lines of the Carrillo family are said to branch from these two brothers".
One of the earliest documented bearers of this surname was Garcia Gomez Carrillo, Lord of Mazuelo, Lord of Ormaza, and Mayor of de los Hijos de Castilla, born in Toledo, New Castile in 1256 AD, the son of Garcia Gomez Carrillo and Urraca Molina. Another early bearer was Teresa Carrillo who was born prior to 1470 AD and married Hernan Gutierrez Altamirano.
Popularity & Geographic Distribution
The last name Carrillo ranks 443rd in popularity in the United Status as of the 2000 Census. The name ranks particularly high in the following four states: New Mexico, California, Arizona, and Nevada. In all four aforementioned states, the name ranks in the top 200.
In Spain, the name ranks 121st. In Portugal, it ranks 4,814th. In the Philippines, it ranks 137th. The surname Carrillo frequency/commonness ranks as follows in the Latin and South America: Mexico (59th), Guatemala (120th), Honduras (495th), Panama (206th), Colombia (131st), Venezuela (94th), Argentina (589th), Nicaragua (279th), Ecuador (118th), Cuba (192nd), Peru (135th), Chile (252nd), Bolivia (281st), Uruguay (9,255th), Dominican Republic (1,833rd), Costa Rica (137th), Paraguay (373rd) and El Salvador (164th).
Carrillo Family Tree & Carrillo Genealogy
Some bearers of this surname during the time of the Middle Ages to the early modern period include:
1) Gil Alvarez Carrillo se Albornoz (1310-1367 AD) was a Spanish church leader and cardinal born in Carrascosa del Campo
2) Pablo Carrillo was born in Mexico in 1739, married Juana Cayetana, and had a son named Paulin Antonio
3) Pedro Carrillo Davila was born in 1530, married Sancha Velmar, and had issue named Pedro, Juan, and Ana Vasquez
4) Alfonso Carrillo de Acuña, Arzobispo de Toledo (Archbishop of Toledo) was born in Carrascosa del Campo, Cuenca, Spain around 1410, the son of Lope I Vasques da Cunha and Teresa Carrillo de Albornoz
5) Antonia Cisternas Carrillo was born in Santiago Chile in 1622 and she married Capitan Juan de Godoy y Alvarado
6) Capitan Alvaro Carrillo was born in Reinos de Castilla, Espana (Spain) around 1565 AD, married Maria Alvarez de Sandi, and had issue named Ana, Isabel, Maria, and Diego
7) Pedro Carrillo was born in Lorca, Spain around 1750, married Juana Cathalina Carrasco, and had the following issue: Juana Maria, Bernabe Luis, and Josef Andres
8) Salvador Carrillo was born in 1690, married Antonia Gomez de Castillo, and had a daughter named Margarita
9) Pedro Carrillo was born around 1565, married Catalina Gonzalez O'Caldera, and had a son named Pedro
10) Elvira Carrillo y Osorio was born c. 1195 AD in Spain, the daughter of Gomez Gemez Carrilo and Elvira Alvarez de Osorio, and she married Ruy Martinez de Henestrosa
Some marriages involving the Carrillo last name include:
1) Juan Carrillo married Maria Rodriguez in San Julian, Valladolid, Spain in February 1631
2) Juan Carrillo married Ysabel De Berceruelo in Tordesillas, Valladolid, Spain in August 1605
3) Octaviano Carrillo married Juanita Villanueva in Hays, Texas in December 1910
4) Crisanto J. Carrillo married Francisca Gonzales in Maverick County, Texas in 1897
5) Eduardo G. Carrillo married Angela Paiz in El Paso, Texas in 1907
6) Francisca Carrillo married Fernando Mares in Cameron, Texas in May 1880
7) Louise Carrillo married Leo Casagranda in Quincy, Massachusetts in March 1903
8) Manuel Carrillo married Irene Beer in Guthie, Iowa in August 1911
9) Lazaro Carrillo married Maria Rica in San Vicente, Spain in January 1570.
10) Jose Manuel Carrillo married Maria Petra Sandoval in Salvatierra, Guanajuato, Mexico in May 1810
11) Juan Carrillo married Maria Guadalupe Villagomez in Salvatierra, Guanajuato, Mexico in July 1793
12) Miguel Geronimo Carrillo married Paula Martha Peres, daughter of Salvador Manuel Perez and Maria Phelipa Ortiz, in Celaya, Guanajuato, Mexico in May 1761
Patricio Carrillo was born in 1725. He married Andrea Gonzales and had a son with her named Juan. This son, Juan Antonio Carrillo, was born in Teocaltiche, Jalisco, Mexico in 1750. He married Petra Ygnacia Rodriguez, and had the following issue: Juan Jose, Maria Manuela, Maria de Santiago, Maria, Joseph Dario, Juan Nepomuceno, Lorenza Maria, Maria Rafaela, Juan Francisco, Jose Maria, Jose Teodoro, and Maria Torivia. His son, Juan Jose Dionicio Carrillo, was bo Maria Marrn around 1775 in Teocaltiche, Jalisco, Mexico. He married Marcel Marin, daughter of Francisco Marin de Penaloza and Maria del Carmen Tejeda, and had two children with her: Jose Pablo and Cecilio. His sin son, Cecilio Carrillo was born around 1810. In 1838, he married Maria Ursula Pedrosa and had three children with her: Sixta, Maria Serfina, and Maria Nicolasa. Sixta was born in Jalisco around 1840. She married Jose Ysabel Morales and they had a daughter named Maria Marcela who was born in 1858. She married Jose Esteban Rosas and had three issue: Amado, Cornelia, and Jose Leonides.
Early American and New World Settlers
Some of the earliest settlers in the New World bearing this name include Francisco Carrillo (Colombia 1534), Pedro Carrillo de Guzman (Peru 1534), Gonzalo Carrillo (Panama 1535), Juan Carrillo (Dominican Republic 1535), and Melchor Carrillo de Avila (Mexico 1577)
Several thousand members of the Carrillo family came to the United States through Ellis Island, during the nineteenth century, including:
1) Antonio Carrillo came from Mexico aboard the City of Alexandria in 1886
2) Dolores Carrillo came from Cuba aboard the Eagle in 1866
3) Jose Antonio Carrillo came from Venezuela aboard the Vicksburg in 1866
4) Isaac Carrillo came from Cuba aboard the Havana in 1865
5) Pedro J. Carrillo came from Guayaguil, Ecuador aboard the Amerika in 1907
6) Giuseppe Carrillo came from Niso, Italy aboard the Konigin Luise in 1906
7) Andreas Carrillo came from Spain aboard the City of Washington in 1887
8) Jaime F. Carrillo came from Venezuela aboard the Philadelphia in 1886
9) Pietro Carrillo came from Pignataro, Italy aboard the Duca d'Aosta in 1920
10) Manuel Carrillo came from Mexico aboard the La Bourgogne in 1890
11) Fernando Carrillo came from Spain aboard the City of Washington in 1884
12) Juana Carrillo came from Cuba aboard the Niagara in 1884
Notables
There are hundreds of notable people with the Carrillo surname. This page will mention a handful. Famous people with this last name include:
1) Maria Ygnacia Lopez de Carrillo (1793-1849) who was born in what is present day San Diego, California, then part of New Spain (Mexico) and was the original grantee of the land of which the city of Santa Rosa would later be founded
2) Captain José Antonio Ezequiel Carrillo (1796-1862) who was a California rancher who was the alcalde (mayor) of Los Angeles in 1826, 1828, and 1833
3) Carlos Antonio Carrillo (1783-1852) was the Governor of Alta California from 1837-1838
4) Cesar Carrillo (1984) who was a professional baseball player born in Chicago Illinois who played for the San Diego  in 2009 and also played for Bravos de Leon in the Mexican Baseball League
5) Erwin Albeiro Carrillo Fragozo (1983) was a professional soccer (football) player born in Santa Marta, Colombia who plated from 2002-2019 for teams such as Deportivo Cali, Union Magdalena, and Real Cartagena
6) Ernesto Perez- Carrillo Jr. (1951) who is a Cuban American master cigar maker who founded the El Credito Cigar Company in Miami, Florida, born in Pinar Del Rio
7) Ramon Carrillo (1906-1956) was an Argentine neurobiologist, neurosurgeon, academic, and physician born in Santiago del Estero, and served as the First Minister of Health in Argentina from 1949-1954
8) Juan Jose Carrillo (1842-1916) was the Mayor of Santa Monica California from 1890-1897
9) Julian Carrillo Trujillo (1875-1965) was a violinist, composer, and music theorist from Ahualulco, San Luis Potosi, Mexico known for developing the theory of microtonal music
10) Fernando Enrique Carrillo Roselli (1970) is an actor from Caracas, Venezuela known for his roles in telenovelas such as Maria Isabel and Rosalinda.
Carrillo America Civil War Veterans
There were several soldiers with the last name Carrillo who served in the American Civil War, including the following:
1) Jose M. Carrillo of the 1st Battalion Arizona Infantry (Union)
2) Rafael Carrillo of the 1st New Mexico Territory (Union)
3) Francisco Carrillo of the 1st Regiment New Mexico Territory (Union)
4) Antonio Carrillo of the 33rd Regiment Texas Cavalry, Duff's Partisan Rangers (Confederacy)
5) Joseph A. Carrillo of the 1st Regiment Louisiana Heavy Artillery (Confederacy)
6) Casimero Carrillo of the 1st Battalion California Native Calvary (Union)
7) Pancho Carrillo of the 2nd Regiment Texas Cavalry (Confederacy)
8) Victor Carrillo of the 2nd Regiment Texas Cavalry (Union)
9) Juan Carrillo of the 1st Battalion California Native Cavalry (Union)
10) Manuel Carrillo of the 2nd Regiment New Mexico Infantry (Union)
11) Mattias Carrillo of Tafolla's Independent New Mexico Militia (Union)
12) Tomas Carillo of the 3rd Regiment New Mexico Mounted Infantry (Union)
Noble Members
1) Don Luis Carrillo of Toledo – Count of Pinto, granted to by King Felipe IV on July 2, 1624
2) Dona Estefania Carrillo de Mendoza y Cortes – 6th Marquessof the Valley of Oaxaca
3) Don Jose Carrillo de Albornoz y Montiel – Duke of Montemar – granted by King Felipe V on April 20, 1735
4) Don Diego Miguel Carrillo de Pinto – Count of Montemar – 1747
5) Don Nicolas Carrillo de Mendoza – Marquis of Alcocebar – granted t by King Ferdinand I on June 28, 1752
Blazons & Genealogy Notes
1) Royaume de Galice – De gueules à une tour d'or ouverte et ajourée d'azur sommée de trois tourelles du second celle du milieu plus élevée. English: Gules with a tower or doorways and openings azure surmounted by three turrets of the second that of the middle more raised.
2) Tolède – De gueules à une tour d'or ouverte du champ sommée d'une aigle de sable tenant de sa patte dextre une couronne d'or. English: Gules with a tower or doorways of the field surmounted by an eagle sable holding in its paws dexter a crown or.
3) Brabant – De gueules à une tour d'or ouverte et ajourée du champ sommée de trois tourelles du second celle du milieu plus élevée. English: Gules with a tower or doorways and openings of the field surmounted by three turret of the second that of the middle raised higher.
4) Cuenca – Parti au 1 de gueules à une tour d'or ouverte du champ et ajourée d'azur sommée de trois tourelles du second celle du milieu plus élevée (Carrillo) au 2 d'or à la bande de sinople (Albornoz). English: Per pale 1st gules with a tower or open of the field and openings azure surmounted by three turrets of the second that of the middle raised higher 2nd or a bend vert.
5) Carrillo Y Albornoz – Castille, Andalousie – D'argent à la croix de gueules cantonnée de quatre paons d'azur. English: Argent a cross gules having in each quarter one of four peacocks azure.