Caspers Family Crest, Coat of Arms and Name History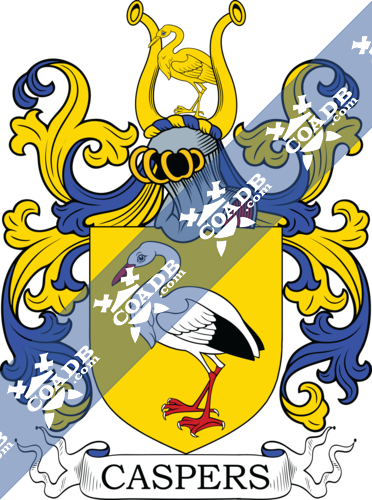 Caspers Coat of Arms Gallery
Don't know which Coat of Arms is yours?
We can do a genealogical research. Find out the exact history of your family!
Learn More
Casper Origin:
England, Germany, France
Origins of Casper:
There are in Europe, over one hundred spellings of this famous surname. These include the base forms like Casper, Kasper and Kesper (German), Gaspard (French), Jaspar, Jesper, and Jasper (English), Casperrri, Gasperro, Gasparro, Parri, and Sperro, (Italian), Kaspar and Kasparek (Czech), Kasprowicz (Polish), and Kasperovich (Belorussian). However, spelled, the origin is from an original Persian word of old times 'kaspur' which means 'treasurer', the name being given by tradition to one of the three wise men who joined the birth of Christ. The others being Balthasar and Melchior. Most names of this type were 'borrowed' names, originally brought as first names by the returning Crusaders and other 'pilgrims' to the Holy Land, in the time of the religious ceremonies of Christianity in the 12th century. These later advanced into surnames in their right. The 'Crusader connection' perhaps applies with this surname, but early records are rather later than would normally expect, and there may be other reasons.
Variations:
More common variations are: Caspero, Caspera, Caspery, Caasper, Casperi, Caspeer, Caspere, Caspeir, Casperei, Casupero.
England:
The surname Casper first appeared in different parts of the Holy Roman Empire. An early noted example of the surname is of a Johann Caspar listed as being a vicar in Schaffhausen, in 1441. Schaffhausen was a city-state, until joining the Swiss Confederation in 1501. Families of Caspersen found in Holstein; Caspers, Kespers in Bavaria and the Rhineland; and Kaspareck in the Slavic East.
The very first recorded spelling of the family was shown to be that of Johan Casper, in the "Schaffhausen", Germany. It was at the time of Mary Jesperwho was known to be the "The Church of St Mary Aldermary", dated 1672. The origin of surnames during this period became a necessity with the introduction of personal taxation. It came to be known as Poll Tax in England.
Ireland:
Many of the people with surname Casper had moved to Ireland during the 17th century.
United States of America:
Individuals with the surname Casper landed in the United States in two different centuries respectively in the 17th and 18th. Some of the people with the name Casper who arrived in the United States in the 17th century included Christie Casper, who landed in Pennsylvania in 1743. Valantine Casper at the age of 18, landed in Pennsylvania in 1748. Valentin Casper, who arrived in Pennsylvania in 1748. Johann Michael Casper, who came to Carolina in 1752. Conrath Casper, who arrived in Pennsylvania in 1754.
The following century saw more Casper surnames arrive. Some of the people with the surname Casper who arrived in the United States in the 18th century included Jacob Casper, who arrived in Philadelphia, Pennsylvania in 1805. George Casper who moved to Ohio in 1809. Nicolas Casper, who arrived in Allegany (Allegheny) Division, Pennsylvania in 1841. Danz Casper, who landed in Galveston Tex in 1845. A Casper, who landed in Mississippi in 1847.
Here is the population distribution of the last name Casper: United States 15,152; Egypt 2,451; Germany 2,320; South Africa 1,096; Turkey 594; Philippines 580; Canada 314; France 306; Malaysia 278; England 269.
Notable People:
William Earl Casper, Jr. (June 1931 – February 2015) was an American professional golf player. He was one of the most productive tournament winners on the PGA Tour from the mid-1950s to the mid-1970s.
Christopher Martin "Chris" Casper (April 1975) is an English football manager and an old football player who played in the Premier League for Manchester United and the Football League for Bournemouth, Swindon Town and Reading.
David John Casper (September 1951), nicknamed "The Ghost," is a former American football player best known for being a prominent member of the Oakland Raiders in the National Football League (NFL).
Siegfried Jost Casper (January 1929) is a German biologist whose primary research is in limnology and the plant genus Pinguicula.
John Howard Casper (July 1943) is an American explorer and United States Air Force pilot.
Gerhard Casper (December 1937) was the ninth president of Stanford University from 1992 to 2000.
Joseph Andrew "Drew" Casper is a Professor of Critical Studies in the School of Cinematic Arts at the University of Southern California and thought to be an authority on American film from World War II to the present.
Blazons & Genealogy Notes
Bavière – (Conc. d'arm., 1571; an., 17 oct. 1856) D'or à une cigogne au naturel Cimier la cigogne entre deux proboscides d'or Bourlet et Lambrequin d'or et d'azur. English: Or a stork proper Crest: the stork between two proboscides or Crowned with a helmet the wreath of which is or and azure Mantling: also or and azure.