Chadwell Family Crest, Coat of Arms and Name History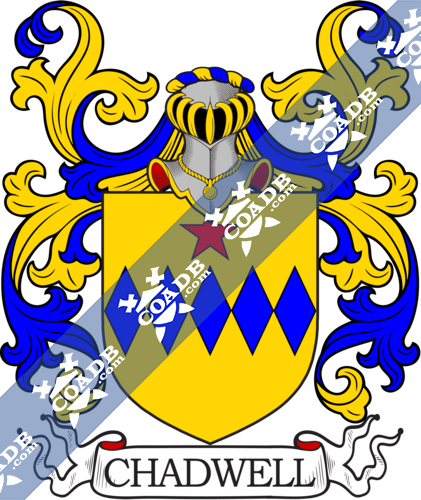 Chadwell Coat of Arms Gallery
Don't know which Coat of Arms is yours?
We can do a genealogical research. Find out the exact history of your family!
Learn More
Chadwell Origin:
England
Origin of Chadwell:
The Chadwell surname originally derives from an Anglo-Saxon origin. It is a locational surname stemming from any one of the areas named as "Caldwell" in North Yorkshire and Warwickshire, "Cauldwell" in Bedfordshire, Derbyshire and Nottinghamshire, and other regions called with the similar components like "Chadwell," "Chardwell" and "Caudle Green." The area in Yorkshire is listed as "Caldeuuella" in the Domesday Book of 1086. It's meaning and origin is a combination of two words, one of which is "the cold water source, or lake", from the Olde English pre 7th Century word "cald, ceald", which means cold or cool, combined with the word "well, waell", which means stream, flow lake or well. The surname also appeared in Scotland, where it acquires from "Caldwell" in Renfrewshire. There are a great many variations of the new surname, varying from Caldwell, Cau(l)dwell, and Cawdell to Cadwell, Coldwell, and Chadwell. John Caldwell married Margaret Matthews at St. George's, Hanover Square, London, in the year 1581.
Variations:
More common variations of this surname are: Chadell, Chadwell, Shadwell, Chatwell, Chidwell, Chadelle, Chadella, Chedwell, Chaidell, Chaddell.
England:
The name Chadwell first appeared in Essex at Chadwell, a church, in the union of Orsett, Hundred of Barstable. The Domesday Book of 1086 records the area name was Celdeuulla.
The very first recording spelling of the family was shown to be that of Adam de Caldwella, which was dated 1195, in the "Pipe Rolls of Derbyshire." It was during the time of King Richard I, who was known to be the "The Lionheart," 1189 – 1199. The origin of surnames during this period became an important requirement for the development of personal taxation. It came to be known as Poll Tax in England. Surnames all over the country started to develop, with different and shocking spelling variations of the original one.
United States of America:
Some of the people with the name Chadwell who settled in the United States in the 17th century included Richard Chadwell, who landed in Lynn, Massachusetts in 1636. Thomas Chadwell, who arrived in Lynn, Massachusetts in 1648. Dan Chadwell and his wife Anne settled in Virginia in 1651. Ann Chadwell, who landed in Virginia in 1651. Dan Chadwell, who arrived in Virginia in 1653.
Here is the population distribution of the last name Chadwell: United States 4,126; England 86; Canada 18; Germany 1; Italy 1; Kazakhstan 1; South Africa 1; Australia 1; Trinidad and Tobago 1; Bahrain 1.
Notable People:
William Chadwell (born 1614) was an English advocate and politician who sat in the House of Commons between the year 1640 and 1644. He followed the Royalist cause in the English Civil war.
Robert Chadwell was the son of William Chadwell, of Broadwell, Gloucestershire. He got his matric degree at Exeter College, Oxford in December 1631 at the age of 17 and awarded a BA in June 1632. He was named to the bar at Lincoln's Inn in 1640. In April 1640, Chadwell was selected representative of the court for Mitchell in the Short Parliament. He again was chosen as an army officer for Mitchell for the Long Assembly in November 1640 and gave services till he was displaced for supporting the King in January 1644. He was rewarded the D.C.L. in November 1644.
Jamey Chadwell is the senior football referee at Charleston Southern University. He was the first top referee at North Greenville University and Delta State University for one season. He grew up in Tennessee and visited East Tennessee State University where he played quarterback from the year 1995 to 1999. He started his coaching job in 2000 at East Tennessee State before taking a senior status at Charleston Southern University in 2004.
William Chadwell Mylne, FRS (April 1781 – December 1863) was a British engineer and builder. He was descended from a Scottish family of workers and builders and was the second son of Robert Mylne (1733–1811), civil engineer to the New River Company, and architect of the first Blackfriars Bridge in London.
Heather Chadwell was born in May 1975. She is an American actress, reality character, comedian, and administrator of Hollywood Heather, LLC. She is famous for her performance on VH1's Rock of Love but has also adventured into acting with a small performance in a scene of It's Always Sunny in Philadelphia.
Blazons & Genealogy Notes
1) Notes: None. Blazon: Argent a fesse dancette azure. Crest—Out of a ducal coronet a dexter hand holding by the neck a swan's head erased all proper.
2) Notes: None. Blazon: Or, a fesse lozengy azure in chief a mullet gules.