Chadwick Family Crest, Coat of Arms and Name History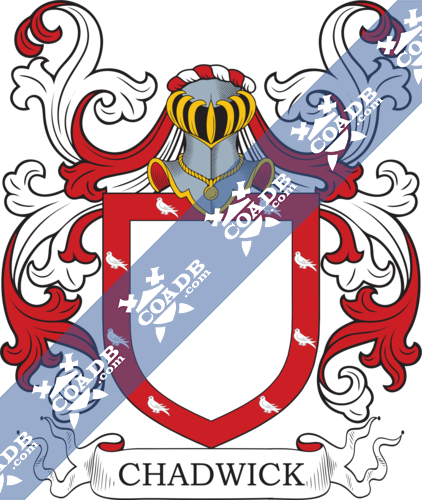 Chadwick Coat of Arms Gallery
Don't know which Coat of Arms is yours?
We can do a genealogical research. Find out the exact history of your family!
Learn More
Surname Name Meaning, Origin, and Etymology
This is a local name meaning "of Chadwick", a hamlet in the parish of Rochdale in county Lancashire (there is also a parish so named in Bromsgrove in county Worcester). It was spelled Chaddewyk in the Coucher Book of Whalley Abbey in 1180 AD. One source claims it mean the dwelling (wick) or Chad (the given name of the first settler). Another source believes it derives from the Old English personal (first) name Ceadda and the anglicized Old Norse word vik that was introduced into England during by Norman settlers from Scandinavia. Once source states this translates to "Caedda's dairy farm".  Ceadda was an Irish archbishop who lived in the 600s AD. Another source, An Etymological Dictionary of Family and Christian Names by William Arthur published in 1857, states it means the cottage by the harbor or sheltered place, and that it derives from the Saxon word Cyte (cottage) and wick (harbor, sheltered locale). He also states it be have derived from shad fisheries. A chad, also known as Alosinae, is a fish in the herring family. The family was granted lands in Lancashire for the service they provided to William the Conqueror during the Norman Conquest of 1066 AD.
Spelling Variations
Common spelling variants or names with similar etymologies include Chadwyke, Chadwicke, Chaddick, Shadduck, and Chadwich.
Popularity & Geographic Distribution
The last name ranks Chapman ranks 2,093rd in popularity in terms in the United Status as of the 2000 Census. The name ranks particularly high in the six following states: Vermont, New Hampshire, Utah, Georgia, Idaho, and North Carolina. In England, the name is even more common: it ranks 495th in popularity. It ranks highest in the five following counties: Lancashire, Cheshire, Yorkshire, Staffordshire, and Derbyshire. The name is common throughout the English speaking world:  Scotland (2,015), Wales (625), Ireland (1,632), Canada (2,463), New Zealand (970), Australia (1,010), and South Africa (4,316).
The 1890 book Homes of Family Names by H.B. Guppy states "The Chadwicks of Chadwick in Rochdale parish are a very old and distinguished family dating back from the present to the 14th century; the hamlet of Chadwick has been in their possession since the family was founded: Healey Hall has been for. many centuries a seat of the family (B. and L.). The name is common in the Rochdale parish registers of the 16th century (P.), and still occurs in the town. There are also Chadwicks of Staffordshire and Derbyshire; and there are places of the name in Worcestershire and Warwickshire".
Early Bearers of the Surname
The first known person with this last name was Richard de Chadelswick who was listed in the Assize Court Rolls of Warwickshire in 1221 AD.
The Poll Tax of Yorkshire in 1379 AD lists one Elena Chadwyk. Nicholas de Chadwyke was recorded in Baines' Lancaster during the time of Edward III (1327-1377). Ann Chadwick of Chadwick, a spinster, was listed in the Wills at Chester in county Lancashire in 1636, as was John Chadwick of the same town, listed in 1630 as a gentlemen. An early baptism involving this surname was Margaret, daughter of Edward Chadweeke, at St. Jame's Clerkenwell.
History, Genealogy, and Ancestry
The famous genealogist Bernard Burke's book "The Landed Gentry" discusses five branches of this family. The first is Chadwick of Healey, Ridware, and New Hall. It begins with a mention of John de Heley Mavesyn Ridsware in county Stafford and New Hall in county Warwick. He was a Justice of the Peace and D.L. that was born in 1834. In 1858, he married Clara Sophia, the oldest daughter of Major S.B. Goad of the Bengal Cavalry.  They had six children together: Hugo Mavesyn (1859), Charles (1863), John de Heley Mavesyn (1866), Henry Sacheverell Mavesyn (1874), Clara Mavesyn, and Eliza Catherine. He served in the 2nd Dragoon Guards and the 9th Lancers. He served in the Indian Mutiny of 1857. Burke traces the lineage to Jordan Chadwick (younger brother of Henry) who married Elianore, the daughter of Christopher Byrkeshagh of Hundersfield,. He had a son with her named John Chadwyke. In 1483, he married Alice, daughter and Adam Okeden of Heley (descended from Adam de Okeden), and had a son with her named James, a priest, who was his successor. Then came Thomas Chadwyke, then Robert, whose grandson was John Chadwicke. John married Katharine, daughter and heir of Lewis Chadwicke, Esp. of Mavesyn. His eldest son was Charles Chadwick, Esq. of Healey and  Ridware who was born in 1637. In 1665, Charles married Anne, daughter of Valence Sacheverell of New Hall. They had a son named Charles who was born in 1675. In 1669 Charles married Dorothy, daughter of Sir Thomas Dolman, who had two daughter and a son also named Charles. He died in 1756 and was succeeded by his son Charles, Esquire of Ridware, New Hall, and Callow who was born in 1706. He assumed the surname and arms of Sacheverell. In 1741, he married Anna Maria, daughter and co-heir of William Brearley.
The second branch discussed is Chadwick of High Bank. James Chadwick was an Esquire of High Bank, Prestwich, Lancashire and was a Justice of the Peace. He was born in July of 1824 and in 1854, he married Laura Janet Emma, daughter of Charles Barnett of Stratton Park, and had a son with her: Charles Robert, who was born in 1855 and died in 1877. Burke traces the lineage back to James Chadwick (grandson of Jonathan of Hades) who was born in 1752. In 177, he married Mary, daughter of Thomas Chorlton, Esq. of The Weaste, and had issue with her: William (1780, married Elizabeth Anne Wilkinson), James (born 1794 who married Alice Fogg), Robert, Mary (married Thomas Salter), Catherine Chorlton, and Anne (of Barton-on-Irwell). His third son Robert was an Esquire of High Bank and was born in 1797. In 1821, he married Elizabeth, daughter of John Kershaw) and had numerous children with her: James, Robert, Eliza, Anne, and Catherine Ann. This line had a family crest with the following blazon: Per pale azure and gules an ineschutheon ermine within an orle of fleurs-de-lis and martlets alternatively argent.
The third branch discussed is of Pudleston Court. It begins with a mention of Harry Chadwick, esquire of Pudleston Court in county Hereford. He was born ion 1849 and was a Barrister-at-Law of the Inner Temple. In 1875, he married Jane Lane, daughter of W.P. Boxall, Esquire of Bellevue Hall and had one son with her: Harry Elias Lane. Burke traces the pedigree back to Elias Chadwick, Esq. of Wigan and won of Elias. He married Ellen, daughter of James Strettell and had four children with her: Strettell (married Grace Bolton), Elias, Margaret (married Thomas Seddon), and Ellen (married Jeremiah Royle of Manchester). The youngest son Elias, of Swinton Hall, in 1806, married Alice, daughter of Henry Arrowsmith. They had five children: Henry Strettel, Elias, Ellen, Ellen Sarah Award, and Isbella Ward. His second son was Elias Chadwick, Esquire of Pudleston Court in county Hereford who was Justice of the Peace and High Sheriff in 1854. In 1840, he married Ellen, daughter of Thomas Seddon of Manchester, who died without children, whereupon he was succeeded by Harry (mentioned at the beginning of this paragraph). Their family crest was Gules an ineschutheon within an orle of martlets of argent all within a bordure engrailed or, charged with cross-crosslets sable.
The fourth branch discussed is of Daresbury Hall. It begins with a discussion of Samuel Beckett Chadwick of Daresbury Hall, Preston Brook, in county Chester. He was born in 1848 and succeeded his father in 1856. Burke traces the lineage back to Sameul Becket Chadwick who was born in 1818, son of Samuel, who purchased from Reverend George Herson the Manor and estate of Daresbury in 1832. In 1843, he married Elizabeth, daughter of Philip Whiteway and had issue with her including Samuel (mentioned above), Philip Richard (born 1850), Mary Anne, Frances, and Elizabeth Catherine.
The fifth and last branch discussed is Cooper-Chadwick of Ballinard. It begins with a mention of Richard Austin Cooper-Chadwick of Ballinard in county Tipperary. In 1855, he married Katherine, daughter and co-heir of William Chadwick and had a son with her named William (born in 1855). His second wige was Charlotte Sophia, daughter of John Bourchier of Baggotstown in Limerick, whom he married in 1863. They had seven children together: John (1864), Richard Austin, Austin Samuel, Katherine Louisa, Elizabeth Sarah, Charlotte Sophia, and Frances Anna. Tradition states the family was from York, England and the first member to come to Ireland was William Chadwick, Esquire of Gurthakilleen near Oola in county Limerick who lived during the reign of Queen Anne of England (1702-1707). A member named Richard owned significant amounts of land, that he gave to his sons: William, Richard (Rector of Doone in county Tipperary, born 1751), and Frederick (of Littleton). He also had a daughter that married Humphrey Minchin. With his second wife he had more children: Nicholas and Michael. His eldest son was William who was born in 1741. He received Ballinard as his portion of the land.  He married Chistiana, daughter of John Carden, and had issue with her: Richard, John Craven, Rebecca (married Ussher Beere of Dublin), Clardina (married Captain Collins), Elizabeth (married Edward Power in 1796), Charlotte (married John Bouchier in 1797), Harriet, and Isabella. He later married Sophia Carden. He died in 1825 and was succeed by his son: John Craven Chadwick who was born in 1788. John married Elizabeth, daughter of Samuel Cooper of Killenure Castle and had issue with her: William, Samuel Cooper, Austin Cooper, John Craven, Richard, Frederick, Edward Butler, Frances (married Reverend John Seymour), Catherine (married Richard M. Forsayeth of Templemore), Elizabeth (married Reverend William Bryan on Gurteen), and Caroline Damer (married Reverend Joseph Cooke Armstrong of Ballypooreen).  He died in 1851 and was succeeded by his eldest son William who married Wilhelmina Seymour and had children with her: Katherine, Elizabeth, and Fanny. He later married Charlotte Bourchier. The family had the following coat of arms: 1st and 5th, or, an inescutcheon gu. charged with a lily slipped and leaved proper within an orle of martlets sable, for Chadwick ; 2nd and 3rd, per pale indented argent and sable Three bulls passant counterchanged, a canton azure, for Cooper.
Sir John Chadwick was born in 1522 in Rochdale. He married Agnes Heywood in 1604 and had issue with her: Grace, Edmund, Robert, Charles, Alexander, James, and Thomas.
John Chadwick was born in 1645 in England. He married Sarah Manning and had the following children with her: Hannah (Hayward), Elizabeth (Woolson), Charles, Sarah (Pillsbury), John, Ebenezer, Joseph, Benjamin, and Mary. He died in Watertown, MA. His son Benjamin was born in 1689 in Waterton, Massachusetts. He married Hannah Welch and had issue with her: Nathaniel, Grace, Hannah, Martha, William, Hezekiah, Noah, and Aaron. His son William was born in 1720 in the same city. He married Eunice Goss and had three children: Bette, Eunice (Thurston), and Samuel. Samuel was born in 1769 in Guilford Vermont. He married Elizabeth Pierce and had issue: Samuel, Eben, David, Polly, Betsey,Amelia Phedina (Clark), Daniel, Horace, Adaline, and Rufus. His son David was born in 1793 in Fletcher, VT. He married Sarah Brooks and had numerous children with her: George M., Benjamin Franklin, Samuel, Royal Gilson, Sarah Elizabeth (Walker), Allen, Julia (Rucker), Harrison Brooks, Julius Judson, Mary Ellen (Huggins), Frances Amelia, Cynthia Rose (Dunham), and Ruthea Idale (Allen). His son Benjamin Franklin Chadwick was born in 1823 in Ohio. He married Anna Madden and Sarilda Catherine Bishop. They had the following children: Lenna, Anna Mariah (Patnott), Laura Ellen (Cavanah), Carrie Agnes (Woolsey), Cora Frances, and Frank. His son Frank was born in 1871 and died in 1887 in Chariton County, Missouri.
Early American and New World Settlers
The book Genealogical Guide to the Early Settlers, mentions four people bearing this surname: 1) Charles Chadwick who likely came in Governor George Winthrop's fleet and was declared a freeman in 1630. In 1637, he became a representative in the General Court 1657-9 and died in 1682 in at the age of 85. He had a wife named Elizabeth and had issue with her including John, Thomas, and maybe others, 2) James Chadwick of Malden, Massachusetts who was a soldier in Mosley's company and was wounded in the Great Swamp Fight with the Indians. In 1677, he married Hannah Butler and had issue: Jemima (1687), Benjamin (1689), Abigail (1692), and others, 3) John Chadwick of Watertown, MA, likely the brother of the aforementioned Charles, who was born in Endland and with wife Joan had children Elizabrth (1648), Sarah (1650), and James (1653). He was a freeman in 1656 and died in Malden, MA at the age of 79 in 1656, and 4) Thomas Chadwick  who lived in Newbury, MA and was the brother of Johnb. In 1674, he married Sarah Wolcott and had issue Sarah (1675), Thomas (1677), John (1680), Elizabeth (1682), Richard (1687), Daniel (1689), and Jonathan (1691).
Another early settler in colonial America was Elizabeth Chadwick who came to Potomac Maryland in 1728 AD. In Canada, Henry and Joseph Chadwick came to Nova Scotia in 1749. John Chadwick was an early settler in New Zealand who arrived in the city of Auckland in 1842.
Mottoes
The Chadwick family motto is Stans cum rege (Standing with the king), In candor decus (Honor in sincerity), Deo fidens proficio (Trusting to God I go forward), Toujours pret (Always ready), En bon foy (In good faith), and *Fide et amore (By fidelity and love).
*Borne by Chadwick of Lynn county Nofolk. It descends from the Lancashire branch of the family; one of his ancestors, Sir Andrew Chadwick, saved Queen Anne in 1709 from a fall from her horse, for which service he is said to have been knighted.
Grantees
We have 8 coats of arms for the Chadwick surname depicted here. These 8 blazons are from Bernard Burke's book The General Armory of England, Ireland, and Scotland, which was published in 1848. The bottom of this page contains the blazons, and in many instances contains some historical, geographical, and genealogical about where coat of arms was found and who bore it.
Notables
Famous people with this last name include: 1) George Whitefield Chadwick (1854-1931) who was an America composer of the Second New England School, 2) Lynn Russell Chadwick (1914-2003) who was an English sculptor and artist from London, 3) Stephen Fowler Chadwick (1825-1895) who was an American Democratic politician who was the fifth Governor of Oregon in the 1870s, and 4) Stephanie Anne Chadwick (1948) who is a politician in New Zealand that became Mayor of Rotorua (a district in northern New Zealand).
Blazons & Genealogy Notes
1) (Chadwick, co. Lancaster). The eventual heiress, Sarah Chadwick, of Chadwick, d. unm. in 1722). Gu. an inescutcheon within an orle of martlets ar. Crest—A lily ar. stalked and leaved vert.
2) (Healey, co. Lancaster; Mavesyn-Ridware, co. Stafford, and New Hall, co. Warwick; descended from Jordan Chadwyk, second son of John de Chadwyk, of Chadwyk; the Healey estate was acquired by the marriage, in 1483, of John Chadwyke, with Alice, eldest dau. and coheir of Adam Okeden). Same Arms. Crests—1st: A lily ar. stalked and leaved vert; 2nd: A talbot's head gu. having the arms of Handsacre (erm. three cronels gu.) on the collar, and pierced through the neck with an arrow. Motto—Stans cum rege.
3) (Mavesyn Ridware, co. Stafford; quartered by Chadwick, of Healey, Mavesyn Ridware, and New Hall; Coll. of Arms MSS.). Ar. a bordure gu. charged with eight martlets of the field.
4) (Swinton Hall, co. Lancaster, now of Pudleston Court, co. Hereford; claiming descent from Chadwick, of Chadwick). Gu. an incseutcheon or, within an orle of martlets ar. all within a bordure engr. of the second, charged with eight crosses crosslet sa. Crest—In front of two crosses crosslet fitchee in saltire, the flower and stem of a white lily, slipped ppr. Motto—In candore decus.
5) or Chadock – (Cornwall). Gu. on an inescutheon within an orle of martlets ar. a cross of the first. Crest—On a ducal coronet or, a martlet.
6) (Cornwall). Gu. an orle of martlets or, on a canton ar. an inescutcheon of the first.
7) (High Bank, co. Lancaster). Per pale az. and gu. an inescutcheon erm. within an orle of fleurs-de-lis and martlets alternately ar. Crest—In front of a lily, stalked and leaved ppr., a martlet ar. Motto—Deo fidens proficio.
8) (confirmed to Edward Marion Chadwick, Esq., of Toronto, Canada, grandson of John Craven Chadwick, Esq., of Ballinard, co. Limerick). Per pale gu. and sa. within an orle of eight martlets &r., an escutcheon of the third charged with a cross of the first, and in the first quarter thereof a crescent of the second. Crest—A martlet ar. holding in its bill a white lily slipped and leaved ppr., borne fessways, the flower to the sinister. Mottoes—Toujours pret; and (over the crest) in candore decus.