Cherry Family Crest, Coat of Arms and Name History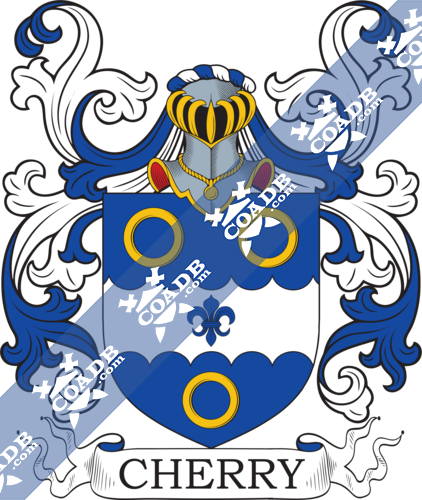 Cherry Coat of Arms Gallery
Don't know which Coat of Arms is yours?
We can do a genealogical research. Find out the exact history of your family!
Learn More
Surname Name Meaning, Origin, and Etymology
This Anglo-Norman name is local meaning "at the cherry" that came to describe a person who lived near a cherry tree (in the same way we get Oake, Ash, Chestnut, and Crabtree). Other theories are that it is an occupational surname for a person who grew or sells cherries, or even a nickname for a person with a rosy complexion or red hair. It derives from the Old Middle English word chery or chiri. Thomas Cherry of Maidenhead, descended from the House De Cheries of Picardy and Normandy, Lords of Beuval, Leguidere, and Villencourt neat Avranches and is of French Huguenot origins. Cheris is a place near Avranches. In 1407, Jean de Cherie obtained a safe conduct to pass over into England. The Cherry family settled in Lincolnshire. It is interesting to note that during the early Middle Ages the earth experienced a warming period, allowing cherry trees to grow in France and England, whereas previously they only grew in more Mediterranean climates, which popularized the name throughout Europe. There is a parish in county Cambridge called Cherry-Hinton.
Spelling Variations
Common spelling variants or names with similar etymologies include Cherye, Chery, Chirie, Chearry, Chearie, Cherries, Cherrie, and Cherryman. There is a Flemish personal name Cherwy.
Popularity & Geographic Distribution
The last name ranks Chapman ranks 922nd in popularity in terms in the United Status as of the 2000 Census. The name ranks particularly high in the six following states: North Carolina, Tennessee, Virginia, Oklahoma, Pennsylvania, and Maryland. In England, the name is even more common: it ranks 1,373rd in popularity. It ranks highest in the five following counties: Bedfordshire, Surrey, Oxfordshire, Buckinghamshire, and Hertfordshire. The name is common throughout the English speaking world:  Scotland (1,542), Wales (2,076), Ireland (3,199), Canada (2,833), New Zealand (1,530), Australia (1,192), and South Africa (2,880).
The 1890 book Homes of Family Names by H.B. Guppy states "Cherry is also a Northamptonshire name. In the early part of the 17th century there was a family of the name in Maidenhead, Berks. Benjamin Cherry, who died in 1785, was four times mayor of Hertford, and left bequests for the poor; Benjamin Cherry, his son (as I infer), who was town clerk of Hertford for twenty years, died in 1817".
Early Bearers of the Surname
The Hundred Rolls of 1273 AD, a census of Wales and England, known in Latin as Rotuli Hundredorum, documents one person bearing this surname:  William Chirie in county Derbyshire. William Chery was listed in the Close Rolls during the reign of King Henry VI of England (1422-1461). Robert Chyry was listed in the Assize Register of Lancashire in 1284 AD. Hugh and Robert Cherry were documented in county Suffolk (in East Anglia) in 1524 AD. Early known marriages include William Cherye to Alyce Foxe in 1569 at St. Michael Cornhill, Henrie Cherrie to Joane Fenner at St. James Clerkenwell, in 1606, and John Cherry to Rebecca Holdsworth at St. George Hanover Square in London in 1788.
History, Genealogy, and Ancestry
The famous genealogist Bernard Burke's book "The Landed Gentry" discusses one branch of this family: Cherry of Denford. It begins with a discussion of George Charles Cherry who was an Esquire of Denord in county Berkshire. He was a Justice of the Peace and High Sheriff in 1871. He was born in 1822. Burke traces the lineage back to George Cherry, Esq. and Chairman of the Vietualling Board. He married Susan, daughter of Henry Curtis, Esq. of Chatham, Kent, and had issue with her: George Frederick, John Hector, Peter, Susan Mary (married Charles Proby), Rosanna (married Thomas Blachford and Henry Sawbridge), Mary Anne (married George Rose), and Elizabeth Curtis (married John Gosling). The eldest son and heir was George F. who married Martha Maria, daughter of Henry Paul, leaving a son also named George. This George was born in August of 1793. He was a Justice of the Peace and High Sheriff in 1829. In 1819, he married Charlotte, daughter of Charles Drake Garrard of Lamer and had issue with her: George Charles (mentioned above), Maria Anne (married Reverend John Butler), Caroline Charlotte, Emily Jane (married John Smith of Hollyfield), Amy Elizabeth (married Colonel M.C. Downes St. Quintin in 1850), Louisa Rosanna, and Rachel Mary. Their family crest was: Argent on a fess engrailed between three annulets gules a fleur-de-lis or. They were seated at Denford, Hungerford, Berkshire.
Captain William Cherry II was born in 1762 and married Lottie Hopkins and Frances Taylor. He had a son named Samuel who was born in 1792. He married Mary Ann Upton and had a son named Alfred. Alfred was born in 1813 and had a son named Adam with his wife Sarah C. Miller. Adam was born in 1836 and married Martha Jane Goode. They had a son named Jesse Clarence Cherry who was born in 1879. Jesse married Bertha Hightower and they had a son named Woodrow who was born in the 1910s. Captain William II was a hero of the American Revolution and the owner of the famous "Cherry Tavern". For his service in the war, he was awarded 3,000 acres of land in Ohio and Kentucky.
Thomas Cherry was born in 1350 and had a son named John who was born in 1380 in Picardy, France. John had a son named John and later died in Plumpton, Northamptonshire. His son John was born in 1420 in Plumpton and had a son named Thomas who was born in 1460. Thomas married a woman named Elizabeth and had a son named John. John was born in 1500 in North Kilworth, Leicestershire and married a woman named Agnes with whom he had the following issue: Thomas, Richard, John, Robert, Edward, Henry, William, Francis, and Elizabeth. His son Edward was born in 1546 and had two children: Thomas Cherye and Margaret Cherie. His son Thomas was born in 1536 and married Elizabeth Bright. His son Richard was born in 1538 and he in turn had a son named Richard Cherry who was born in 1562. He married a woman named Dorothye and had the following issue: Ann, Richard, Elizabeth, Thomas, Francis, Marie, John, and Henry. His son Henry was born in 1604 in Cassington, Oxfordshire.
Early American and New World Settlers
Early people bearing this last name in colonial America include John Cherry (Virginia 1637), Francis Cherry (Virginia 1643), Mary Cherry (Pennsylvania 1705), and George Cherry (Charleston 1772).  A Thomas and Reuben Cherry lived in New Jerset in 1715. One of the earliest bearers in Canada was Edward Cherry who came to Nova Scotia in 1749.
Mottoes
The Cherry family motto is Chevis l'espoir, which means "Cherish hope" and is a play upon the name.
Grantees
We have three coats of arms for the Cherry surname depicted here. These three blazons are from Bernard Burke's book The General Armory of England, Ireland, and Scotland, which was published in 1848. The bottom of this page contains the blazons, and in many instances contains some historical, geographical, and genealogical about where coat of arms was found and who bore it.
Later grantees of arms bearing this last name include: Sir Francis Cherry of London who had the following blazon: Argent a chevron entailed between three annulets gules. He lived from 1552 to 1605 and was an English ambassador to Russia. He was knighted at Chatham in 1604 by Queen Elizabeth for his "faithful and gallant service" and established the Cherry lineage at Camberwell (a district in London).
Notables
Famous people with this last name include: 1) Donald Stewart Cherry (1934) who was a Canadian ice hockey player and a well-known commentator for Canadian Broadcasting Corporation for hosting Hockey Night in Canada, 2) Robert Gregg Cherry (1891-1957) who was the 61st Governor of North Carolina, and 3) Colin Cherry (1914-1979) who was an English cognitive scientist.
Blazons & Genealogy Notes
1) (London). Ar. a chev. engr. betw. three annulets gu. Crest—A demi lion ar. holding out in the paw a gem ring or, enriched with a precious stone ppr. the collet in pale.

2) (London-1604). (Shottesbrouke, co. Berks, afterwards of Danford and Burghfield, co. Berks, and of Buckland, co. Hereford). Ar. on a chev. engr. betw. three annulets gu. a fleur-de-lys, for diff. Crest—A demi lion ar. holding an annulet gu. Motto: Chevis l'espoir.
3) (Fun. Ent. of Edward Cherry, d. 4 June, 1614, his wife was Lettice, dau. of Sir Francis Aunguier, Knt., Master of the Rolls, ancestor of the extinct Lords Longford), Az. on a fess engr. ar. betw. three annulets or, a fleur-de-lis of the first.