Coleman Family Crest, Coat of Arms and Name History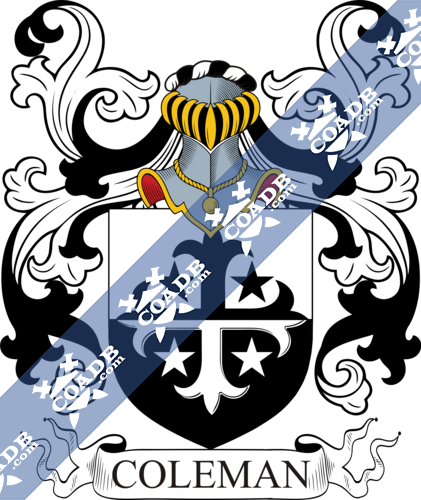 Coleman Coat of Arms Gallery
Don't know which Coat of Arms is yours?
We can do a genealogical research. Find out the exact history of your family!
Learn More
Surname Name Meaning, Origin, and Etymology
The Anglo-Saxon and primarily English last name Coleman has several origin theories, some of which seemingly overlap. First, it could be a baptismal name meaning "the son of Coleman" the German spelling of the personal (first name Columba), associated with St. Colman. Second, it could derive from the male given name Coleman, Colemannus, or Colemanus, which is present in the Domesday Book of 1086 AD, which was a survey of England and Wales ordered by William the Conqueror.  Third, it could be an Anglicized version of the Gaelic O'Colmain, a descendant of Colman, a name borne by an Irish missionary in Europe called St. Columban (540-615 AD). His name was adopted as a personal (first) name throughout Christendom (ex. Columbano in Ital, Colombian in France, Kalman in Hungary, and Kollman in Czech. There was also another Catholic saint, St. Columba (521-597 AD) who converted the Picts to the Christian religion and was known in the Scandinavian language was Kalman. This surname was introduced into counties Westmorland, Yorkshire, and Cumberland by Norwegians who came from Ireland. Fourth, it could be an Anglicized form of the Gaelic name O'Clumhain, meaning "descendant of Clumhan", a personal name with the diminutive clumn, meaning either "down" or "feathers". Fifth, it could be an occupational name given to someone who was a charcoal burner (or a seller or workman of coal), deriving from the Middle English word col, meaning coal. Fifth, it may be associated with the Gaelic word colman, or Latin word columba, meaning a dove. Sixth, it could be an occupational name for a servant of a person named Cole, a name likely referring to the dark complexion or hair of its bearer. Seventh, it could be an Americanized version of the Jewish surname Kalman or an Americanized form of the German last name Kulhmann or Kohlmann.
In Ireland, the family was first established in county Sligo (or Sligeach in Irish) and in Connact, where they were a sept of O'Colmain, which was a branch of Hy Fiachrach. This Ó Colmáin sept had their ancient seat in the town of Grangemore, parish of Templeboy, Barony of Tireragh, County Sligo. In England, the last name was first found in county Buckinghamshire where a man named Colemannus de Eston was documented in the Pipe Rolls of 1176 AD.
Spelling Variations
Common spelling variants or names with similar etymologies include Colman, Colma, Coultman, Coaleman, Coulman, Koelman (Dutch), Kohlmann (German), Ó'Colmáin/Ó'Clumhain/MacColmáin (Irish), Callum, Cullum, MacColeman, McColeman, Coalman, Coalmen, Colmen, Coulmin, and Colemin.
Popularity & Geographic Distribution
The last name Coleman ranks 102nd in popularity in terms in the United Status as of the 2000 Census. The name ranks particularly high in the following seven states: Mississippi, Virginia, Georgia, Alabama, Louisiana, Maryland, and Delaware.
The surname Coleman frequency/commonness ranks as follows in the British Isles: England (200nd), Scotland (503rd), Wales (224th), Ireland (156th) and Northern Ireland (285th).  In England , it ranks highest in Northamptonshire and Buckinghamshire. In Scotland, the Coleman surname  ranks highest in West Lothian In Wales, it ranks highest in counties Glamorganshire, Brecknockshire, and Radnorshire. In Ireland, it ranks highest in counties Sligo, Cork, and Wateford. In Northern Ireland, it ranks highest in county Tyrone.
The name is also present throughout the remainder English speaking world:  Canada (662nd), New Zealand (223rd), Australia (194th), and South Africa (908th).
The 1890 book Homes of Family Names by H.B. Guppy, states the following in regard to this surname: "Colman is a rare form found mostly in Norfolk and Essex".
Early Bearers of the Surname
The earliest known bearer of this surname was Hervicus Coleman who was documented in the Red Book of the Exchequer in 1166 AD. The Hundred Rolls of 1273 AD, a census of Wales and England, known in Latin as Rotuli Hundredorum lists three bearers of this surname: Coleman le Hen (Suffolk), Edith Colman (Oxfordshire), and Martin Coleman (London). The Poll Tax of Yorkshire in 1379 AD lists one bearer of this last name: Matilda Colman. Robert filius Coleman was recorded during the reign of King Henry II of England (1154-1189 AD) in Westmoreland and Cumbria. A Robert filius Colema was documented in the Pipe Rolls, or Sheriff's Annual Account for the Counties of Cumberlannd, Westmorland, and Durham during the reigns of King Henry II, Richard I, and John of England. Early marriages involving this surname include 1) Margarett Colman to Thomas Tanfelde at St. Michael, Cornhill in 1551 and 2) William Coulman to Susannah Glover at St. George's Hanover Square in 1809. An early baptism involving this surname was Johane, daughter of George Coleman, at St. James Clerkenwell in London in 1595 AD.
As a personal name, it was born by Colmán Már mac Coirpri Ó'Dúnlainge around 530 AD in Ireland, the son of Cairbre mac Cormac O'Dunlainge and the Queen of Leinster (and old Irish Kingdom). He was the brother of St. Coman and St. Cumaine.
History, Genealogy, and Ancestry
The famous genealogist Bernard Burke's book "The Landed Gentry" discusses one branch of this family:
Coleman of Stoke Park
John Edward Coleman of Stoke Park in county Buckinghamshire, who was a Justice of the Peace and Deputy Lieutenant born in 1833. In 1856, he married Gertrude Laurence Knight, daughter of James Thomas Walsh, Esquire of Park Place, Hampton, Middlesex. He was the son of James Edward Coleman, of Hollenden Park, who died in 1868. They were seated at Stoke Park in Slough and resided on Grosvenor Square.
Baronet Colman
Sir Jeremiah Colman, 2nd Baronet, of Gatton Park, county Surrey, was educated at Winchester and Trinity College Cambridge in 1908, was Justice of the Peace for Surrey and Southampton. He was born in 1886 and succeeded his father in 1942. In 1924, he married Edith Gwendolen, daughter of Sir Alfred Ernest Tritton, and had three issue with her: Michael Jeremiah (1928), Oliver James (1933), and Gillian Veronica (1926). The lineage of genealogy traces back to William Colman of Wymondham in county Norfolk, who was the father of Roger Colman, who dided in 1499, leaving a son and heir named John. John was the father of Robert. Robert died in 1438 and he married Agnes and had a son and heir with him named John Colman. John of Wynmondham died in 1550 and had a son and heir named Richard. Richard was the father of Robert. Robert married a woman named Mary and had a son with her named Edward. Edward married Elizabeth and had a son with her named Jeremiah Colman of Wyndham who died in 1656. Burke continues of the Colman genealogy and Colman pedigree/lineage for several more generations. Robert Colman, son of Robert, was of Rockland in county Norfolk and was born in 1775. In 1799, he married Anne Mills and had issue with her: James (of Stoke Holy Cross), Joseph (married Maria Elizabeth Mills), John (of Longnor House, Kilburn, married Charlotte Farey and Hannah Gardner), Jeremiah, Edward (married Benjamin Farey), William (married Philippa Wilson and Clarissa Ann Carter), Henry (of Rockdale St. Peter, married Sarah Palmer and Harriett Palmer), Thomas (married Mary Page), Samuel (married Mary Bowles), and Mary Anne (married William Fielding). He was succeeded by his 4th son Jeremiah. He was one of Her Majesty's Lieutenant for the City of London who was born in 1807 and married Isabella Cocksedge, daughter of James Button of Hopton, and had three issue with her: Sir Jeremiah (created 1st Baronet in 1907), Frank, and Isabella Mary (married Sir Charles Tyrrell Giles). His son Sir Jeremiah Colman, 1st Baronet, was Justice of the Peace, Deputy Lieutenant, and High Sheriff in 1893, as well as Lieutenant for the City of London. He was born in 1859 and held numerous other titles and positions. The Colman Coat of Arms (erroneously called Colman Family Crest) is blazoned in heraldry as follows: Ermine on a pale rayonnee or between two crosses flory sable, a lion rampant gules. Crest: On a wreath or and azure in front of two wings argent, each charged with an estoile azure, a rock proper, thereon a caltrap or. Badge: Issuant through an antique crown or, a greyhound head's proper. Motto: Sat cito, si sat bene.
Coleman in Ireland
The book "A genealogical history of Irish families" states the family is descended from Milesius, King of Spain, through his son Heber. This claim is dubious given said king is considered to be mythical by most historians, and the author of the book makes this same claim in regard to many other Irish surnames. The book claims the Coleman family was founded by Eadrach, son of Bee, who was 17th in descent from Ollio Ollum, King of Munster in 177 AD. The name was anciently spelled Colma, meaning "hardness". The clan possessed lands in modern day counties of Cork and Armagh Ireland. The author states: "There are many of the name in Ireland and the United States. In the latter country may be mentioned Commissioner James S. Coleman and his brother, Mr. Michael S. Coleman, the well-known contractor of New York".
Other Colemans Family Trees
Sir Edward Coleman Esq. was born in 1544 at Great Braxted, Essex, England. He married Ann Cutler and had the following issue: Anne, Alice, William, James, and Samuel. He went to colonial America. His son James was born in 1578 and married Mary Spencer. They had four sons: Richard, Henry, John, and William. His son Richard was born in Suffolk in 1590 and he married Rebecca Clairborne with whom he had the following issue: Robert Sr., William, Nicholas, and Thomas. His son Colonel Robert Coleman, Sr. was born in Essex in 1622. He came to colonial America and married Elizabeth Grizzel in 1650. He had the following issue: Robert Jr., Thomas Sr., Grizzell, Robert, Elizabeth (Tucker), Joseph, John, John Daniel, and Joseph. His son Thomas Sr. was born in Gloucester, Virginia in 1652, He had the following issue: Mary (Harwell), Thomas Jr, John, Mary (Cox), and Robert. His son John was born in Abingdon, VA in 1700 and he married a woman named Grace with whom he had the following issue: Richard, Joseph, John Jr., and James. His son James was born in the same parish in 1732. He married a woman named Sarah and had three issue: Mary, John, and Richard. His son Richard was born in 1761, married Ann Stubbs, and had two issue: William and Louisa. His son William was born in 1785 in Virginia.
Early American and New World Settlers
Abram Colman was recorded among the dead in Virginia in February 1623.
Joseph Coleman , a shoemaker, came from Sandwich, England to America with his wife Sara and four children in the early seventeenth century.
William Coleman, age 16, came to Virginia aboard the Assurance in July 1635.
John Coleman, age 40, came to Barbados aboard the Expedition in November 1635.
Barnard Colman, age 26, came to Bermuda (or Sommer Islands) aboard the Truelove in June 1635.
The book Genealogical Guide to the Early Settlers, mentions five bearers of this surname
1) Thomas Colman of Newbury who came from Marlborough in county Wiltshire, England who arrived in Boston, Massachusetts in June of 1635 aboard the James, on contract with Sir Richard Saltonstall, to keep cattle, and although a court ruled him negligent and unfaithful, he was a made a freeman in 1637. He married Susanna and had issue with her named Tobias (1638), Benjamin (1640), Joseph (1642), John (1644), Isaac (1647), and Joanna. He moved to Hampton and married Mary, widow of Edmund Johnson. His third wife was Margery, daughter of Philip Flower and widow of Thomas Rowell of Andover. He moved to Nantucket, MA before 1663. His surname may have been spelled Coultman, Coaleman, or Coulman.
2) Thomas Coleman of Wethersfield in 1639 who was a representative in 1652 and 1656.He moved to Hadley and was a freeman in 1661, dying in 1674, leaving a good estate to two sons and may have had three daughters with a woman named Sarah. His second wife was the widow of Frances Welles, with whom he had a daughter named Deborah
3) Edward Colman of Boston, who in 1648, married Margaret, daughter of Thomas Lumbard of Barnstable. He had children named Elizabeth (1652), Mary (1653), Martha (1653), James (1657), Abigail, and perhaps others. He was also the grandfather of Lumbard.
4) Joseph Colman of Scituate, a shoemaker, who came in 1625 or 1626, with his wife Sarah and four children. He went to Charlestown and then Scituate and then Norwich. He had three sons named Joseph, Thomas, and Zechariah, and several daughters as well.
5) William Colman of Boston, who came in 1671 from London, England aboard the Arabella and had the following issue: Mary and Benjamin (attended Harvard College). This family was from Satterly in county Norfolk, England.
Other settlers in colonial America bearing this name prior to the nineteenth centuries include: Katherine Coleman (Virginia 1635), Rota Coleman (Virginia 1703), Robert Coleman (Virginia 1703), George Coleman (Virginia 1704), Philip Coleman (Pennsylvania 1740), and Margaret Coleman (Virginia 1744).
In Canada, one of the first bearers with this last name was William Coleman, who came to Nova Scotia in 1749. In Australia, one of the earliest settlers bearing this surname was Emma Sophia Coleman who came to the city of Adelaide in 1838 aboard the Winchester. In New Zealand, one of the earliest settlers bearing this surname was one J (John? Joseph?) Coleman who arrived in the city of Wellington aboard the Indemnity in 1840.
Early Americans Bearing the Coleman Family Crest
I researched the following three resources and did not find any coats of arms for Coleman: Bolton's American Armory, Matthew's American Armoury and Bluebook, and Crozier's General Armory.
Charles Bolton's American Armory (1927) contains one entry for this surname: In a volume of the Rev. Benjamin Colman (London, 1728). Also engr. on a silver bowl. Heral. Jour., vol. 1, p. 58. Heraldic Blazon: Azure upon a pale, rayonée or, a lion rampant gules. Crests: A: A demi-lion; B: A caltrap or between two wings argent.
Crozier's General Armory (1904) contains one entry for this name: William Colman of Massachusetts in 1673, originally from Suffolk, England. Blazon: Azure, upon a pale rayonee or, a lion rampant gules. Crests: 1st, A demi-lion, 2nd, A caltrap or, between two wings, argent.
Matthew's American Armoury (1907) and Bluebook does not contain any entries giving a blazon for the Coleman Coat of Arms or Colman Coat of Arms or any biographical/genealogical information about bearers of this popular surname.
Mottoes
We have identified six Coleman family mottoes or Colman family mottoes.
1) Esto sol testis (Let the sun be a witness)
2) Mors non timenda est (Death is not to be feared)
3) Sat cito, si sta bene (Quick enough, if good enough)
4) Be just and fear not
5) Confidence in God
6) Resolve well, persevere (Coleman of Norfolk, Wiltshire, and Gloucester)
Grantees
We have nine coats of arms for the Coleman surname depicted here. These nine blazons are from Bernard Burke's book The General Armory of England, Ireland, and Scotland, which was published in 1848. The bottom of this page contains the blazons, and in many instances contains some historical, geographical, and genealogical about where coat of arms was found and who bore it.
Notables
There are hundreds of notable people with th Coleman surname. This page will mention a handful. Famous people with this last name include: 1) A.E. Fred Coleman who was a former slave credited with first discovering gold in Julian, California, hence kicking off a gold rush in that area, 2) Bessie Coleman (1892-1926) who was born in Atlanta, Texas and was the first African American (and Native American) woman who obtained a pilot license for aircraft, 3) William Coleman (1704-1769) who was a lawyer, judge, and municipal officer in colonial Philadelphia, 4) William Henry Coleman (1871-1943) who was a Republican member of the U.S. House of Representatives from Pennsylvania, 5) Anthony Coleman (1945) who was born in Liverpool, England who was a professional football (soccer) player who played for numerous teams in the 1960s and 1970s (ex. Durban City, Preston North End, and Sheffield Wednesday), 6) Thomas B. Coleman (1795-1848) who was the Mayor of Nashville Tennessee from 1842-1843, 7) Earl Thomas Coleman (1943) who was a U.S. Congressman  for Missouri's 6th district who is  Republican that was born in Gladstone, MO, 8) Sidney Richard Coleman (1937-2007) who was an American theoretical physicist who was born in Chicago, Illinois known for his work in high-energy theoretical physics, 9) Lieutenant General Ronald S. Coleman (born 1948) who is a retired member of the Marine Corps and was the second African American to reach a three star rank, and who served in the Vietnam War and Operation Iraqi Freedom who was from Pennsylvania, 10) Catherine Grace Coleman (1960) who is an American chemist born in Charleston, SC who was a former NASA astronaut and veteran of two Space Shuttle missions in the 1990s who attended the Massachusetts Institute of Technology (MIT), 11) Charles Coleman (1807-1874) who was a British landscape and animal painter from Pontefract, Yorkshire, England, and 12) Clarence Coleman "Choo Choo" (1937-2016) who was a baseball player in the MLB from Orlando, Florida who played for the Philadelphia Phillies and the New York Mets in the 1960s.
Blazons & Genealogy Notes
1) (Langley, co. Wilts). Az. on a pale rayonnee or, a lion ramp. gu. Crest—A caltrap or, betw. two wings ar.
2) Per fesse ar. and sa., a cross patonce betw. four mullets counterchanged. Crest—A horse's head erased ppr.
3) Same Arms. Crest—Out of a ducal coronet a greyhound's head ppr.
4) Same Arms. Crest—A demi greyhound sa. gorged with a collar ar. holding betw. the fore feet a mullet of the first.
5) (George Lovick Coleman, Esq., of Bixley Lodge, Norwich, Sheriff of that city, 1843-4, and Mayor 1847-8). Quarterly, gu. and sa. a cross patonce betw. an unicorn'a head erased in the first and 4th quarters, and a rose in the second and third ar. the roses barbed and seeded vert. Crest—A cross patonce gu. surmounted by a unicorn's head erased ar. charged with three roses in chev. also gu. Motto—Be just and fear not.
6) (Merriot, co. Somerset). Per pale ar. and gu. a bull pass, counterchanged, attired or. Crest—A bull's head erased gu. charged with a crescent ar.
7) (Brandon Parva, Norfolk; James Henry Coleman, Esq., of Napier, New Zealand). Gu. on a pale or, betw. two auns in splendour fessewise of the last, a lion ramp. of the first. Crest—Upon a mount vert in front of a shepherd's crook erect gu. a lamb grazing ar. Motto—Esto sol testis.
8) (Leicestershire and London) Az. a cross, patonce, pierced of the field or, betw. four mullets, pierced, ar. Crest, a nag's head, erased, sa. maned and bridled ar. tasselled or.
9) Ireland – Per fesse argent and sable, a cross fleury between four mullets, all counterchanged.