Contreras Family Crest, Coat of Arms and Name History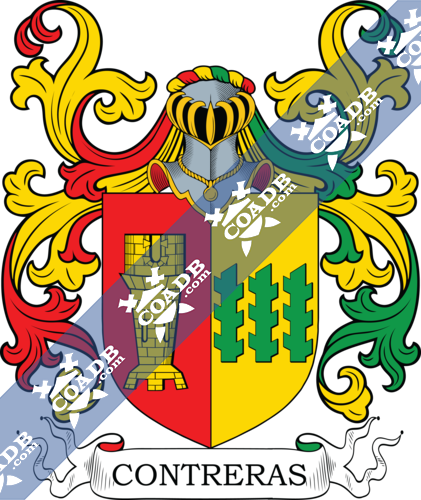 Contreras Coat of Arms Gallery
Don't know which Coat of Arms is yours?
We can do a genealogical research. Find out the exact history of your family!
Learn More
This is a locational surname, deriving from a local named Conteraras in the province of Burgos, Spain. The town derives its name from the Latin word contraria, meaning "region" or "surrounding area". The preposition contra meaning "against" or "oppose". Hence, the name literally translates as the place opposite the region. The name is one of the most popular Hispanic surnames in the United States, as it is ranked 299th in the 2000 US Population Census. It is estimated to be the 44th most common last name in Mexico. It is not ranked within the top 100 most common surname in Spain. One source claims the name was first found in the Christian kingdom of Castile during medieval times. Spelling variants include de Contreras.
The earliest settlers in the New World bearing this last name include: Diego de Contreras (America 1527), Rodrigo de  Contreras (Nicaragua 1534), Gregorio de Contreras (Cartagena 1534), Francisa de Contreras (America 1535), Pedro Contreras (Puerto Rico 1813), and Gonzalo de Contreras (America 1814).
A one Alexander Contreras was born in California in 1911. He married Alicia Morgiela and had three children with her: Alicia, Daniel, and Frances.
There are numerous notable people bearing this surname, including, but not limited to: 1) Pedro de Alvarado y Contreras (1485-1541) who was a Spanish conquistador and governor of Guatemala, 2) Eleazar Lopez Contreras (1883-1973) who was a Venezuelan politician and former president, 3) Joseph Contreras (1710-1780) who was a well-known violin maker that worked in Madrid and ltaly, nicknamed "el Grandino", and 4) Manuel Contreras (1929-2015) who was the head of Chilean intelligence during the Augusto Pinochet regime.
Blazons & Genealogy Notes
1) Estrémadure – Parti au 1 de gueules à une tour renversée d'or au 2 d'or à trois chicots de sinople posés en pals accostés. English: Per pale 1st gules a tower inverted or, 2nd or three ragged staffs vert in fess [alongside each other] palewise.
2) Castille – D'argent à trois pals d'azur à la bordure de gueules ch de huit flanchis d'or. English: Argent three palets azure a bordure gules charged with eight saltires or.
3) Bohême – (Chevaliers, 3 sept. 1680; barons, 1713) – Coupé d'or à l'aigle de sable couronnée d'or sur gueules au lion d'argent couronné d'or à la fasce d'azur brochant sur le coupé et ch d'une étoile d'or Casque couronné Cimier l'aigle issante Lambrequin à dextre d'or et de sable à senestre d'argent et de gueules. English: Per fess or and eagle sable crowned or over gules a lion argent crowned or, a fess azure placed overall and charged with an etoile or. Crowned with a helmet. Crest an eagle issuant Mantling to the dexter or and sable to the sinister argent and gules.