Conwell Family Crest, Coat of Arms and Name History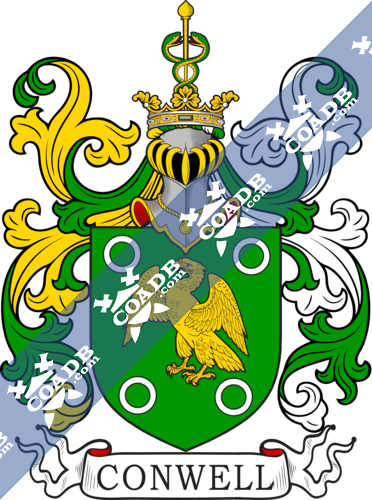 Conwell Coat of Arms Gallery
Don't know which Coat of Arms is yours?
We can do a genealogical research. Find out the exact history of your family!
Learn More
Conwell Origin:
Ireland
Origin of Conwell:
According to the early recordings of the spellings of the surname, this name is listed in many forms such as McGonigle, McGonigal, McConigal, and the variations McConville or Conwell. It is an important Irish surname. It is considered to have been given to more people of the ministry of church, than any other Irish tribe, and still at the same time to have had many representatives who have supported a warlike culture. Until the 20th century, the name bearers were closely related with the division of Donegal, and still afterwards, the name is infrequently listed somewhere else. The tribe is frequently what is known as an 'erenagh' family. That is to say that they were the ancient owners of parish lands, and in charge of the working and management of the land. It gave them noticeable civil powers, especially in the church of Raphoe. It is considered that some of the tribe supported the O'Donnells in their different trials to defeat the English rule. The surname is most popular for its priests, no less than three coming from Raphoe in the 16th century, of whom the most popular being priest Donat Magonail, who passed away in 1589. The tribes joined to help of King James II (1685 – 1690) in his try to regain the charge of Ireland. After his defeat at the war of the Boyne, it said that they had some of their estates coniscated, and different representatives exiled to France.
Variations:
More common variations of this surname are: Conewell, Coynwell, Connwell, Conwelly, Conwwell, Conell, Conwel, Connell, Conelly, Canwell.
Ireland:
The surname Conwell was organized in the Division of Derry, where they held a family seat. Some say they descended from Cenel Eoghain, (Clan Owen) the great northern clan who defeated Eoghan, son of King Niall of the Nine Hostages, (who resided around the year 365 A.D.) forebear of the O'Neills. This old and famous clan stayed in Tyrone and Derry.
United States of America:
Some of the people with the surname Conwell who settled in the United States in the 19th century included Anthony Conwell at the age of 26, Bernard Conwell and Catherine Conwell at the age of 27; all arrived in New York in the same year in 1803. Anthony, Bernard, Catherine, James, and Jeremiah Conwell, all settled New York in 1803. James Conwell at the age of 28, landed in New York, NY in 1803.
New Zealand:
Some of the people with the surname Conwell who settled in New Zealand in the 19th century included Thomas Conwell at the age of 21, who was a farmer, and Jane Conwell at the age of 27, both arrived in Wellington, New Zealand in the same year in 1878 aboard the ship "Hermione."
Here is the population distribution of the last name Conwell: United States 4,710; England 220; Northern Ireland 95; Ireland 60; Singapore 2; Solomon Islands 2; Australia 254; Canada 28; South Africa 2; New Zealand 62.
Notable People:
Angell Conwell was born in Orangeburg, South Carolina in the year 1983. He was an American model and entertainer. She moved to Columbia, South Carolina at the age of 2. She joined Seven Oaks Elementary School in Columbia where she was the first African-American student body administrator.
Carolyn Conwell was a Chicago-born American artist. She studied under Herbert Berghof in New York and Jeff Corey in Los Angeles. She performed in many theater series, such as Hamlet and A Streetcar Named Desire. She had three children and lived in Los Angeles.
Ernie Conwell was born in the year 1972. He is an American football player.
Esther M. Conwell was born in the year 1922. He is an expert in physics educated on the properties of semiconductors and organic conductors.
Henry Conwell (1745–1842), was a Roman Catholic priest.
Joe Conwell (born 1961), was an American football player.
Leagh Conwell (born 1990), is a British actor and entertainer.
Leon M. Conwell was an American scholar.
Nula Conwell (born 1959), is a British-born actress with strong Irish family background.
Russell Conwell (1843–1925), was an American Baptist minister, speaker, philanthropist, advocate, and author.
Tommy Conwell was an American guitar player, composer, and actor.
Tony Conwell (born 1932), is an old English professional football player.
Wilfred Conwell Bain was born in 1908. He was an American musician and an opera theater manager.
Blazons & Genealogy Notes
Notes: (granted to William Eugene Edward Conwell, M.D., son of John Conwell, Esq., of Ballymilligan, co. Londonderry). Motto—Age in Aeternum. Blazon: Vert an eagle rising or, betw. four annulets ar. Crest—Out of a ducal cornnet or, a staff also or, with two serpents entwined thereon ppr.