Conyers Family Crest, Coat of Arms and Name History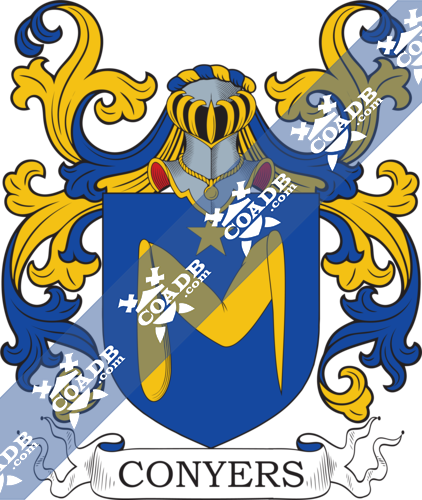 Conyers Coat of Arms Gallery
Don't know which Coat of Arms is yours?
We can do a genealogical research. Find out the exact history of your family!
Learn More
This section has not yet been completed. If you are interested in having your genealogy done, we offer an affordable research servicethat traces your lineage so you can learn more about your ancestors, where they came from, and who you are.
Blazons & Genealogy Notes
1) (Sokebourne, co. Durham, descended from Sir Roger Conyers, Constable of the Keep of Durham, temp. William I.). (Horden, co. Durham, a branch of Conyers of Sokeburne: Sir John Conyers, of Horden, was created a Baronet in 1628, title extinct 1810). Az. a maunch or. Crest—A trefoil slipped and erect vert.
2) (Essex and Northamptonshire). The same, with due diff.
3) (London and Hornby Castle, co. York. Baron Conyers. Visit. London, 1568). The same Arms, differenced with a crescent of the second surmounted by another gu. in chief. Crest—A sinister wing gu. differenced as the arms.
4) (Copped Hall, Essex, originally of Bowlby, Whitby, and of Scarborough, co. York). Az. a maunch or, over all a bendlet gobony erm. and gu. Crest—A bull's head erased or, armed sa. pierced through the neck with an arrow of the last, barbed and feathered ar. vulned gu.
5) (Wakerley, co. Northampton. Jane, dau. of Francis Conyers of that place, to. Owen Oglethorpe, of Newington, co. Oxford. Visit. Oxon). (Lord Mayor of London, 1723). Az. a maunch over all a bend sinister.
6) (Kent). Or, a maunch sa.
7) (London). Az. a maunch or, in chief an annulet ar.
8) Az. a maunch erm. Crest—A Moor's head sa. wreathed and stringed ar. and az.
9) Sa. on a maunch or, two crescents gu.
10) Az. on a maunch or, an annulet sa. Crest—A wing gu.
11) (Willow Bank, Fulham). (exemplified to Helen Fredrica Lang, of Lower Redlands, near Reading, co. Berks, eldest dau. of Frederick. Henry Lang, Esq., upon her assuming the name of Conyers instead of that of Lang, by royal licence, dated 18 March, 1873). Az. a maunch or, on a chief embattled of the last a wreath of laurel ppr. a canton gu. thereon a representation of the gold medal presented to Lieut.-Gen. Charles Edward Conyers, in commemoration of his distinguished services at the battle of Orthes pendent by a ribband of the last fimbriated of the first, below the medal the word "Orthes" in letters of gold. Crest—A demi man in armour ppr. scarf gu. holding in his dexter hand a falchion erect, transfixing a dragon, the head towards the sinister also ppr.