Cotton Family Crest, Coat of Arms and Name History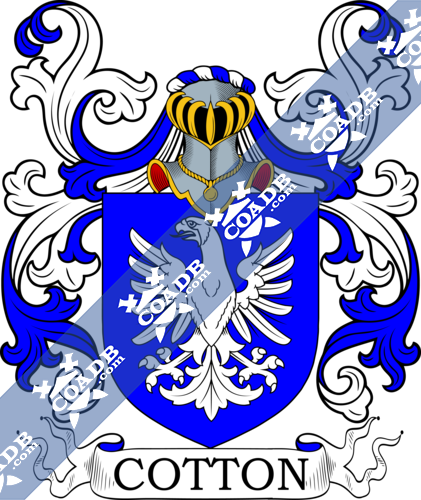 Cotton Coat of Arms Gallery
Don't know which Coat of Arms is yours?
We can do a genealogical research. Find out the exact history of your family!
Learn More
Cotton Origin:
England
Origins of Name:
The Cotton surname is of an Anglo-Saxon derivative, from the Old English "cotum" which means "cottages." "Cotum" referred to when families lived in similarly named areas throughout England. Cottom, Cottam, and Coatham are all early spellings of what eventually evolved into the surname Cotton. The spelling, however, is locational, and it depends where the named Cotton is from that determines how their surname is pronounced and spelled. Oftentimes, those with the last name Cotton are migrant workers who moved to a new place looking for employment. For example, Cottam is found in the East Riding of Yorkshire and Nottinghamshire (near Retford), whereas Coatham is found in Nottinghamshire and the North Riding of Yorkshire. Various spellings can be found throughout history and vary by location. All of these spellings of the surname stem from the same Old English phrase "aet cotum," which means "at the cottages." This makes the surname Cotton, and all of it's variant spellings, a topographic surname. This means that their name was derived from the area of which they resided, and based on physical features of that area, such as mountains, lakes, hills, churches, streams, and different classes of trees.
Variations:
More common variations are:
Coton, Coatham, Cottham, Coutton, Cottoni, Cottone, Cottum, Cottam, Cotham, Catton, Cotten, Cowton, Coaton, Cutton, Cottan
History:
England:
The earliest recording of the Cotton surname was in the late 12th century in the 1212 Pipe Polls of Yorkshire. Ralph de Cottum was recorded in this event, and the "–um" ending of his surnames is today only preserved in the northern counties of England. Later in history, the Cotton surname in it's wholeness, was first recorded in the "Pipe Rolls of Worcestershire" in 1185. Randulf de Cotton was the first recorded person to have the Cotton surname in history. Twenty-seven years later, in a London Church Register, the name resurfaced. On September 21, 1582, Raphe Cotton was christened at Snaith. Two hundred years later, Sarah Cottham, daughter of William Cottham, was christened on January 16, 1701 at Great Mitton. Cotton, Coton, Coatham, Cottum, Cotham, and Cottham are all locational variances of this name. Cotham is found near Newark in Nottinghamshire, while in the Midlands, Coton is found in Cambridgeshire and Oxfordshire and Cotton is found in Shropshire an Northamptonshire. These names vary by location due to the migrant workers that landed there, searching earnestly for work of any kind, or to relocate their families. The derivative for all of these surnames is the same, which is "cotum," which directly translates to cottages. These spelling variations were often due to the lack of literacy in the Middle Ages. Names were written as they were heard, which contributes to the multiple spellings of this last name, in conjunction with the migrant workers in England.
Scotland
The surname is found in many locations in Scotland bearing the same name. Most notably Perthshire, Angus, Kincardineshire, and Aberdeenshire. Cotton was a common place name in Fife during the 17th century.
Wales
There are several variations of the Cotton surname found in Wales. Coedton, meaning the woody hill, Cwtton, meaning the cottage hil; Cotden Saxon, meaning the cot in the valley, and Cwthen meaning the ancient cottage or dwelling.
Cotton Today:
United States 36, 538
England 9,986
Canada 2,647
Australia 2,557
France 1,910
South Africa 1,753
Guatemala 1,169
Scotland 400
Argentina 314
Malaysia 228
Brazil 191
Spain 104
Chile 81
Ireland 76
Notable People:
Amy Cotton (born in 1980) Judoka from Canada
Craig Cotton (born in 1947) Football player from America
James Cotton (born in 1975) Basketball player from America
James Cotton (born in 1978) Defensive end (football player) from America
Paris Cotton (born in 1989) Basketball player from America
Billy Cotton (1899-1969) Band leader from Britain
Gene Cotton (born in 1944) Pop and folk singer-songwriter from America
James Cotton (born in 1935) Blues musician, harmonica player from America
Jeff Cotton (born in 1949) Rock guitarist from America
Paul Cotton (born in 1943) Guitar player from America
George W. Cotton (1821-1892) Politician in South Australia
Paul Cotton (born in 1930) Diplomat in New Zealand, who was the non-resident High Commissioner to Tonga from 1975-1976
Sir Charles Andrew Cotton (1885-1970) Geologist from New Zealand
Frank Albert Cotton (1930-2007) Chemist from America who, in 1982, was awarded the U.S National Medal of Science, in 1998 was awarded the Priestly Medal with twenty-nine other honorary doctorates, and in 2000 was awarded the Wolf Prize
Mr. A. Cotton (died in 1912) Twenty-six-year-old Southampton, Hampshire native who was an English Trimmer, and who worked on the RMS Titanic, where he sunk to his death in 1912
Sir Henry Thomas Cotton (1907-1987) Professional golfer from England, who won three Open Championships in his life
George Edward Lynch Cotton (1813-1866) Teacher and bishop from England
Darryl Cotton (1949-2012) Pop singer, television presenter, and notable actor from Australia
Joesph Cheshire Cotton (1905-1994) Award-winning actor on both the stage and on screen from America
Blazons & Genealogy Notes
1) (Connington, co. Huntingdon; bart., extinct 1752. Sir Robert Cotton, the 1st bart. created in 1611, was the founder of the " Cottonian Library "). Az. an eagle displ. ar. Arms
2) (Landwade, since of Madingley, co. Cambridge, bart.). Motto—Fidelitas vincit. Sa. a chev. betw. three griffins' heads erased ar. Crest—A griffin's head erased ar.
3) (The Priory, Leatherhead, co. Surrey). Az. on a chev. cottised betw. three hanks of cotton, ar. an escallop betw. two crosses crosslet fitchee gu. Crest—On a mount vert, in front of a lion's head erased gu. gorged with a collar erm. a hank of cotton fesseways ar.
4) (Wittington, co. Gloucester). (Bishop of Exeter, d. 1621, formerly of London). (Laughton, cos. Leicester and Stafford. Visit. Leicester 1619). (Ireland). Ar. a bend sa. betw. three pellets. Crest—Five snakes ppr. tied in a parcel, their heads in chief.
5) (Etwall Hall, co. Durham). Motto—In utraque fortuna paratus. (Pulley, co. Salop. Thomas Cotton, of Pulley, was sheriff 1678). Az. a chev. betw. three hanks of cotton ar. Crest—A falcon ppr. beaked and belled or, the dexter claw supporting a belt also ppr., buckle gold.
6) (Cotton Hall, co. Hants, London, and Shropshire). (cos. Stafford and Worcester). Az. a chev. betw. three bundles of cotton yarn ar. Crest—An eagle with wings expanded ar. beaked and legged or, holding in the dexter claw a belt az. buckle of the second.
7) (Kent). Gu. a chev. erm. betw. three griffins' heads erased ar. langued az.
8) (co. Leicester, temp. Edward III.). Az. on a chev. ar. three catharine wheels gu.
9) (Cotton Edmunds, co. Chester). (Knolton, co. Flint). Ar. a bend sa. betw. three pellets. Crest—On a mount vert an eagle rising or.
10) (Soham Lodge, co. Suffolk). (Suffolk). Ar. on a fesse cottised gu. three fleurs-de-lis of the field.
11) Sa. a chev. or, betw. three griffins' heads erased ar. Crest—A griffin's head erased ar. holding in the mouth a gauntlet ppr.
12) Sa. a chev. betw. three cotton hanks ar. Crest—A Cornish chough, holding in the beak a cotton hank ppr.
13) Gu. a chev. betw. three crescents ar.
14) Ar. three bars sa. over all a cotton hank or.
15) Sa. a chev. betw. three lions' heads erased ar.
16) Ar. a lion ramp. guard. vert.
17) Vert, a leopard, ramp, reguard. ar.
18) Per pale ar. and sa. on a chev. betw. three fusils as many birds, all counterchanged.
19) Az. a chev. betw. three crescents ar.
20) Barry of six ar. and az. three bundles of cotton or.
21) Barry of six ar. and az.
"22) (Ridware, co. Stafford; originally from Cheshire). This was the coat of Ridware, adopted by Cotton after the marriage, temp. Edward III., of William Cotton with Agses, dau. and heirof Walter de Ridware: the ancient bearing of the Cottons was, ar. a
bend sa. betw. three pellets. Crest—An eagle displ. ar.
(Bellaport, co. Stafford, and Etwall, co. Derby, descended from the Cottons of Ridware). Az. an eagle displ. ar. armed gu."
23) (Cotton-Ridware, and Connington, 1572). (Getting Abbots, co. Huntingdon; a branch of the Connington family: the heiress, Jane, to. Basil Fitzherbert, Esq., of Norbury and Swinnerton). Az. a bend ar. betw. three plates.
24) (confirmed by the deputies of Camden, Clarenceux, to Philip Cotton, of Woodcote, co. Warwick, grandson of Richard Cotton, of Welton, co. Leicester. Visit. Warwick). Az. an eagle displ. ar. Crest—Out of a ducal coronet or, an eagle displ. ar.
25) (confirmed to Ven. Henry Cotton, LL.D., Archdeacon of Cashel, and Rector of Thurles, co. Tipperary). Motto—With God's blessing. Az. an eagle displ. ar. on a canton of the last a cross crosslet sa. Crest—Out of a ducal coronet a demi-eagle displ. or, charged on the breast with a cross crosslet sa.