Covill Family Crest, Coat of Arms and Name History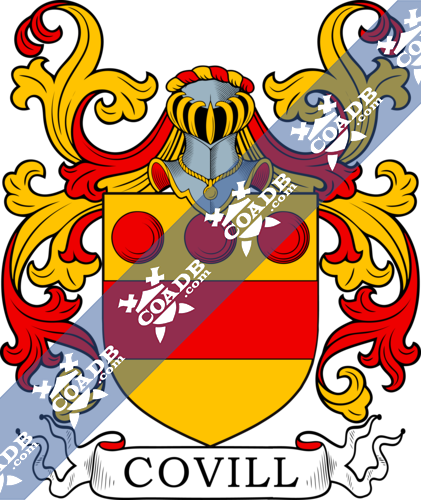 Covill Coat of Arms Gallery
Don't know which Coat of Arms is yours?
We can do a genealogical research. Find out the exact history of your family!
Learn More
Covill Origin:
England, Scotland
Origins of Covill:
This unique and interesting name is a dialectal variant of the geographical name Colleville from the place so called in Normandy. The origin is from the Scandinavian particular name Koli and the Olde French "ville," which means a settlement or hamlet. A family of this name follows their ancestor from Philip de Colville, who in the 12th Century held lands in Roxburgh. The name was also considered to be Scottish with a first early record of one Philip de Coleuille who witnessed Malcolm IV's confirmation of contributions to Dunfermline monastery. Differences in the phrase of the spelling contain as Covil, Covill, Covel, etc. One Margarett Covell married Rychard Blakney in November 1542, at St. Margaret, Westminster, and Patryk Covell married Any Rever in May 1572 at All Hallows, Honey Lane, London.
Variations:
More common variations are: Conville, Covilli, Covwill, Coevill, Covil, Cvill, Covll, Coviello, Coviella, Coeville.
England:
The surname Covill first appeared in Yorkshire Where they held a family seat from very ancient times and given lands by Duke William of Normandy, their true King, for their special support at the Battle of Hastings in 1066 AD.
The very first recording spelling of the family was shown to be that of William Colevil(e), dated about 1086, in the "Domesday Book," Yorkshire. It was during the time of King William I who was known to be the "The Conqueror," dated 1066 – 1087. The origin of surnames during this period became a necessity with the introduction of personal taxation. It came to be known as Poll Tax in England.
Ireland:
Many of the people with surname Covill had moved to Ireland during the 17th century.
United States of America:
Some of the individuals with the name Covill who arrived in the United States in the 19th century included William Covill, who arrived in New York in the year 1834.
Here is the population distribution of the last name Covill: United States 683; England 511; Australia 123; Canada 92; Scotland 26; Spain 6; United Arab Emirates 2; Wales 2; Zimbabwe 1; Zambia 1.
Notable People:
Reginald John Covill (August 1905 –March 2002) was an English cricket player active in the 1920s and 1930s. He was born in Cambridge, Cambridgeshire. He was a right-handed batsman and right-arm fast bowler who played the preponderance of his cricket in minor divisions cricket, though he did make twelve appearances in first-class cricket. He made his presentation in minor divisions cricket for Norfolk against Staffordshire in the 1926 Minor Counties Championship. He played minor counties cricket for Norfolk in both 1926 and 1927, making seventeen appearances. It was in 1927, he made his debut in first-class cricket, having selected for an East of England cricket team against the touring New Zealanders at Wisbech Cricket Club Ground.
Bruce Farrington Coville (born May 1950) is a writer of young-adult fiction. Delighted with reading novels at a young age, Coville first wrote in 1977 and had over 100 books in his collection.
Air Marshal Sir Christopher Charles Cotton Coville, KCB was born in the year 1945. He is a retired senior Royal Air Force commander. Born in Liverpool, Coville attended the Royal Air Force in 1964, at the height of the Cold War. Early in his job, he flew Lightning and F4 Phantoms. He found command of No. 111 (Fighter) Squadron in 1983 and then became Group Captain Air at Headquarters No. 11 Group. In 1986, he became Station Commander at RAF Coningsby, where he flew Tornado F3 and displayed Hurricanes and Spitfires on the Battle of Britain Memorial Flight. Advanced to air vice marshal, he became Air Officer Commanding Training Units in 1992, Assistant Chief of Defence Staff Operational Conditions (Air Systems) in 1994 and Deputy Commander-in-Chief, Allied Forces Central Europe in 1998. In 2000, his NATO command received into the Regional Headquarters Allied Forces North Europe of which Coville became the Deputy Commander-in-Chief. In March 2001, he became the Air Member for Personnel and Air Officer Commanding-in-Chief Personnel and Training Command.
Blazons & Genealogy Notes
1) (co. Lancaster). (co. York). Or, a fesse gu. in chief three torteaux.
2) Or, on a fesse gu. three crosslets ar.