Cowden Family Crest, Coat of Arms and Name History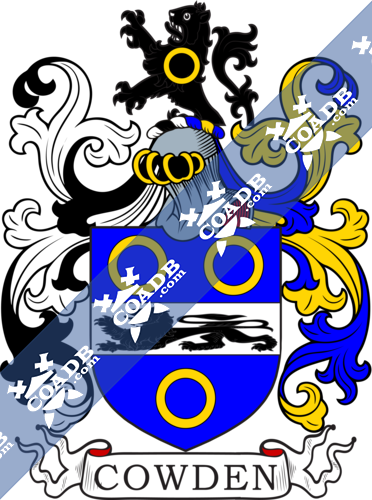 Cowden Coat of Arms Gallery
Don't know which Coat of Arms is yours?
We can do a genealogical research. Find out the exact history of your family!
Learn More
Cowden Origin:
England
Origin of Cowden:
Cowden is an interesting surname which appears in Northern England and Northern Ireland. It is a provincial name which derives from the word "Cowden," an area in Kent, Northumberland, and Yorkshire. The region in Kent, occurring as "Cudena" derives from the words "cu" which means "Cow", and "Colden", which means "place where charcoal burnt, from the component of "col". Col is the ancient English word for char(coal). The word "Cu" and "Colden" both words come from Ancient English, prior to the 7th century. An area in Yorkshire is known as "Coledun." The surname is listed in the Domesday Book in 1086, and appears from the component "col" and "dun" thus the whole meaning of these words are "the place where the charcoal burnt." The Yorkshire Parish Schedule list consists of the wedding of Agnes Cowndon to Thomas Beane at Leake, in November 1583. The London Parish schedules have the name listed for a wedding of Anne Cownden to one John Parsons at St. Saviour, Southwark in September 1617. Fabian Cowndon married Thomas Brasier at St. Benet Paul Wharf, London in June 1625 and James, offspring of Richard and Elizabeth Cownden named at St. Ann Blackfriars, London in April 1663. The developmental names of the surname cowden consist of Cutting, Cudden, Cudding, Cuttin, Cutten, Cuttan, Cuddan, Cuddin, Cuddon, Cuding, Cuting, Cuden, Cutin, Cutine, Cudan, Cudane, Coudan, Coudiing, Coutting, Coutten, Couttan, Couttin, Cutton, etc
Variations:
More common variations of this surname are: Cowdden, Wcowden, Cowdean, Coden, Cowdn, Cowdon, Couden, Cawden, Codden, Cowdan.
England:
The surname Cowden first appeared in Norfolk. Cowden came from the area named Cowden, a small hamlet and local church in the Sevenoaks District of Kent.
The very first recorded spelling of the family was shown to be that of Elizabeth Cowden, who married John Webster, which was dated September 1575, at Leake, Yorkshire. It was during the time of Queen Elizabeth I, who was known to be the "Good Queen Bess," dated 1558 – 1603. The origin of surnames during this period became a necessity with the introduction of personal taxation. It came to be known as Poll Tax in England.
United States of America:
Individuals with the surname Cowden settled in the United States in two different centuries respectively in the 17th and 19th. Some of the people with the name Cowden who settled in the United States in the 17th century included Eman Cowden, who arrived in Virginia in 1650.
Some of the individuals with the name Cowden who settled in the United States in the 19th century included Robert Cowden, who landed in America in 1806. John Cowden, who landed in America in 1808. Anne Cowden, David Cowden, and William Cowden all arrived in New York, NY in the same year in 1817.
Canada:
Some of the people with the name Cowden who settled in Canada in the 19th century included Agnes Cowden at the age of 19, arrived in Saint John, New Brunswick in 1833 aboard the ship "Pacific" from Liverpool in England.
Here is the population distribution of the last name Cowden: United States 4,934; England 156; France 3; Zimbabwe 11; Northern Ireland 191; Australia 245; Scotland 125; Canada 213; South Africa 219; New Zealand 52.
Notable People:
Charles Cowden Clarke (December 1787 – March 1877), was an English writer and Shakespearian professor. He was born in Enfield, Middlesex.
Mary Victoria Cowden Clarke (née Novello; June 1809 – January 1898) was an English writer. She was the first daughter of Vincent Novello.
William "Bill" Cowden (September 6, 1920 – October 17, 2007) was an American basketball player. He was a strong guard from Lowell High School in San Francisco, California. He played collegiately at Stanford University with his Lowell classmate, Don Burness.
John Peter Cowden (March 1917 – November 2006) was a reporter, whose career started in 1926 as a child entertainer on NBC. He was a performer on some radio programs, containing "Little Orphan Annie," where he performed as Joe Corntassle with the San Francisco ensemble.
Lucinda Cowden was born in April 1965 in Ballarat, Victoria. She is an Australian artist who performed Melanie Pearson in the soap opera Neighbors from the year 1987 until 1991.
Blazons & Genealogy Notes
Notes: None. Blazon: Azure on a fesse agent between three annulets or, a lion passant sable. Crest—A demi lion sable charged with an annulet or.