Crabtree Family Crest, Coat of Arms and Name History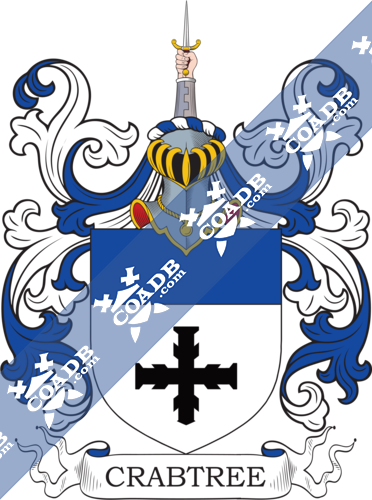 Crabtree Coat of Arms Gallery
Don't know which Coat of Arms is yours?
We can do a genealogical research. Find out the exact history of your family!
Learn More
Crabtree Surname Name Meaning, Origin, History, & Etymology
This Anglo-Saxon is a habitational/topographical name denoting a person who lived near a wild apple tree, deriving from the Old English word crabba-treow or the Middle English crabbetre, both meaning "crab apple tree". Crap apples are small, sour/tart apples that grow in the northern hemisphere, often used in cooking and supplementing other dishes, and not consumed on its own. The name was prominent in county Yorkshire, England.
Spelling Variations
Common spelling variants or names with similar etymologies include Crabbtree, Creabtree, Craybtree, Crabture, Krabtree, Crabtry, Crabetre, Cratrie, and Crabbetree. This name has similar etymology and meaning as the last name Appletree, as well as Ash, Nash, Oake, Chestnut, Rowntree, and Plumptre.
Popularity & Geographic Distribution
The last name Crabtree ranks 1,244th in popularity in terms in the United Status as of the 2000 Census. The name ranks particularly high in the following five states: Tennessee, Kentucky, Ohio, North Carolina, Indiana, Missouri, Oklahoma, Arkansas, Kanas, and West Virginia.
The surname Isaac frequency/commonness ranks as follows in the British Isles: England (1,539th), Scotland (3,011st), Wales (2,076th), Ireland (8,504th) and Northern Ireland (3,129th).  In Ireland, the surname Crabtree rankest highest in Westmeath.
The name is also present throughout the remainder English speaking world:  Canada (7,855th), New Zealand (5,718th), Australia (3,314th), and South Africa (8,609th).
The 1890 book Homes of Family Names by H.B. Guppy, states the following in regard to this surname: "Crabtree is also a Lancashire name. Crabtree was the name of a distinguished astronomer and mathematician of the 17th century, who was born in the parish of Halifax".
The website crabtreefamilyhistory.ca states "During the 1400s and 1500s, the surname was almost entirely restricted to two small areas of the West Riding, one on the west side in the Halifax and Bradford area, and the other on the east side around Snaith. There was also a toehold gained on the north-eastern side of Lancashire, but dispersion to the rest of the country was minimal. The 1600s saw considerable increase in the number of Crabtree families, including some distribution of them through the middle part of Yorkshire".
Early Bearers of the Surname
The earliest known bearer of this surname was John atte Crabbetrywe who was documented in the Parliament Rolls of Essex in 1301 AD. The Poll Tax of Yorkshire in 1379 AD lists one bearer of this last name: John Crabtree. The Surtees Society Publications list one John Crabtre of Yorkshire. An early baptism involving this name was  Agnes Crabtree at St. James Clerkenwell in 1563 AD. Early marriages involving this surname were John Crabtree to Margery Colton at St. Margaret Pattens in London, England in 1559.
Crabtree Family Tree & Crabtree Genealogy
John De Crabtre was born around 1315 AD. He had a son named John born around 1340. He in turn had a son named John Crabtre  (or de Crabtree) who was Kersey, Suffolk in 1370 AD.  He married Isobel Bet and had a son with her named John Crabtre I who was born in Riding, Northumberland in 1400. He in turn had a son named John Crabtre II who was born in 1425. He had a son named Thomas Crabtre. This Thomas Crabtree was born in Sowerby, West Riding, Yorkshire in 1455 AD. He had a son also named Thomas who was born in Heptonstall in the same county in 1496. This Thomas married a woman named Joan and had a son with her named John. Sir John Crabtree I was born in the same town in 1520 (also spelled his last name Crabtre) and he married Mary Phillis. They had a son named John II. Sir John II was born in Broughton in 1550. He married Alice June and had a son with her named William. This William Crabtree was born in the same city and he married Grace Sarah Elizabeth and had a son with her named Thomas. This Thomas was born in Broughton in 1610. He married a woman named Rebecca and had two sons with her: Samuel and James Thomas I. His son Samuel Crabtree was born in England in 1637 and he married Elizabeth Holden with whom he had a son named Thomas James. This Thomas James L. was born in in 1659 and he married Grace Moore and Elizabeth Webber. He had a son named William I. William Crabtree I was born in Broughton in 1682 and he married Jane Halstead with whom he had eight children: William II, Thomas, Grace, Ann, James, John, Elizabeth (Billingsley), and Samuel. His son William II was born in Matila in 1704 and he went to colonial America where he married Mary Pike in Kingsville, Maryland. Prior to his 1756 in Baltimore, he had the following issue: Mary, Thomas, William, Elizabeth (Poteet), John, and John C. II. His son John C. Crabtree II was born in Baltimore County in 1732, He married Jemima Cook and had a son with her named Moses. Moses was born in Virginia in 1778,. He married Hannah Bloomer and they had a daughter named Francis who was born in 1831 and married Francis Clary.
Agnes Crabtree, daughter of Fnu (?) was born in Halifax, Yorkshire in around 1522. She married John Lum and had three sons with him: John, William, and Matthew.
Early American and New World Settlers
Edward Crabbtree, age 20, came to Virginia aboard the David in September 1635. Other early settlers in colonial America bearing this surname include John Crabtree (Boston 1639), Mary and Crabtree (Virginia 1703). The aforementioned John married a woman named Alice and started a family that is still strong in New England currently.
Early Americans Bearing the Isaac Family Crest
I researched the following three resources and did not find any coats of arms for Crabtree: Bolton's American Armory, Matthew's American Armoury and Bluebook, and Crozier's General Armory.
Mottoes
I have not identified the Crabtree family motto.
Grantees
We have one coat of arms for the Crabtree surname depicted here. This one blazon are from Bernard Burke's book The General Armory of England, Ireland, and Scotland, which was published in 1848. The bottom of this page contains the blazons, and in many instances contains some historical, geographical, and genealogical about where coat of arms was found and who bore it.
Notables
There are hundreds of notable people with the Crabtree surname. This page will mention a handful. Famous people with this last name include: 1) William Crabtree (1610-1644) who was an astronomer and mathematician from Broughton Sprout, Lancashire, England who is known for his work on the transit of the planet Venus, 2) Timothy Lyle Crabtree (1969) who is a former pitcher in Major League Baseball who was born in Jackson, Michigan and played for Toronto Blue Jays and Texas Rangers, 3) Helen Crabtree (1915-2002) who was an equitation coach and Saddle seat rider who also bred horses and whose stables produced 75 world champion horses, 4) Eric Leslie Crabtree (1944) who was a wide received in the National Football League who played on three different teams from 1966-1971 and was born in Monessen, Pennsylvania, 5) James William "Jimmy" Crabtree (1871-1908) who was a prominent English football (soccer) player born in Burnley who played for six different teams in his senior career, 6) Charlotte Mignon Crabtree (1847-1924), known as Lotta, was an American comedian, entertainer, and actress from New York City whose life story was told in the move Golden Girl, and 7) Shirley Crabtree Jr. (1930-1997), was an English professional wrestler known as "Big Daddy" who was born in Halifax, West Riding, and was known for his record sized chest and worked from the 1950s through 1990s.
Blazons & Genealogy Notes
Ar. a cross ragule sa. a chief az. Crest—A hand erect holding a dagger in pale ppr.