Craggs Family Crest, Coat of Arms and Name History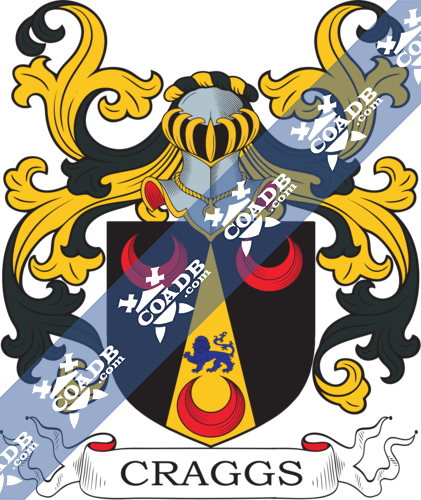 Craggs Coat of Arms Gallery
Don't know which Coat of Arms is yours?
We can do a genealogical research. Find out the exact history of your family!
Learn More
Craggs Origin:
England
Origins of Craggs:
It is a geographical surname which acquires from the Pennine Districts of Yorkshire, although with a special early Lancashire recording as well. There are different places mainly in the Calder Valley (Yorkshire) named as Hardcastle Craggs, Cragg Bottom, and Cragg Vale, while in Lancashire, Crag Hall is near to Lancaster, and there is a second Crag Hall, near Macclesfield. There is, however, no proof that these latter two sites, which are effectively just large houses, have been the ancestors of surnames. "Cragg(es)" is of Norse-Viking origin, the advancement being from the Scandinavian "Kragg" and the name acquires from one who lived at such a place. Locational surnames originated when a person departed from their original hamlet, the name given as a form of identification at their new home. However, a less rare origin is to be a descendant of the Kings of the Palace, and it would surely show that in this case the later "Cragg(es)" may well have this origin. Certainly, the name was well noted from the early 13th century, although surprisingly the Royal symbol was given in London. Examples of the surname record contain as Hudd del Crag in the Lancashire Assize Rolls of 1260, Peter de Kragg and John Cragges in the Premium Rolls of Yorkshire for the year 1301. Somewhat later records show Aicia Craggs of Howden, Yorkshire in January 1550, James Cragg of Dent, Yorkshire in January 1611, and John Cragg, who married Mary Hilditch at St Matthews Parish, Walsall, in March 1718.
Variations:
More common variations are: Craiggs, Cragges, Crags, Craigs, Croggs, Graggs, Cruggs, Craghs, Criggs, Kraggs.
England:
The surname Craggs first appeared in West Yorkshire at Cragg Vale, a hamlet that records back to Roman times. The Cragg Vale Coiners were a band of criminals from the area who made fake gold coins at the end of the 18th century.
The very first recorded spelling of the family was shown to be that of Henry Crag, dated about 1204, in the "York Assize Court." It was during the time of King John, who was known to be the "Lackland," dated 1199-1216. The origin of surnames during this period became a necessity with the introduction of personal taxation. It came to be known as Poll Tax in England.
Ireland:
Many of the people with surname Craggs had moved to Ireland during the 17th century.
United States of America:
Some of the people with the surname Craggs who arrived in the United States in the 17th century included Mary Craggs, who came to Virginia in 1654.
Australia:
Some of the individuals with the surname Craggs who landed in Australia in the 19th century included William Craggs, an English prisoner from York, who shifted aboard the "Ann" in August 1809, settling in New South Wales, Australia. Mary Craggs at the age of 25, a servant, arrived in South Australia in 1854 aboard the ship "Star Queen."
Here is the population distribution of the last name Craggs: England 2,710; South Africa 548; United States 451; Australia 371; Canada 219; Wales 113; New Zealand 76; Scotland 66; Hong Kong 47; Singapore 41.
Notable People:
James Craggs the Elder (bap. June 1657–March 1721) was an English leader and the father of James Craggs the Younger. A son of Anthony Craggs of Holbeck, Durham, he was named in June 1657. After following various callings in London, Craggs, who was a person of significant financial ability, joined the service of the Duchess of Marlborough, and through her character became in 1702 member of parliament for Grampound, holding his seat until 1713.
James Craggs the Younger PC (April 1686–February 1721), was a British leader. He was born in Westminster, the son of James Craggs, the Elder.
Blazons & Genealogy Notes
1) (Westminster, and co. Durham, and Newland, co. Dublin: the coheiresses of James Craggs, Postmaster-General, were m. respectively to Trefusis, Eliot, and Newsham). Sa. on a fesse ar. betw. three mullets erm. as many crosses crosslet ermines. Crest—A dexter and a sinister arm, couped above the elbows, armed az. garnished ar. grasping in the gauntlets a sword of the last, hilt and pomel or.
2) (granted 1726 to Hariot Eliot, otherwise Craggs, wife of Richard Eliot, Esq., of St. Germans). Quarterly, engr. or and az. in the 1st quarter an escallop gu.
3) (granted 2 June, 1826). Sa. on a pile or, a lion pass. guard, az. betw. three crescents gu.