Craig Family Crest, Coat of Arms and Name History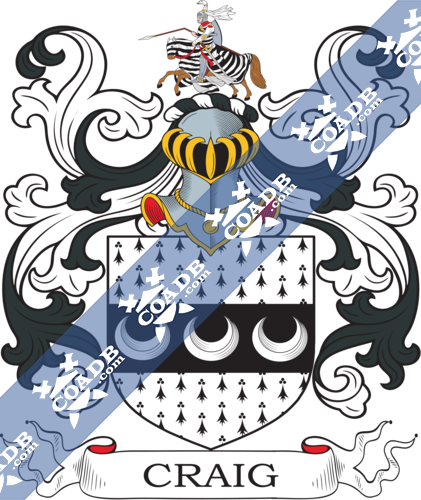 Craig Coat of Arms Gallery
Don't know which Coat of Arms is yours?
We can do a genealogical research. Find out the exact history of your family!
Learn More
Craig Origin:
Scotland, Ireland
Origins of Name:
The surname of Craig is derived from a Scottish locational surname. This means that this surname was given to people who lived near or in a certain town or place. These surnames were both given to the Lord or owner of the land, and the people who worked there, as well as people who have migrated from this place. Those who migrated from the place and were seeking work were given this surname because it was easy to group and identify them by the place of their birth. For the surname of Criag these places were in North East Forfarshire, and South Ayrshire. The actual derivative of this surname can be found in the Old Gaelic "creag" which can be translated to mean "rock" a word that comes from the Middle English "crag." It is also possible that this surname is topographical, meaning that someone who originally bore this name lived near or by a man-made or natural element. In this instance, those who bore the surname of Craig may have lived in a residence near or on a steep or precipitous rock.
Variations:
More common variations are:
Craige, Craigg, Cragg, Craggs, Craigo, Caraig, Creaig, Craieg, Craaig, Wcraig, Craigw, Crag, Crig
History:
Scotland:
The first recorded spelling of the surname of Craig was found in the country of Scotland in the year 1165. One person by the name of Johannes del Crag was recorded as a witness in the Early Records of Scotland, under the reign of King William. King William of Scotland was known as "The Lion" and ruled from the year 1165 to the year 1214. Those who bore this surname of Craig and live in the country of Scotland can be found in most of this country, while the highest concentrations are in Ayrshire, Lanarkshire, Midlothian, and Renfrewshire.
England:
Those who bear the surname of Craig can be found in the northern region of England, such as in the counties of Durham, Yorkshire, Lancashire, and the city of London.
United States of America:
During the European Migration, settlers across Europe decided to leave their homes, and sought after a better life. This new life was largely available in the United States of America, which at that time was referred to as The New World, or The Colonies, and promised freedom from religious persecution, new fulfilling and largely available work, and land. However, during the long voyages that it took to make it to the United States, the vessels of travel were cramped, allowing for the spread of disease among much of the traveling population. This not only left some travelers deceased en route to their new life, it also caused many of the emigrating passengers to arrive in the New World ailed by disease. Because of this spread of disease, or lack of recording, there are only a few members of the Craig family who made it to America. The first of these people is Magnus Craig, who arrived in the state of Virginia in the year 1713. Those who bear the surname of Craig can be found in high concentrations in the states of New York, Illinois, California, Texas, Ohio, New Jersey, Massachusetts, Missouri and the state of Arkansas within the entire United States of America.
Craig Today:
United States 104,211
England 16,697
Canada 14,062
Australia 9,743
Nigeria 8,253
Scotland 7,561
Southern Africa 5,844
Northern Ireland 3,124
New Zealand 3,067
Philippines 1,482
Notable People:
William Craig (1918-2016) who was a German-born academic and philosopher who taught at the University of California at Berkley
Yvonne Joyce Craig (1937-2015) who was a ballet dancer and actress who was best known for her role as Batgirl from the 1960's TV series Batman and her portrayal as the Orion Slave girl Marta in Star Trek
William Craig (1807-1869) who was a frontiersman and trapper from America
General Malin Craig (1875-1945) who was the Chief of Staff of the US Army from the year 1935 to the year 1939
Major-General Louis Aleck Craig (1891-1984) who was an Inspector-General of the Army from the year 1948 to the year 1952
Lieutenant-General Howard Arnold Craig (1897-1977) who was an American Inspector-General at the Headquarters of the U.S. Air Force in Washington D.C. from the year 1949 to the year 1952
Brigadier-General Charles Frost Craig (1895-1982) who was the American Chief of Staff of the 37th Division
Harmon Craig (1926-2003) who was a geochemist who was awarded the Balzan Prize for Geochemistry in 1998
Blazons & Genealogy Notes
1) (Riccarton, Scotland). Motto—Vive Deo et vives. Erm. on a fesse sa. three crescents ar. Crest—A chevalier on horseback, his broken spear in bend all ppr.
2) (Gibson-Craig, Riccarton and Ingliston, co. Edinburgh. The first bart., so created in 1831, assumed tho additional name of Craig in virtue of the entail made by Robert Craig, Esq., of Riccarton, in 1818). Motto—Vive Deo et vives. Quarterly: 1st and 4th, erm. on a fesse sa. three crescents ar. for Craig; 2nd and 3rd, gu. three keys fessewise in pale, wards downwards, or, for Gibson. Crest—A knight on horseback in full armour, his right hand grasping a tilting spear shivered, all ppr. Supporters—Dexter, a chevalier, armed as of the 15th century, holding in his dexter hand a spear ppr.; sinister, a horse barbed or.
3) Motto—J'ai bon esperance. Erm. on a fesse per fess gu. and az. three crescents ar. Crest, same as the last.
4) Gu. a fesse erm. betw. three crescents ar. Crest—A lion's head vert, collared or.
5) (co. Devon). Ar. on a bend az. betw. two talbots pass. sa. three martlets or.
6) (Greenford, co. Middlesex). Erm. on a fess sa. three crescents ar.
7) (Ireland. Confirmed by Molyneux, Ulster, 5 July, 1600, to John Cragg, descended from a third brother of the house of Cragg in England). Same Arms. Crest—On a chapeau gu. turned up erm. a fleur-de-lis betw. two wings az.