Croft Family Crest, Coat of Arms and Name History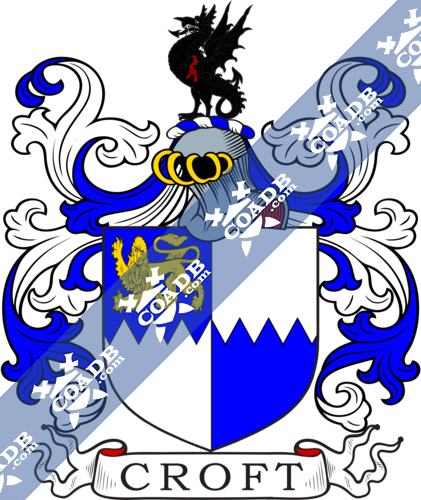 Croft Coat of Arms Gallery
Don't know which Coat of Arms is yours?
We can do a genealogical research. Find out the exact history of your family!
Learn More
CROFT
The origin of many surnames often found their origins in multiple sources as is the case with the English surname Croft which comes from one of three origins. The first evolved from the ancient English word "craeft" which means skill or craft when translated to modern English. The second source is geographical, used to identify someone who lived by of near a "croft" which translates to farm or pasture. The third source is again geographical, used to denote a person who was from any of the locations in England called Croft, as in the village of that name in Leicester.
Variations in the spelling of surnames was quite common in ancient and medieval times, few people of this era were literate and those who were often did not have many comprehensive guidelines regarding spelling. Many of the scribes charged with the task of record keeping often spelled phonetically. In many ancient records, Croft may appear as; Crofts; Crofte; Krof; Kroff; Kroft; and Krofts among others.
While the use of surnames was a typical practice in France, started by the Norman aristocracy, the use of surnames in most of Europe did not come into common usage until the mid to late 16th century. Surnames of non-nobles generally found their origins by use of patriarchal/matriarchal names, reference to the individuals occupation, references to defining physical traits, a familiar geographical location or a topographical landmark found near the individuals home or birthplace, or the name of the village in which the person lived among other sources. Soon, surnames would come not just to represent an individual but whole families.
The use of surnames served the practical purpose of making it easier to distinguish persons who shared a common given name. This practice also made the tracking of citizens for census and tax purposes easier for the government as well. This is evident in the fact that most records of non-nobles are found in official government documents. A case in point, one of the earliest appearance in England of a variation of the surname Croft is that of Aluric Craft, which is found in the Knights Templar records from county Essex dated 1185.
The use of surnames also made the tracking of immigrants easier when people began migrating to America and the British Commonwealth countries of Canada, Australia. And New Zealand. Some of the first recorded immigrants to the United States with this surname were Hen Croft who arrived in 1637 and settled in Virginia. Kate Croft was one of the immigrants to Canada, arriving in 1907 and settling in Saint John, New Brunswick. Brothers Edward and John Croft were early settlers to Australia, arriving and settling in Adelaide in 1840. Some of the early settlers to New Zealand were William and Mary Croft and their children, Harriett and Thomas, who arrived in 1861 and settled in Auckland
Worldwide, the highest concentration of people with the surname Croft are found in Australia, the United Kingdom, New Zealand, the United States, and Canada. By state, the largest percentile of those with the surname Croft live in Alabama, Florida, Georgia, Kentucky, and Tennessee.
The name Croft lends itself to Croft Castle which is located in Leominister, Herefordshire, England. It is part of a 1500 acre estate including not only the castle but a church, a garden, and an Iron Age hill fort called Croft Ambrey. The chapel houses the tomb of the family patriarch, Richard Croft and his wife Eleanor. The garden is walled and includes a vineyard, glasshouse, and orchard. The property became a part of the National Trust in 1956 and is opened to the public.
The site has was the family seat for the Croft family and Croft baronets for over one thousand years with the original castle being built by Richard Croft in the 11th century. The current castle was built in the 14th century. The property was sold in 1746 to Richard Knight. The Croft family bought the property back in 1923.
Over the centuries Croft Castle was home to many notable Crofts; Sir Richard Croft, royal official for King Edward IV, Edward V, Richard III, and Henry VII; Sir James Croft, lord deputy of Ireland; and Sir Henry Page Croft, 1st Baron Croft among others. The last Croft Baron, Bernard William Henry Page Croft born in 1949, has no heirs, and upon his death the Baronial title and the Croft Baronetcy shall go extinct.
Croft is an English name which derives from one of two sources. The first source, the name evolved from the medieval work "craeft" which translates to mean skill or craft in modern English.
Blazons & Genealogy Notes
1) (Croft Castle, co. Hereford, bart.) Motto—Esse quam videri. (Greenham Lodge, co. Berks). (co Hereford). Quarterly, per fesse indented az. and ar. in the first quarter a lion pass. guard. or. Crest—A wivern sa. vulned in the side gu.
2) (Aldborough Hall, co. York). Motto—Esse quam videri. Quarterly, indented erminois and gu. in the first quarter a lion pass. guard. of the second. Crest—A lion pass. guard. per pale indented gu. and erminois the dexter forepaw resting on a shield quarterly indented, as in the arms.
3) (Dodington, co. Kent, bart.). Motto—Esse quam videri. Quarterly, per fesse indented or and gu. in the first quarter a lion pass. guard. of the second. Crests—1st: A lion pass. guard. or, supporting a shield with the arms of St. George; 2nd: A lion pass. guard. per pale indented gu. and erminois the dexter forepaw resting on an escocheon ar. Supporters—On the dexter side a lion guard, or, gorged with a wreath of laurel vert, therefrom pendent an escocheon gu. charged with a Tower gold, and on the sinister a bull sa. horned, crined, hoofed, and gorged with a ducal crown or, therefrom pendent an escocheon ar.
4) (Dalton, co. Lancaster; Mabel, dau. and heiress of James Croft, m. Piers Legh, of Lyme). Bendy lozengy, ar. and sa.
5) (Pickleton, co. Leicester. Thomas Croft, of that place, great grandson of William Croft, living 28 Henry VIII., was living there at Visit, of the co. 1619). Lozengy ar. and az. Crest—A wyvern's head couped.
6) (Stillington Hall, co. York). Quarterly, indented or and gu. in the first quarter a lion ramp. guard. sa. Crest—A lion pass. guard. sa. supporting with tho dexter paw an escutcheon pean, charged with a lion pass. guard or.
7) Paly of eight lozengy ar. and sa.
8) Fusily ar. and sa.
9) (Ireland). Vert, a chev. betw. three cross crosslets or.