Crockford Family Crest, Coat of Arms and Name History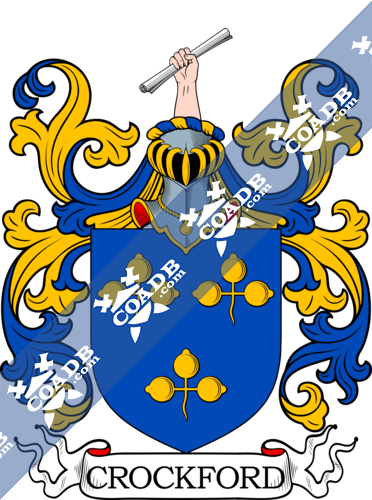 Crockford Coat of Arms Gallery
Don't know which Coat of Arms is yours?
We can do a genealogical research. Find out the exact history of your family!
Learn More
Crockford Origin:
England
Origins of Crockford:
This unusual surname is of English geographical origin from "Crockford Bridge" in the church of Chertsey, Surrey or "Crockford Water," which means a stream flowing into Sowley pond, near Lymington in southwest Hampshire. The first component in both placenames may be the Old English word "croc(ca)", which means a pot, used to show a hallow on the ground or in a place where potsherds (fragments of pottery appeared), or the Old Norse "Krokr", (Middle English "crok") which means "bend", or "cruc", the Old British word for hill. The second component is the Old English "ford," which means a Ford. One William de Crockford noted in 1332, in the Premium Rolls of Surrey. One John Crockford named at St. Mary, Guilford, Surrey in December 1550, while Emannel, son of Edward Crockford was named at Egham in Surrey in January 1580. Elizabeth Crockford married Richard Field at Chertsey, Surrey in December 1664. William Crockeford (1775-1844), originally a fishmonger, set up a famous gambling club "Crockford's Club" in 1827, out of which he amassed 1,200,000 shillings in a few years.
Variations:
More common variations are: Crokford, Crocford, Crackford, Crookford, Crochford, Crockfort, Corckford, Crickford, Crgwford, Kirkford.
England:
The origins of the surname Crockford appeared in Surrey where people held a family seat from early times. Some say before the invasion of Normans and the entrance of Duke William at Hastings 1066 A.D.
The very first recorded spelling of the family was shown to be that of Richard de Crocford, dated about 1214, in the "Pipe Rolls of Surrey," It was during the time of King John, who was known to be the "Lackland," dated 1199-1216. The origin of surnames during this period became a necessity with the introduction of personal taxation. It came to be known as Poll Tax in England.
Ireland:
Many of the people with surname Crockford had moved to Ireland during the 17th century.
United States of America:
Individuals with the surname Crockford landed in the United States in two different centuries respectively in the 17th, and 18th. Some of the people with the name Crockford who arrived in the United States in the 17th century included James Crockford who landed in Boston, Massachusetts, in 1651. James Crockford, who landed in Boston, Massachusetts in 1651. Robert Crockford, who landed in Maryland in 1677.
The following century saw more Crockford surnames arrive. Some of the people with the surname Crockford who arrived in the United States in the 18th century included John Crockford landed in Boston in 1750.
Here is the population distribution of the last name Crockford: England 1,780; Australia 598; United States 558; Canada 474; Scotland 105; Wales 79; South Africa 73; New Zealand 57; Malta 52; Northern Ireland 48.
Notable People:
Eric Bertram Crockford (October 1888 –January 1958) was a British field hockey player who took part in the 1920 Summer Olympics. He was a member of the British field hockey team, which won the gold medal. He also played first-class cricket for Warwickshire in 21 matches between 1911 and 1922.
Douglas Crockford is an American computer programmer and businessperson who is famous for his ongoing involvement in the advancement of the JavaScript language, for having popularized the data format JSON (JavaScript Object Notation), and for acquiring different JavaScript-related tools such as JSLint and JSMin. He is currently a senior JavaScript designer at PayPal and is also an author and speaker on JavaScript, JSON, and related web technologies.
Harold Arthur Crockford (September 1893 – December 1983) was an English football player who played for Chatham, Vicar of Wakefield, Fulham, Exeter City, Port Vale, Chesterfield, Gillingham, Accrington Stanley, Walsall, Darlington, Norwich City, Bedford Town and Tunbridge Wells Rangers. The Greater Sudbury municipal election, 2006 was held in the city of Greater Sudbury, Ontario, Canada in November 2006.
William Crockford (1776–1844) was an English Regency businessman horse racing enthusiast and proprietor of the infamous gambling club Crockford's who then became one of the richest men in England.
Blazons & Genealogy Notes
Az. three trefoils slipped or. Crest—A dexter hand holding a roll of parchment ppr.