Crook Family Crest, Coat of Arms and Name History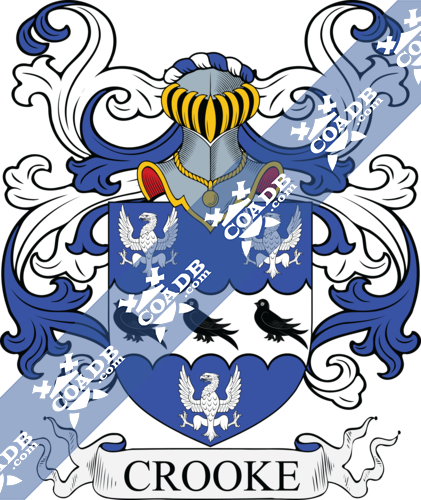 Crook Coat of Arms Gallery
Don't know which Coat of Arms is yours?
We can do a genealogical research. Find out the exact history of your family!
Learn More
This rare name has two possible origins. The first one is a primitive geographical surname, symbolizing habitation from the English word 'crok', from the Old Norse 'krokr'. The name may also be a figure of speech representing occupational surname for a seller, maker, or user of hooks, originating from the same source. The second possibility of origin is from the Old Norse nickname 'krokr', that means 'crooked' or 'bent', and initially used of someone with a hunched back.
It was also used to describe someone residing by a curve in a road or a river. The surname has several variations in terms of its spellings; Crooke, Cruik, Crok, Cruke, Cruikes and Crukes are some of the commonly used spellings. On October 7th 1618, Stepney and William Crooke married Ann Powell at St. Mary Alder Mary, London. The Crook family was granted with a coat of arms that portrays three green birds on an ermine (black field with white spots) having semicircular indentation fess (central horizontal band) on a blue field among three gold eagles with wings expanded. A gold eagle is on the crest with expanded wings. Dating back to 1086, Rainald Croc was the first family name to be spelled during the reign of King William 1, known as "The Conqueror". Another source quotes that in 1297, Robert de Crokis was the first recorded spelling of the family name during the reign of King Edward 1.
Blazons & Genealogy Notes
1) Az. on a fesse engr. erm. betw. three eagles displ. or, as many birds vert. Crest—An eagle displ. or.
2) Or, eight shields in orle sa. Crest—A dexter hand issuing from a cloud in the dexter stretching towards a serpent, his head erect, all ppr.
3) Gu. on a bend ar. three shields sa. Crest—An arm in armour embowed ppr. holding a fleur-de-lis or.
4) (Abram Hall, co. Lancaster). Ar. on a bend gu. three roses of the field barbed vert seeded or. Crest—A Cornish chough sa. beaked and legged gu.
5) (Alderford, co. Norfolk). Ar. a heron rising az. on a chief indented of the second three estoiles or.
6) (Winchester). Gu. a saltire erm. betw. four fleurs- de-lis or. Crest—A fleur-de-lis or, the stem wrapped about with a snake vert, the head issuing from the middle of the fleur-de-lis.
7) (Crooke Hall, near Chorley, co. Lancaster, of whom was Samuel Crooke, Esq., Sheriff 1717). Ar. on a bend gu. three roses of the first.
8) Az. a fesse engr. erm. betw. three eagles displ. or.
9) Az. a bend or, betw. six fleurs-de-lis ar.
10) Az. on a fesse engr. betw. three eagles displ. ar. as many martlets sa.
11) (co. Worcester). Fusilly or and gu. a chief az.