Crosby Family Crest, Coat of Arms and Name History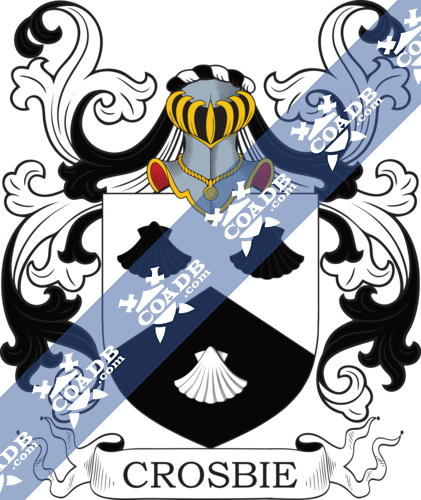 Crosby Coat of Arms Gallery
Don't know which Coat of Arms is yours?
We can do a genealogical research. Find out the exact history of your family!
Learn More
Crosby Origin:
England, Scotland, Ireland
Origins of Name:
The surname of Crosby is said to derive from Old Scandinavia, and is a locational name with roots in Northern England Southern Scotland. These locations are said to have gotten their name from the Old Norse word 'kross" which means cross, and is usually meant to mean a stone cross that was set up by a roadside or settlement, and the word "byr" translates to mean enclosure or settlement. These places include Crosby near Maryport in Cumberland, Crosby upon Eden, High Crosby, Low Crosby, and Little Crosby in Lancashire.
Variations:
More common variations are:
Crosby, Crosbie, Crossby, Crosbey, Carosby, Croseby, Crousby, Croosby, Crowsby, Crosbby, Crosboy
History:
England:
The first recorded spelling of the surname of Crosby came in the year 1176, and was noted as Gillemichel de Crossebi, who was recorded in the Pipe Rolls of Westmorland. These documents were created under the reign of King Henry II, who was known as "The Builder of Churches" and reigned from the year 1154 to the year 1189. In the Poll Tax Returns of Yorkshire, Thomas de Crosby was entered in the the year 1379, and Henry Crosseby was noted as a witness in the Assize Court Rolls of Warwickshire in the year 1383. Most people in England with the Crosby surname live in Northern England. The areas that have higher concentrations of those who bear the Crosby surname are the counties of Yorkshire, Lancashire, Cheshire and Lincolnshire.
Scotland:
In Scotland the Crosby families live in the southwestern regions of Wigtownshire and Dumfries-shire. Later, those with the surname of Crosby are Stirlingshire, Midlothian, Lanarkshire, Roxburghshire, and Renfrewshire counties.
United States and Canada:
In the 1600's, European citizens began the European Migration, which was when they left their homeland in search of a better life. The United States of America, which at that time was referred to as the New World, was an area that was not explored, but promised religious freedom, work, and better living conditions, so it was a high traffic area. The first settlers in America who bore the surname of Crosby were Symon Crosby, who was 26 years of age, his wife, Ann Crosby, who was 25 years of age, and their son, Thomas Crosby, who was 8 weeks when they embarked on the journey from London, England to New England on the ship named the "Susan and Ellin" in the year 1635. During this time period, it was common for English settlers to move into other parts of Europe and then immigrate to the United States, or the Americas. Those with the surname of Crosby began moving out of England, and then settling in Scotland, then settling in Ireland, and finally coming across the pond into the United States and and moving up into Canada. Once they came to the United States, those with the surname of Crosby settled in the states of Massachusetts, New York, South Caroline, Georgia, Mississippi, Ohio, Maine, Pennsylvania, and the state of New Hampshire. In the 18th Century, people who bore the surname of Crosby began settling directly in Canada, without using the United States as a stop. The first settlers with the surname of Crosby to settle in Canada were Abigal Crosby, Barnett Crosby, Josiah Crosby, and Wm Crosby, who landed in Nova Scotia and settled there in the year 1750.
Ireland
The surname Crosby and also Crosbie were adopted in Ireland by the families Mac an Chrosain Sept of Leix. This name was also anglicized as MacCrossan. Settlers from England and Scotland in the 17th century introduced the surname into Ulster Province.
Crosby Today:
United States 46,285
England 6,760
Canada 3,031
Australia 2,108
South Africa 1,242
Peru 940
Ghana 879
New Zealand 639
Scotland 361
Mexico 340
Notable People:
B.J. Crosby (1925-2015) who was born with the name Joanne Crayton, and was a jazz vocalist, singer, and actress who was in the musical, Smokey Joe's Café
Mrs. Catherine Elizabeth Crosby who was a 64-year-old First Class Passenger aboard the RMS Titanic from Milwaukee, Wisconsin, and survived the sinking by escaping on life boat 7
Miss Harriette Rebecca Crosby, who was 39 years of age when she sailed aboard the RMS Titanic as a First Class Passenger and survived the sinking by escaping in life boat 7
Captain Edward Crosby, (died in 1912) who was 70 years of age when he boarded the RMS Titanic as a First Class Passenger, and who died in the sinking, and his body was recovered by CS Mackay-Bennett
Robert Edward Crosby (born in 1980) who is an MLB infielder, and was the Rookie of the year in 2004
Percy Leo Crosby (1891-1964) who was an author, illustrator, and cartoonist from America, who was best known for his cartoon, Skippy
Blazons & Genealogy Notes
1) (exemplified to John James Lord, Esq., Dorset Street, Dublin, on his assuming by royal licence, 1820, the name of Crosby, instead of that of Lord, under the will of William Crosby, Esq.). Motto—Indignante florebit justus invidia. Ar. a lion pass. sa. betw. three dexter hands couped and erect gu. Crest—Three swords two in saltire hilts down and one in pale hilt upwards ppr. united by a ribbon or.
2) (Lord Mayor of London, 1771). Sa. a chev. erm. betw. three rams pass. ar.
3) (London, confirmed to Vinus Hodgkinson Crosby, grand nephew of the above, 1821). Motto—Te duce libertas. Az. on a chev. betw. three lambs pass, or, as many roses ppr. Crest—Betw. the horns of a crescent per pale ar. and gu. a cross flory or
4) Per chev. ar. and sa. three guttees counterchanged.
5) Per chev. ar. and sa. three unicorns' heads couped counterchanged.
6) Per chev. sa. and ar. three goats pass. counterchanged.
7) (Holm, Scotland). Gu. a cross or. Crest—The stump of an oak tree growing out of a mount shooting forth new branches ppr. Motto—Resurgam.
8) (Sir Pierce Crosbie, knighted at Theobalds, co. Herts, 17 Feb. 1616, son of Patrick Crosbie, alias MacCrossan. who was elder brother of John Crosbie, Bishop of Ardfert. Fun. Ent. Ulster's Office 1617). Ar. a lion ramp. sa. betw. three dexter hands couped and erect gu.
9) (Maryborough, Queen's County, bart.; descended from John Crosbie, appointed Bishop of Ardfert 1600, through his eldest son Walter Crosbie, Esq., of Maryborough, who was created a baronet in 1630). (Ballyheigue, co. Kerry, descended from Thomas Crosbie. younger brother of David Crossie, Esq., of Ardfert, the father of the 1st Lord Brandon). Ar. a lion ramp. sa. armed and langued gu. in chief two dexter hands couped and erect of the last. Crest—Three swords two in saltire points down and one in pale point upwards entwined with a snake, all ppr. Motto—Indignante invidia florebit justus.
10) (Lord Brandon. Sir Maurice Crosbie, Knt., son of David Crosbie, Esq., of Ardfert, who was grandson of David Crosbie, younger brother of Sir Walter Crosbie, 1st bart., was so created 1758, extinct 1832). (Earl of Glandore. William, 2nd Lord Brandon, was raised to an earldom 1776, extinct 1815). Same Arms, Crest, and Motto. Supporters—Two leopards reguard. ppr. collared and chained or.
11) (Ardfert Abbey, co. Kerry, exemplified to Rev. John Talbot, in 1816, upon his assuming by royal liccnce the name of Crosbie instead of that of Talbot). Quarterly, 1st and 4th, ar. a lion ramp. sa. in chief two dexter hands couped at the wrist gu., for Crosbie; 2nd and 3rd, gu. three cinquefoils two and one erm. for Hamilton. Crest—Three swords, viz.: two in saltire the pommels upwards, and one erect the pommel downwards ppr. hilted or, enwrapped by a snake ppr. Motto—Indignante invidia florebit justus.
12) (Fun. Ent. of Fridswolb Crosbie, d. 26 Jan. 1615, wife of Right Rev. John Rider, Bishop of Killaloe). Per chev. ar. and sa. three escallops counterchanged.
13) or Crosby – Per chev. ar. and sa. in chief four guttees and in base three of the same counterchanged. Crest—A quill and sword in saltire ppr.
14) Gu. a cross or, a bordure ar. Crest—A holy lamb ppr. supporting a standard gu. Motto—Nil desperandum.
15) Ar. three guttees de sang.