Crowton Family Crest, Coat of Arms and Name History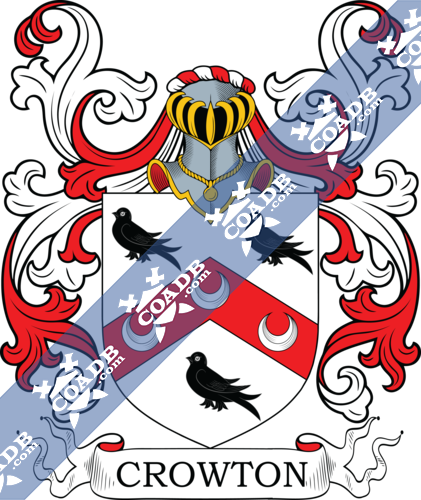 Crowton Coat of Arms Gallery
Don't know which Coat of Arms is yours?
We can do a genealogical research. Find out the exact history of your family!
Learn More
Origins of Crowton:
Crowton is an Anglo-Saxon name.  The name was originally given to a person who played a crowd. A stringed instrument was similar to a violin or six-string violin.  This instrument was known as a bend or croude in Old English and is still known as a chth in Wales and as a cruitin Ireland.  Personalities in the West of England still lead to a fiddle as a crowdy-kit.  Professional musicians of this sort made their existences primarily by playing at old fairs and wedding feasts.  In Scotland "crowdie" means porridge.  One relatively recent discovery that did much to regulate English spelling was the printing press. However, before its discovery, even the most literate people noted their names according to sound rather than spelling.
Variations:
More common variations are: Crowder, Crowther, Crouder, Crowdder, Crodare, Crowdair, Crowdere, Crowthers, Crouder, Croader, Croather, Crother, Crawther, Craudder, Crauther, Crauder, Craudair, Crothair, Crowthair, Crowthare, Croder, Crouter, Crowter and much more.
England:
The surname Crowton first appeared in Kent where it generally understood that the first recording of the name appeared in the Hundredorum Rolls of 1275 as Richard le Cruder.  A few years later, Hugo le Crouder noted in Leicestershire in 1278 and Kenwrick le Cruther noted in the Assize Rolls of Cheshire in 1289.  In Yorkshire, Adam 1e Crouther recorded in 1296, and Katerina Crowder and Thomas Crouder noted in the Yorkshire Poll Tax Rolls of the year 1379.
United States of America:
People with the name Crowton moved to America in many centuries like John Crowther who settled in New Hampshire in the year 1631.  Elizabeth James and Mary Crowthers settled in Richmond, Virginia in the year 1820. Thomas Crowder who settled in Barbados in the year 1634 and later transferred to the mainland.
Blazons & Genealogy Notes
1) Ar. on a chev. gu. betw. four ravens sa a crescent or. Crest—A stag's head or.
2) Ar. on a chev. gu. betw. three martlets sa. as many crescents of the first.