Cruse Family Crest, Coat of Arms and Name History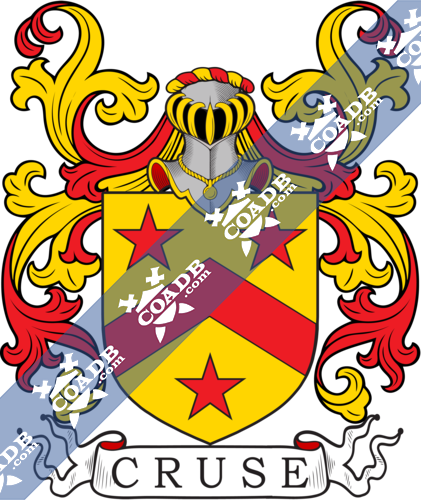 Cruse Coat of Arms Gallery
Don't know which Coat of Arms is yours?
We can do a genealogical research. Find out the exact history of your family!
Learn More
Cruse Origin:
England
Origins of Cruse:
This interesting surname, with different spellings Crew, Cruise, Cruse, Cruwys and Crouse may be of three possible origins.  Firstly, it may be of English locational origin from "Crewe," in Cheshire, noted as "Crev," in the Domesday Book of 1086, "Crue" in 1346 in the Index to the Charters and Rolls in the British Museum.  The placename is a combination of the Welsh word "cryw," stepping stones.  Secondly, the surname may acquire from the Medieval English "cr(o)us(e)", bold, fierce, a nickname for a deep bold and daring person.  Finally, the surname may perhaps be of French habitational origin from "Cruys-Straete" in Nord, from the Gaulish word "crodiu", hard.  One Richard de Crues noted in the Curia Rolls of Devonshire in 1214, while the Hundred Rolls of Bedfordshire list a Robert Cruse in 1275.  Sir Thomas Crew or Crewe (1565 – 1634) was a speaker of the House of Commons.  In August 1618, Francis, son of Robert Crews named at St. Pancras, Soper Lane, London and Elizabeth Crews married James Kiff in February 1830 at St. James, Paddington.
Variations:
More common variations are: Cruise, Crusoe, Crouse, Crause, Creuse, Crusse, Crusey, Crusie, Coruse, Criuse.
England:
The surname Cruse was first found in Bedfordshire (Old English: Bedanfordscir), located in Southeast-central England, previously part of the Anglo-Saxon kingdom of Mercia, where they held a family seat from very early times, some say well before the Norman Invasion and the arrival of Duke William at Hastings in 1066 AD.
The very first recording spelling of the family was shown to be that of Nicholas le Criuse, dated 1213, in the Curia Regis Rolls of Bedfordshire. It was during the reign of King John, who was known as Lackland, dated 1199-1216.  Surname all over the country became a necessity with the introduction of personal taxation.  It came to be known as Poll Tax in England.  Surnames all over the country began to develop with unique and shocking spelling varieties of the original one.
Ireland:
Many of the people with surname Cruse had moved to Ireland during the 17th century.
United States of America:
Individuals with the surname Cruse landed in the United States in three different centuries respectively in the 17th, 18th, and 19th.  Some of the people with the name Crusewho arrived in the United States in the 17th century included Robert Cruse, who came to Maryland in 1680. People with the surname Cruse who landed in the United States in the 18th century included George Cruse, who landed in Long Island in 1781.  johann Cruse, who landed in Long Island in 1781. The following century saw much more Cruse surnames arrive.  Some of the people with the surname Crusewho arrived in the United States in the 19th century included Peter Cruse, aged 35, landed in Philadelphia, Pennsylvania in 1820.  W Bernh Cruse, who landed in America in 1837.  Clara Cruse, aged 29, arrived in America in 1837. James Henry Cruse, aged 42, arrived in Mobile County, Ala in 1844.  S R Cruse, who landed in San Francisco, California in 1850.
Canada:
Some of the people with the surname Cruse who arrived in the Canada in the 20th century included Mrs. Cruse, who landed in Saint john, New Brunswick in 1907.  Thomas Cruse, who arrived in Saint John, New Brunswick in 1907.
Here is the population distribution of the last name Cruse:
United States 9,621; England 1,409; Sri Lanka 783; Germany 773; Australia 709; France 637; South Africa 384; Canada 275; Argentina 134; New Zealand 97.
Notable People:
Bruce Andrew Cruse (born April 1967, Launceston, Tasmania) is an old Australian first-class cricketer who played for the Tasmanian Tigers from 1985 to 1992.  He moved to the UK in 1993 and after time at Lancashire County Cricket Club moved to Lord's (1999) where he works with the ECB as the National Funding and Facilities Manager. He leads a programm that has delivered over 50 million pounds investment into the grassroots of English Cricket.
Cindy Cruse-Ratcliff was a singer-songwriter and the Director of Lakewood Church in Houston, Texas, United States.
Emmanuel Cruse was a French winemaker.
Freda Cruse Atwell is a social psychological theorist, political adviser, and writer.
Harold Cruse was a social analyst and teacher of African-American studies.
Henry Cruse Murphy is an American leader and biographer.
Howard Cruse (born May 1944) is an American alternative cartoonist known for the exploration of gay themes in his comics.  He raised in Springville, Alabama, the son of a preacher and a homemaker.
John Howard Cruse was a priest of Knaresborough from 1965 to 1972.
Susan Cruse is a British television actor.  She has played DC Julie Hardy in Casualty, and Marie Matthews in EastEnders.
Blazons & Genealogy Notes
Notes: (co. Devon). Blazon: Or, a chevron between three mullets gules.