Crump Family Crest, Coat of Arms and Name History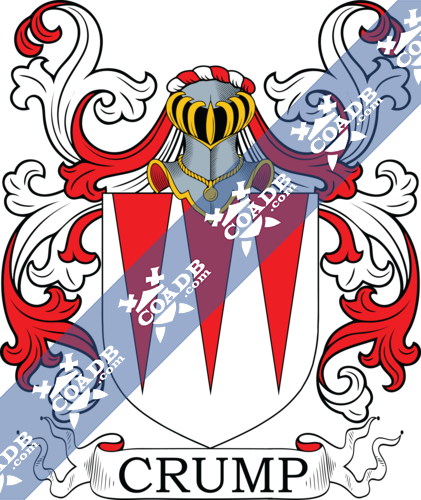 Crump Coat of Arms Gallery
Don't know which Coat of Arms is yours?
We can do a genealogical research. Find out the exact history of your family!
Learn More
We don't yet have this section of research completed for this name. If you are interested in being notified when research becomes available, please use this form to contact us and we will let you know as soon as we have something!
Blazons & Genealogy Notes
1) (Bretforton, co. Worcester; William Crompe of that place m. 1 Aug. 1546, at South Littleton, Katharine Kyghlet, cousin to Richard Kychly of that parish). Ar. three piles gu.
2) (co. Kent). Gu. a chev. betw. three quatrefoils ar. Crest—A cat saliant guard. sa.
3) (Fun. Ent. of Maude Crumpe, d. 13 Oct. 1623, wife of William Porter of Oldbridge, co. Meath). Gu. a chev. betw. three cinquefoils pierced or.
4) (exemplified to Sylverius Crumpe, of Hobart Town, eldest son of William Moriarty, Esq., Commander Royal Navy, deceased, by Alphra Crumpe, his wife, sister of Francis Crumpe, of Tralec, co. Kerry, Doctor of Medicine, on his assuoiing, by royal licence, 23 July, 1881, the surname of Crumpe, in lieu of Moriarty). Motto—Scandit sublimia. Quarterly, 1st and 4th, per chev. gu. und az on a chev. betw. three cinquefoils, pierced or, a cross crosslet fitchee sa., for Crumpe: 2nd and 3rd, per pale or and ar. an eagle displ. sa. charged on the breast and on each wing with a trefoil slipped of the first, for Moriarty. Crests—1st ,Crumpe: On a mouut vert a cat salient guard, sa. charged with a crosslet fitchee or; 2nd, Moriarity : An arm in armour embowed, the hand grasping a sword entwined with a serpent, all ppr. charged with a trefoil slipped vert.