Cutler Family Crest, Coat of Arms and Name History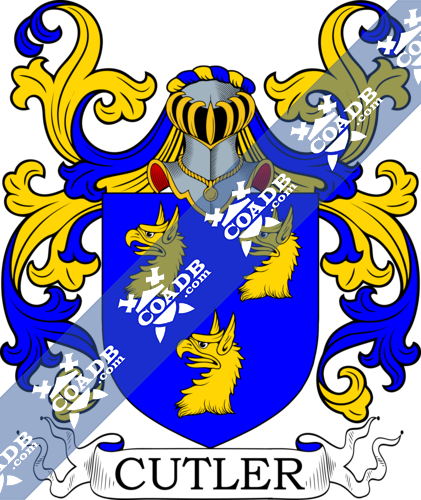 Cutler Coat of Arms Gallery
Don't know which Coat of Arms is yours?
We can do a genealogical research. Find out the exact history of your family!
Learn More
Surname Name Meaning, Origin, and Etymology
This is an occupational surname meaning "the cutler", meaning a maker of knives and like tools (or even swords).  It comes from the French place name Cotteleer. It comes from the Middle English or Old French couteau or coutel, meaning a knife. This in turn derives from the Latin word cutellus, meaning a plowshare.  The name came from France to England through the Norman Invasion on 1066 AD.
Spelling Variations
In Scotland, the name is often spelled Cutlar. In France, it is spelled Le Coteler or Le Cotiler. Common spelling variants include Cutlere, Coutler, Coutlar, Cutlur, Cuttlar, Couttler, and many others. It is also an Anglicized spelling of the German surname Kottler or Kattler.
Early Bearers of the Surname
A one Gaufrid de Cuteler was recorded in the Rotuli de Oblatis et Finibus (compiled by Sir Thomas Duffus Hardy) in 1835. Peter le Curelir of Clerkenwell was recorded in London in 1216 AD. The Hundred Rolls of 1273 AD, a census of Wales and England, known in Latin as Rotuli Hundredorum, documents four people bearing this surname:  Saleman le Cotiler in Loncon, Matilda la Cutiller in count Lincolnshire, Willemlus Cottelar, and Johannes Cotelar in Handsworth. Early marriages involving this surname include William Cutler to Marye Nortone at St. Mary Aldermary in London, England.
History, Genealogy, and Ancestry
George Fraser Black's 1946 "The Surnames of Scotland" states "The Cutlers of Orroland, parish of Rerwick, are said to have obtained the lands from the monks of Dundrennan Abbey in 1437 AD. The local tradition is that the first of the Cutlers who came to the parish was employed in sharpening the tools of the masons engaged in the erection of the abbey and thereby acquired their name. This is most improbable".
One source claims the first known bearers were Ralph and Peter Cutler, who arrived in London around 1212 AD. The family moved into Yorkshire, and some even north to Scotland. Most Cutlers still in England live in Suffolk County today. Around the era of Oliver Cromwell (16th/17th century), many Cutlers moved to Ireland, as well as America and Canada.
James Cutler Sr. was born in 1605 in Sprowrton, Engand He married three different women: Anna, Mary Bernard, and Phoebe Page. He left the following issue with hem: James, Hannah (Winter), Mary (Parks), Elizabeth (Parmenter), Thomas, Sarah (Waite), Joanna (Russell), Jemima (Snow), John, Samuel, and Phebe. He died in 1694 in Cambridge Farms, Massachusetts. His son John was born in 1663 in Cambridge, MA. He married Mary Stearns in 1694 and had five issue with her: Samuel, John, Mary, Ebenezer, and Sarah. His son John was born in 1696 in Lexington, MA. He married Abigail Stone in 1724 and had two children with her: John and Thaddeus. His son Thaddeus was born in 1735. He married Hannah Barnes and had a child with her named Josiah Cutler. Josiah was born in 1761 and married Betsey Allen. He died in 1840 in Ann Arbor MI, leaving issue: Zuriel, Hannah, Rhoda, Josiah, and Sally. Zuriel was born in 1785 in Marlboro Vermont. He married Meribah Field and they had a daughter named Desire Faith (Camp) in 1820.
A one Robert Cutler was born in 1475, in Ipswich, England. He married Christian Houlton in 1500 and had a son with her named William. William was born in 1500 in Suffolk, England. He married Dorothy Barker in 1525 and left numerous issue with her: William, Robert, Anthony, Thomas, Richard, John, Gillian, Ann, and Mary. His son Robert was born in 1525. He married Parnell Barker and had numerous issue with her prior to his death in 1596: Ann, Alice, Ann, Robert, Jane, Elizabeth, William, Benjamin, Samuel, Joseph, Mary, Roger, and Edward.
Early American and New World Settlers
The book "Genealogical Guide to The Early Settlers of America" mentions eight people bearing this last name: 1) James Cutler of Watertown who married a woman named Ann and had issue with her: James (1635), Hannah (1638), Elizabeth (1640), and Mary (1643), 2) John Cutler of Hingham who arrived in 1637 with his one, seven children, and one servant, from Norfolk, England, 3) John Cutler of Woburn, who married Olive Thompson in 1650 and left issue with her: Mary (1651), Susanna (1653), and Mary (1663). He died of small-pox in 1678, 4) John Cutler, of Woborn, who married Susanna Baker in 1682, daughter of John, 5) John Cutler of Hingham who was a surgeon who later changed his last name to Demesmaker and, in 1675, married Mary, daughter of Edward Cowell, and had children with her: John (1676), Peter (1679), Mary (1682), Hannah (1685), Abigail (1687), David (1689), Ruth (1692), Elizabeth (1695), and Abigail (1699). His son married Joanna, widow of Thomas Richards, but did not have children with her, 6) Robert Cutler of Charlestown, recorded as a freeman in 1637, was a deacon in 1659 and died in 1665 leaving a widow (Rebecca) and numerous issue: John, Rebecca (married Abraham Errington), Hannah (married Matthew Griffin), Nathaniel (baptized in 1640, who attended Harvard), 7) Samuel Cutler of Marblehead in 1652, who was born in 1629, and 8) Samuel Cutler of Charlestown, who with his wife Dorothy, daughter of Abraham Bell,  had issue: Samuel (1683) and Abraham (1685).
John Cutler, from Spranston in County Norfolk, England, who settled at Hingham in Massachusetts in 1637 had the following arms/blazon: Azure, three dragon's heads erased or, langued gules, a chief argent, with crest: A dragon's head erased azure, gorged with a mural coronet or, holding in his mouth a laurel branch.
A one Thomas Cutler came to the Barbados aboard the Peter Bonaventure in 1635. A one Clinton Cutler came to St. Christophers in May of 1635 aboard the Mathew.
Later settlers included William Cutler (Pennsylvania 1844), Kasper H. Cutler (New Orleans 1853), and S.M. and J.A. Cutler (San Francisco 1860). One of the earliest Canadian settlers bearing this name was Anthony Cutler, who settled in Shefford Tonwship, Quebec in 1782 and was associated with Captain John Savage.
Mottoes
The Cutler family motto is Labor Omnia vincit, meaning "Perseverance overcomes all difficulties).  Interestingly, this motto is also borne by the Brown, Chaplin, Daniel, McNair, Prattman, and Eddington families.
Grantees
Later people bearing this surname that bore the arms: 1) Cutler, of the North, by Dalton Norroy, 2) Sir John, Knight and Baronet, 27 March 1693 by T.S. St. George, Gart. And Clar., 3) John of London, lately of Falthwaite, Yorks, 26 April 1585, by Cooke, 4) Nicholas, of Eye, Suffolk, coat and crest, Barkers' grants, and 5) Robert, of Ipswich, confirmed 21 July 1612 by Camden.
Notables
Famous people with this last name include: 1) Manasseh Cutler (1742-1823) who was an American clergyman involved in the American Revolution and is considered to be the father of Ohio University, 2) John Christopher Cutler (1846-1929) who was the second Governor of Utah and a Republican, 3) Augusus William Cutler (1827-1897) who was a lawyer and politician from the state of New Jersey, and 4) James Goold Cutler (1848-1927) who was a prominent businessman from Rochester, NY who invented the mail chute.
Blazons & Genealogy Notes
1) (Lechlade, co. Gloucester). Az. three griffins' heads erased or.
2) (Ipswich, co. Suffolk, granted by William Camden, Clarenceux, 21 July, 1612). (Chantey, co. Suffolk). Or, three bends sa. over all a lion ramp. gu. Crest—A demi lion gu. holding a Danish axe, the staff gold and head ar.
3) (Eye, co. Suffolk). Quarterly, 1st and 4th, ar. three dragons' heads erased vert; 2nd, ar. three eel spears erect, two and one, sa.; 3rd, gu. on a chev. betw. three fleurs-de-lis ar. as many morions sa.
4) (Suffolk). Az. three dragons' heads erased or, langued gu. Crest—A dragon's head erased or, ducally gorged gu.
5) (Suffolk). Az. on a fesse cotised or, betw. three dragons' heads erased of the second a cock and two doves volant gu.
6) (Westminster, granted 27 March, 1693). Az. three dragons' heads erased or, a chief ar. Crest—A dragon's head erased az. gorged with a mural coronet or, holding in the mouth a laurel branch vert.
7) (Bloherby, co. Leicester. Visit. Leicester, 1619). Ar. three dragons' heads erased gu. Crest—A dragon's head erased gu.
8) (Stainbrough Hall, co. York, descended from John Cutler, Standard Bearer during the War of the Roses, temp. Henry VI.). 9) (Sidmouth, co. Devon, descended from Stainbrough). (Upton, co. Devon, descended from Stainbrough). Az. three dragons' heads erased within a bordure or. Crest—A wivern's head erased or, ducally collared az.