Dalby Family Crest, Coat of Arms and Name History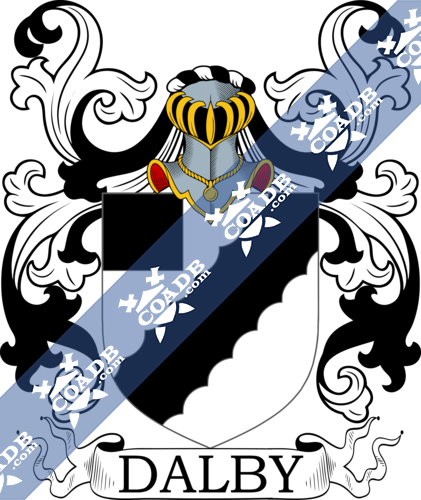 Dalby Coat of Arms Gallery
Don't know which Coat of Arms is yours?
We can do a genealogical research. Find out the exact history of your family!
Learn More
Dalby Origin:
England
Origins of Dalby:
This interesting name is of Old Norse origin and is a geographical surname acquiring from any one of the places called Dalby, in Lincolnshire, near Spilsby in Leicestershire near Melton Mowbray, and in North Yorkshire near Terrington. All three places were noted in the Domesday Book of 1086 as "Dalbi," and all give the similar meaning and origin, which is "the farm in the Dale," from the Old Norse "dalr," which means valley, with "byr," which means farm, village. The surname first appeared most regularly in Yorkshire, and therefore perhaps acquires originally from Dalby in that division. The geographical surname was mostly derived by those old residents of a place who had shifted to another place and were best recognized by the name of their original home. The new surname can appear as Dalby, Dalbey, Daulby, and the obviously Norman form D' Aulby. According to the documentations of the name in Yorkshire is that of the naming of Thomas Dalby, son of Richard, at Brandesburton, in May 1585.
Variations:
More common variations are: Daulby, Dalbey, Dahlby, Dalbay, Dalboy, Dalbye, Dealby, Dalhby, Dualby, Dalaby.
England:
The origins of the surname Dalby appeared in Lancashire where people held a family seat from old times. Someone say better before the invasion of Normans and the entrance of Duke William at Hastings 1066 A.D.
The very first recording spelling of the family was shown to be that of Matthew de Dalbi, dated about 1160, in the "Documents relating to the Danelaw," Huntingdonshire. It was during the time of King Henry II who was known to be the "The Builder of Churches," dated 1154-1189. The origin of surnames during this period became a necessity with the introduction of personal taxation. It came to be known as Poll Tax in England. Surnames all over the country began to develop, with unique and shocking spelling varietions of the original one.
Ireland:
Many of the people with surname Dalby had moved to Ireland during the 17th century.
United States of America:
Individuals with the surname Dalby landed in the United States in three different centuries respectively in the 17th, 18th, and 19th. Some of the people with the name Dalby who arrived in the United States in the 17th century included William Dalby, who landed in Virginia in 1622. Ann Dalby, who landed in Maryland in 1675. John Dalby settled in Virginia in 1679. Thomas Dalby landed in Maryland in 1684.
People with the surname Dalby who landed in the United States in the 18th century included Susan Dalby settled in Maryland in 1736.
The following century saw much more Dalby surnames arrive. Some of the people with the name Dalby who arrived in the United States in the 19th century included Joseph Dalby, who arrived in New York in 1837.
Australia:
Some of the individuals with the surname Dalby who landed in Australia in the 19th century included Catherine Dalby arrived in South Australia in 1853 aboard the ship "William Stuart."
New-Zealand:
Some of the population with the surname Dalby who arrived in New Zealand in the 19th century included H Dalby landed in New Plymouth, New Zealand in 1841 aboard the ship Amelia Thompson.
Here is the population distribution of the last name Dalby: England 3,393; United States 2,003; Denmark 915; Australia 730; France 502; Canada 473; Norway 466; Philippines 258; South Africa 237; Scotland 197.
Notable People:
Amy Dalby is a British actress.
Andrew Dalby was a Culinary author.
Andy Dalby is a famous guitarist.
Dave Dalby was an NFL football player.
Chris Dalby was a political writer.
David Dalby was a British scholar and creator of Linguasphere Observatory.
Graham Dalby is a British Band Leader of The London Swing Orchestra.
Greg Dalby was an American soccer player.
Liza Dalby was an American anthropologist and author.
Mark Dalby (1938–2013), was a British Anglican Archdeacon.
Martin Dalby is a Scottish writer.
Nicolas Dalby was a Danish mixed military artist.
Robert Dalby was an English saint.
Blazons & Genealogy Notes
1) (Castle Donnington, co. Leicester, settled there for several centuries). (co. Warwick). Barry wavy of six or and gu. Crest—A demi griffin segreant ppr. Motto—In Deo spero.
2) Same Arms. Crest—A demi Hercules, lion's skin and club issuing from the wreath.
3) (Exton, co. Rutland; Roger, son of William Flower, Sheriff of Rutland, 10 Richard II., m. Katherine, dau. and co-heir of William Daleye. Her. Visit. 1618). Ar. a bend engr. and a canton sa.
4) Gu. a chev. erm. betw. three round buckles or.
5) Az. a chief and bordure or.
6) Ar. two chevs. engr. and a canton sa.