Dale Family Crest, Coat of Arms and Name History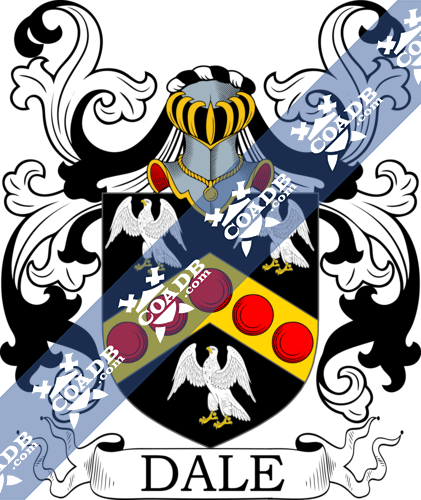 Dale Coat of Arms Gallery
Don't know which Coat of Arms is yours?
We can do a genealogical research. Find out the exact history of your family!
Learn More
the areas of Renfrewshire, Lanarkshire, and in Ayrshire counties.
United States of America:
Within the United States of America, those who bear the surname of Dale can be found throughout the country. The original bearers of the surname of Dale settled in the states of New York, Massachusetts, Pennsylvania, Ohio, Illinois, Texas, Virginia, Maryland and in the state of Tennessee.
Here is the population distribution of the last name Dale: United States 35,655; England 17,585; Australia 6,512; India 5,355; Canada 4,475; Norway 3,443; South Africa 2,940; Philippines 2,449; Brazil 1,828; New Zealand 1,366
Notable People:
Alan Dale (1925-2002) who was a singer of both traditional popular music, and rock and roll music who hailed from the United States of America
James Badge Dale (born in 1978) who is an actor who is most notably recognized for his portrayal of Chase Edmund in the 3rd season of the American television series 24, which spanned 8 seasons, who was born in the United States of America
Shana Dale (born in 1964) who is a lawyer who served as the Deputy Administrator of the National Aeronautics and Space Administration (NASA) from the year 2005 to the year 2009, and who was a politician from the United States of America
Alan Hugh Dale (born in 1947) who is an actor from the country of New Zealand
Cynthia Dale (born in 1961) who is a stage performer and TV actress from the country of Canada
Sir Henry Hallet Dale OM, GBE, PRS (1875-1968) who was a pharmacologist from the country of England
Jim Dale MBE (born in 1935) who was an actor, singer, songwriter, and voice artist from the country of England
Blazons & Genealogy Notes
1) (Brentwood, co. Essex). Sa. on a chev. or, betw. three hawks rising ar. beaked, legged, and belled of the second, five torteaux.
2) (London, and co. Northampton, 1613). Gu. on a mount vert a swan ar. membered and ducally gorged or. Crest—On a chapeau gu. turned up erm. a heron ar. beaked, legged, and ducally gorged or.
3) (cos. Northumberland and York). Gu. a swan, wings expanded ar. Crest—A stork ppr.
4) (co. Rutland; confirmed 1602). Paly of six ar. and gu. on a chief az. three garbs or. Crest—Three Danish battle-axes erect, handles or, headed ar. enfiled with a chaplet of roses gold.
5) (co. Surrey). Ar. on a bend sa. three hinds pass. or.
6) Ar. two lions pass. in pale az.
7) (Fun. Ent. Ulster's Off. Matthew Dale, of Greenwood Hail, parish of Stoke, co. Essex, d. 5 May, 1614, buried in St. Andrew's Church, Dublin). Ar. on a bend sa. three talbots (another, wolves) courant of the field, armed and langued gu. Crest—A naked arm embowed, holding a sword bendways ppr.
8) (Glanvilles-Wotton House, co. Dorset). Az. three buglehorns. Crest—A garb ppr.
9) Ar. three pallets gu.
10) (David Dale, Esq., of Darlington, co. Durham). Az. a swan ar. betw. four bezants saltirewise. Crest—In front of two eagles' heads erased and addorsed ppr. an escutcheon az. charged with a bezant.
11) (Bristowe; Henry Dale of that place, John Dale, citizen of London, and Mathew Dale, a judge in Guildhall, in 1612, sons of Mathew Dale, the son of William Dale, of Bristow. Her. Visit.). Sa. on a chev. or, betw. three cranes rising ar. seven torteaux.