David Family Crest, Coat of Arms and Name History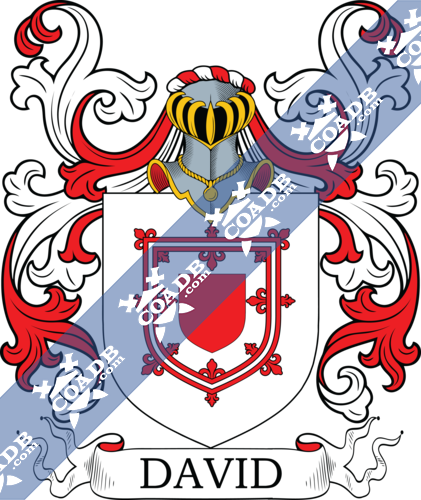 David Coat of Arms Gallery
Don't know which Coat of Arms is yours?
We can do a genealogical research. Find out the exact history of your family!
Learn More
David Origin:
French, Jewish, Welsh, Italian
Origins of Name:
The first use of the David surname can be traced back to King David, the second king of the United Kingdom of Israel. In Hebrew the name translates to "beloved". One of the most prominent biblical stories is David famously defeating Goliath. The surname entered Europe during the middle ages and increased in popularity during the crusades of the 11th and 12th centuries throughout England, Scotland, and Wales. After each military campaign to save the Holy Land for Christianity, soldiers who returned to Britain would ceremoniously give their children biblical names. The patron saint of Wales, King David I of Scotland and King David II bore the name which increased the surname's popularity further.
Variations:
There are more than 100 different spellings of the surname David that are found throughout Europe. After hundreds of years, each country has continued to deviate and create its own version of the surname.
More common variations are:
Daffy, Dave, Davey, Daffyd, Dafydd, Dai, Davi, Davide, Davidson, Davidde, Davie, Daviel, Davis, Daven, Davon, Davy, Davies, Davin, Davyd, Davydd and Davyn
History:
England
The David surname began in England in Cheshire, near the Border of Wales. One of the first known records of the name in England is that of Robert David in 1278. As time passed, the surname spread throughout all of England, Scotland, and Wales. It is the 42nd most common surname in England. The highest concentration of the surname David can be found in London.
Wales
Although beginning in England, the name spread in popularity in Wales prior to England and Scotland. This can be attributed to the fact of a saint and prince bearing the surname. Due to record taking based mainly on phonetics, the spelling of the surname David varies greatly in Wales, where the Celtic language Welsh was spoken. Improper record taking combined with the unique Welsh language created numerous variations as the names were later interpreted to English. The last independent ruler of Wales, Dafydd ap Gryffydd was condemmed to death for high treason against King Edward I of England in 1283. Saint David, a Welsh bishop during the 6th century and later a saint is the patron saint of Wales.
The David surname is the 307th most common name in Great Britain. The highest concentration of the surname David can be found in Glamorgan, Aberdeen City, and Angus.
Scotland
A royal name which King David I and King David II shared. One of the earliest surnames recorded in Scotland.
Italy
A surprisingly common surname in Sicily. Dating as far back as 1490, a Jewish doctor is documented as living in Messina, Sicily. In 1719, priest Don Michele Angelo David lived in Capo Passero, Sicily. The surname David is also found in the Puglia region.
America
34,000 people share the surname David in the United States, making it the 873rd most popular surname in the country.
During the first decade of the 20th century, the majority of people with the surname David could be found in Texas, Louisiana, Illinois, Michigan, Pennsylvania, and New York.
David Today:
280,000 in Nigeria
65,000 in France
65,000 in Brazil
60,000 in the United States
50,000 in Uganda
Notable People:
Jacques-Louis David (1748) French painter
Felicien David (1810) French composer
Gerard David (1455) Dutch painter
Pierre Jean David (1788) French sculptor
Ferdinand David (1810) German composer
Dickie David (1879) Welsh rugby player
Stuart David (1969) Scottish musician
Larry David (1947) American comedian, writer
Craig David (1981) American musician
Blazons & Genealogy Notes
1) Notes: (North Wales; confirmed 20 April, 1581). Blazon: Gu. on a bend ar. a lion pass. sa. Crest—A lion's head erased, quarterly, ar. and sa.
2) Notes: None. Blazon: Ar. an inescutcheon gu. within a double tressure flory counterflory of the second.
3) Notes: None. Blazon: Az. a ship in full sail or, on a chief ar. three cinquefoils gu. Crest—A lamb pass. ar. in the mouth a sprig vert, fructed gu.
4) Notes: (Fairwater House, Cardiff). Motto—Pax et copia. Blazon: Az. a ship in full sail, on a chief ar. a garb betw. two cinquefoils all gu. Crest—A dove with an olive branch in the mouth ppr.
5) Notes: None. Blazon: Ar. two bars gu. on each three crosses crosslet or.
6) Notes: None. Blazon: Barry of six gu. and ar. in chief three crosses crosslet or.
7) Notes: None. Blazon: Ar. a cross pattee az.