Davidson Family Crest, Coat of Arms and Name History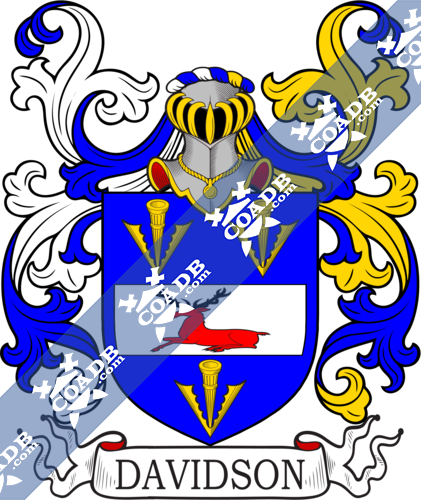 Davidson Coat of Arms Gallery
Don't know which Coat of Arms is yours?
We can do a genealogical research. Find out the exact history of your family!
Learn More
This is a baptismal name meaning the "son of David", with David being an ancient Jewish personal name, meaning beloved. King David, King of Israel from 102-970 BC, was one of the most famous figures in the Holy Bible. The more popular patronymic found today is Davis or Davies, which derives from the nickname Davy. The surname is most frequently found in Aberdeen, Scotland, but rarer in the north, and it is also prevalent in Durham, England. The Swedish equivalent is Davidsson and the Danish/Norwegian version is Davidsen.
Early notables in Europe include Dauid Walschman , David et Alicia, and Dauyd Bene, all recorded in 1379 AD. Early marriages include Maurice David and to Sarah Ivatt in 1578 AD in London. Another early notable was Johannes filius Davidis, a merchant in Perth, recored in 1219 AD.
Primary source documents recorded numerous marriages between people with this surname. A one Mary Hill married Joseph G. Davidson in 1808. Eliza Elder married Thomas F. Davidson in 1844. William Linn married Arabella Davidson in 1866. Annie Murray (born 1761) married Samuel Davidson. Rosanna Blaine  Robinson married John Davidson in 1821, and Elizabeth Rutherford married William Davidson (and moved to Illinois) and had three sons, John, Andrew, and William, as well as three daughters.
Another early notable is Sir Robert Davidson, provost of Aberdeen who was slain in the Battle of Harlaw in 1411 AD, is still recognized and remember today as a Scottish hero. He is buried in Saint Nicholas Churchyard.
Bernard Burke's "The Landed Gentry" mentions three lineages: Davidson of Cantray (lineage tracing back to Sir David Davidson of Cantray, Inverness who was born in 1788), Davidson of Inchmarlo (John Davidson of Tillichetly and Desswood who married Anne Farquharson in 1770), and Davidson of Tulloch Castle (a branch of this family served in France during the 1600s). Burke mentions many notables bearing this surname, including, but not limited to: Duncan Davidson of Tulloch Castle (1800-1839) who married Elizabeth Diana, the oldest daughter of the 3rd Lord MacDonald and Patrick Davidson (born in 1809) who married Mary Anne in 1836, who was the eldest daughter of William Leslie of Warthill.
The Genealogical Guide to the Early Settlers of America mentions two notables. Nicholas Davidson was born in Dingwall Castle in 1580 AD and moved to Lynn, Englad, where he had his son Nicholas Davidson in 1605. His son settled near Charleston, Massachusetts in 1611 and later married Joan Hodges. Another notable in the New World was William Davidson, who was granted a license to dig for gold and metals in Jamaica by King Charles II.
Clan Davidson is a Highland Scottish Clan seated at Tulloch Castle. There are three competing theories of the clans origins. The first is that they descended from the sons of Gilliecattan Mhor, chief of the Clan Chattan in the eleventh and twelfth centuries. Another theory is that the Davidsons descended from the younger son of Muroach. The third theory is that the family descended from David Dubh of Clan Cumming. A notable clan member in the New World was Brigadier General William Lee Davidson (1746-1781) from North Carolina who served in the American Revolution and died at the Battle of Cowan's Ford. The clan's plant badge is Boxwood or Red Whorttleberry, and their pipe music is Failte Thighearna Thulaich.
The family motto is sapienter si sincere, which means "Wisely if sincerely".
Blazons & Genealogy Notes
1) (Cairnbrogie, Scotland). Az. on a fesse humettee ar. betw. three pheons or, a buck couchant gu. attired sa.
2) (Curriehill, Scotland, bart. 1661). Az. on a fesse ar. betw. three pheons or, a buck couchant gu. attired sa. Crest—A youth, from the middle, holding in the dexter hand a man's heart all ppr. Motto—Sapienter, si sincere.
3) (Halltree, Scotland). Az. on a fess wavy or, betw. three pheons ar. a buck couchant gu. attired sa. Crest and Motto, as Curriehill.
4) (Cantray, co. Inverness). As Curriehill within a bordure or. Crest—A dexter hand holding a heart ppr. Motto—Sapienter, si sincere.
5) (Muirhouse, co. Edinburgh). Az. on a chev. or, betw. two stars in chief and a pheon in base ar. a fleur-de-lis gu. Crest—A phoenix in flames ppr. Supporters—Two griffins ppr. Motto—Viget in cinere virtus.
6) (North Wales; confirmed 12 June, 1586). Gu. a stag trippant or.
7) (London; confirmed by Wm. Cooke, Clarenceux, 1575). Ar. a stag trippant ppr. attired or. Crest—A stag courant or, shot through the neck with an arrow ar.
8) (granted to David Meyer Davidson, Esq., James Street, Westminster). Az. a stag lodged ar. in the mouth an acorn slipped or, betw. four pheons, two and two, of the last. Crest—Upon a mount vert a dove, wings elevated az. in the beak two ears of corn and the dexter foot resting on a pheon or. Motto—Per angusta ad augusta.