Davila Family Crest, Coat of Arms and Name History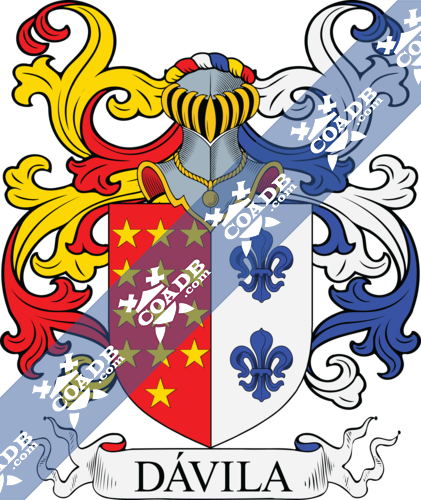 Davila Coat of Arms Gallery
Don't know which Coat of Arms is yours?
We can do a genealogical research. Find out the exact history of your family!
Learn More
Surname Meaning, Origin, and Etymology
The surname Davila is original from Spain during the middle ages and it has a close relation with the surname Avila because they both can be considered as a spelling variation of the other. This phenomenon happened thanks to their nature, they both are local surnames that were used by people that lived or owned lands in the city of Avila. After it was taken for its first bearers, it was passed from father to children.
Davila also has deep roots in the Spanish region of Galicia and also in the other Iberian country, Portugal. Actually, in Galician and Portuguese, Davila has another possible origin, although it remains its local character. Davila would mean "from town or a village" because in those languages that phrase was pronounced like "de la villa (vila)" and with the pass of time it became "da vila". The surname was very popular in Castile and the first record of a bearer talks about Don Gómez Dávila, Sixth Lord of San Román, Velada, and Guadamora, who received the title of Marquis by King Felipe II on October 30, 1557.
Local surnames were one kind of surname that was most used in the Medieval Age, thanks to its ease of being assigned. However, they have the feature that not all of its bearers belong to the same family because they didn't have to be related to receiving this last name, they only needed to be from the city of Avila or to be marked as someone "from a village" by their new neighbors.
Spelling Variations
During the middle era in Europe, it was common that a single surname count on many spelling variations that with the pass of the years, will lead to new surnames. To understand why this happened it is necessary to remember that in that time, there weren't the grammatical rules that we have today, so there was not an exact right way to write the words. The consequence of this was that many people write their names and surnames differently because they didn't count on a proper guide. There were other factors like the mix of languages, wrong translations and the evolution of languages. In the particular case of Davila, there is also the fact that this surname had spelling variations on Spanish and Portuguese.
The Spanish spelling variations are Avila, de Avila, Avilés, Aviles, Dávila, Davila, Dávilla and many others. Dávila and Davila are considered two different variations because of the accent mark that plays a key role in Spanish to distinguish words. The Portuguese spelling variations of Davila are D'Avila, Da Villa, D'Avilla, Devilla, Davilla, De Villa, Avila, Avilla, Villa and many others. They are the same variations that of Avila, because of their shared origin.
Popularity & Geographic Distribution
In current times Davila had a very low popularity, actually, according to the census of 2014 it holds the 1,132nd position in the ranking of popularity of the surnames and it only has approximately 468,676 bearers in the whole world. The biggest amount of bearers of Davila is located in Mexico, the second biggest amount in Peru and the third in Venezuela. The highest density of Davila is in Nicaragua.
Early Bearers of the Surname
Even when nowadays Davila is not a popular surname, there are some records of old bearers such as Don Diego Velázquez Dávila y Bracamonte who was made Count of Uceda in 1581, this title later change into Marquis of Loriana in 1599 and it was held for Juan Velázquez Dávila y Guzmán, Enrique Dávila Guzmán y Toledo who became the Marquis of Povar on February 16, 1612, Bartolomé Benito Dávila y Flórez who was made Count of Gil by King Carlos II on June 4, 1696, this same King also made Count of Villamarta-Dávila to García Dávila y Ponce de León on December 11, 1699 and Jerónimo Dávila who was made Marquis of Graniña by King Felipe V on July 18, 1714.
History, Genealogy, and Ancestry
There are not many records about the genealogy of the surname Davila, but there is one that starts with Sebastián Rodríguez Dávila that it was well written. Sebastián Rodríguez Dávila got married to Pabla Cianca and had one child, Francisco Rodríguez Dávila who was born in Valdivia, Chile and got married to María Juana de Vargas Valladares, daughter of Francisco de Vargas Valladares and Ana Sarmiento Sotomayor on June 10, 1648. They had two children, Juana Rodríguez Dávila y Vargas Valladres who got married to Sebastián Pavón in 1678 and José Rodríguez Dávila y Vargas Valladares who got married to Juana Luisa Cabrera.
José Rodríguez Dávila y Vargas Valladares and Juana Luisa Cabrera had seven children, they were Sebastián Dávila y Cabrera who became a priest, José Dávila y Cabrera, María Dávila y Cabrera, Juana Dávila y Cabrera, Miguel Dávila y Cabrera, Ignacia Dávila y Cabrera and Francisco Dávila y Cabrera who got married to María Alfaro y Gómez Pardo, daughter of José de Alfaro Ortega and Margarita Gómez Pardo y Alvarado Castillo. The children of Francisco Dávila and María Alfaro were José Santos Dávila y Alfaro, Gregoria Dávila y Alfaro, José Dávila y Alfaro and Francisco (Rodríguez) Dávila y Alfaro.
Early American and New World Settlers
Some of the first bearers of Davila in coming to America from Europe were Francisco Dávila who landed in America in 1512, Alonso Dávila who arrived in Veragua in 1535, Marcos Dávila who landed in Río de la Plata, Argentina in 1535, Joseph Davila who arrived in New Orleans in 1779, Antonio Davila who landed in America in 1812, Juan Davila who landed in America in 1813 and Isabel Davila who arrived in America in 1817.
Mottoes
We were unable to locate any documented mottoes for the Davila family.
Grantees
We were unable to locate any documented grantees for the Davila family.
Notables
Some of the most remarkable bearers of Davila were Antonio Dávila y Osorio (1615-1689) a Spanish military and politician, Guillermo Dávila (b. 1955) an actor and singer from Venezuela, Luis Dávila (1927-1998) an Argentinian actor, Ricardo Dávila (b. 1974) a Mexican filmmaker, Nicolas Gómez Dávila (1913-1994) who was a writer and politician from Colombia, Virgilio Dávila Cabrera (1869-1943) a Puerto Rican poet and Raúl Dávila (1931-2006) an American actor.
To receive a complete surname meaning report by PDF you can order our SURNAME MEANING PACKAGE for $129.   This report is great to share with family and friends.  It includes everything you see above plus any other information we can find on the specified surname.  It does take approximately 10 to 15 days for us to complete this custom report.
To receive a direct lineage & coat of arms search for your specific line(s) you can order one of our GENEALOGY PACKAGES ranging in price from $249 to $999.   All research is completed by a professional genealogist with over 30 years' experience.  All reports and coat of arms files are sent by email in PDF and JPG format.
Blazons & Genealogy Notes
1) Los Avila, traen: Escudo partido: 1º, en campo de gules, trece estrellas, de oro, y 2º, en campo de plata, dos lises, de azur, puestas en palo. (Source: http://www.blasonari.net/apellido.php?id=109) English: Per pale: 1st – Gules thirteen mullets or – 3, 3, 3, 3 and 1; 2nd – Argent two fleur-de-lis azure arranged in pale.
2) Las de Pedro de Avila, que estuvo en el sitio de Burriana, con el rey don Jaime I de Aragón, trae: En campo de gules, una tao o cruz de San Antón, de azur, perfilada de oro. English: Gules a cross tau Azure, fimbriated Or.
3) Las de don Sancho Dávila y los descendientes que dejó en el Grao (Valencia), traen: En campo de oro, seis roeles, de azur. English: Or six hurts – 2, 2 and 2.
4) Los que también de Valencia proceden del caballero Alonso de Ávila, traen: En campo de azur, un león rampante, de oro. English: Azure a lion rampant Or.
5) Algunos tratadistas afirman que las primitivas de los Dávila fueron: En campo de oro, trece roeles de azur, puestos en tres palos. Estas armas constan en la silla del Patrono, de la Iglesia de San Martín, de la anteiglesia de Zamudio, de la Merindad de Uribe (Vizcaya); en la Casa de Aprobación de la ciudad de Salamanca, y en la Casa Palacio de los Marqueses de Cardeñosa, en la ciudad de Zamora. English: Or thirteen hurts – 3, 3, 3, 3 and 1.
6) Los Marqueses de Velada, Navamorcuende y Albaserrada, traen: En campo de azur, seis roeles, de oro puestos en dos palos de a tres. Azure six bezants – 2, 2 and 2.
7) Los de Castilla, según Francisco Fernández de Béthencourt, traen: En campo de azur, trece bezantes, de oro, puestos tres, tres, tres, tres y uno. English: Az thirteen bezants – 3, 3, 3, 3 and 1.
8) Otros Dávila, traen: En campo de azur, tres castillos, de oro, puestos en faja. English: Azure three castles tripple towered Or, arranged in fess.
9) Otros Dávila, traen: En campo de oro, un árbol de sinople, acostado de dos águilas, de sable y sobre el todo, trece roeles, de azur, puestos en palo, seis, seis y uno en punta. English: Or a tree couped vert, between two eagles displayed sable, over all thirteen hurts – 2, 2, 2, 2, 2, 2 and 1 in base.
10) Un'aquila nera in campo d'oro con una sega a traverso nelle mani. (Source: http://www.heraldrysinstitute.com/cognomi/Davila/Italia/idc/820538/lang/en/) English: Or an eagle displayed sable, its feet traversed by a saw.
11) Arms of Álvaro Dávila. Nacimiento: 1370 – Lugar. 1435 – Lugar. Padres: Nombres de ambos padres
Esposa: Nombre de esposa. Hijos: Leonor Sanchez De Alvarado (nacida De Bracamonte) y nombre de un hijo más. English: Or a tree eradicated proper, between two eagles displayed Sable; Crest: An eagle displayed sable.