Davison Family Crest, Coat of Arms and Name History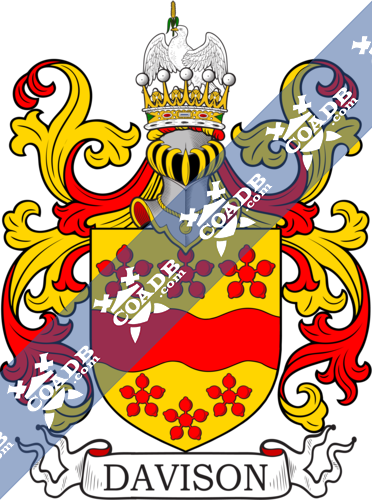 Davison Coat of Arms Gallery
Don't know which Coat of Arms is yours?
We can do a genealogical research. Find out the exact history of your family!
Learn More
Surname Meaning, Origin, and Etymology
Davison is a surname original from Scotland during the 15th century. As it can be clearly seen thanks to the suffix "son", this is a patronymic name, which means it is derived from the name of the father. In this case, the Davison, comes from the personal name David, meaning that way "son of David". David is a Hebrew personal name that means "beloved". Patronymic names were very popular across whole Europe, and it was one of the earliest forms of last names. Just like what happens with any other surname of this kind, not all the bearers of Davison are related to each other, because the only thing necessary to receive this surname, is that at some point, there were a man named David in the family, so his children began to use the surname and then, it would be passed from them to the next generation.
David was a very popular personal name in the Europe, after the Crusades to recover the Holy Land of the 12th century. After this conflict, the soldiers who returned home from the war started the Christian tradition of naming their children after biblical figures, in this case, it was King David of Israel, who fought many wars to add new territories to his reign. In Wales, there was the bishop Saint David, who became the Saint Patron of that nation and many fathers named their sons after him, in fact, there were two Welsh kings with that name King David I (1124-1153) and King David II (1329-1371). Because of this reason, the surname Davison had a good popularity in the old continent during the middle age.
The surname Davison was first used in Scotland by the Picts who arrived from Brittany. The most ancient seat of this family was located in the region of Invernahaven in Badenoch, Scotland and the first bearer ever recorded was Thomas Davyson in1327 who appears in the Subsidy Rolls of Yorkshire in England, during the reign of the King Edward III, who held this title from 1327 until 1377. Davison share its origin, etymology and even its first seat with the surname Davidson, which is another patronymic surname derived from David, and it was also popular in Scotland.
Spelling Variations
Davison is a surname that is not exempt of spelling variations, and in its particular case, there are good reasons to have them. Several Scottish names and surnames that were translated from Gaelic to English, were converted in an inaccurate way, which led to many derived forms of the patronymic surname. There was also the proper evolution of the languages, which also caused some changes in the surnames and also in worlds in general. Another reason was the mix of languages like in this case, Gaelic and English.
The lack of grammatical rules in the languages of that time also caused spelling variations, because there wasn't a correct of writing and the scribes had to write words according to their sound, if each one of them heard them differently, they were going to write them differently. Finally, some branches of the family with the same surname used to add some suffixes or prefixes to the surnames to show their religion or to whom they were loyal. Thanks to all of this, the spelling variations of Davison were: Davidson, Davisint, Davisyn, Debison, Dawysone, Dawyson, Davysone, Davyson, Davitson, Dawysown, Davisoun, Davisend, Davidsone, Daveysone, Daveyson, Dauyson, Dawysume, Dauysum.
Popularity & Geographic Distribution
Davison is a surname that doesn't count on a big popularity in the world of today. According to the census of 2014, it is the 8,484th most common surname in the world and it has approximately 63,753 bearers. They country with the biggest amount of bearers of Davison is the United States, followed by England with the second biggest amount and Australia in the third post of this ranking. Davison has its highest density in Guernsey.
Early Bearers of the Surname
There are few records that show some old bearers of the surname Davison, such as John Davideson, who can be found in "A Descriptive Catalogue of Ancient Deeds" in Warwickshire in 1350, George Davison who got married to Jane Hinksley in 1599 at Saint James in Clerkenwell, London and Alice Davison who lived in James City, Virginia on February 16, 1623 according to some documents.
History, Genealogy, and Ancestry
The surname Davison has been carried by several families, given that it is a patronymic last name and it has many different branches that are not connected at all. There are good records that show the genealogy of these lines. One of them is the branch that started with Nicholas Davison, who was born in 1611 in the city of Lynn, a city in the county of Essex in England. He got married to Joan Hedges, daughter of William Hedges in 1629. Nicholas died in 1664 in Suffolk, but no without living a child, Daniel Davison, who was born in 1630 in Ipswich, Essex. He got married to Margaret Low, daughter of Thomas Low and Margaret Todd on April 8, 1657, in Ipswich. Their children were Eliza Davison, Thomas Davison, John Davison, Margaret Davison, Sarah Davison, Daniel Davison, William Davison, Peter Davison and Dorcas Davison.
According to the records only two children of the children Daniel Davison had offspring, Eliza Davison who got married to Andrew Wininger, son of Phillip Wininger and Matilda Ann Collins, and had a son named James Peter Wininger and Thomas Davison who got married to Hanna Tracy, daughter of Jonathan Tracy and Mary Jewett on November 18, 1695 in Preston, New England. The children of Thomas and Hannah were Jonathan Davison, Margaret Davison, Thomas Davison Jr., John Davison, Christopher Davison, Hanna Davison and Samuel Davison. Thomas Davison Sr. then died on December 2, 1724, in Preston, New England.
Not all of the children of Thomas Davison had offspring. But the ones that did were Jonathan Davis who was born on August 1697 in Ipswich and got married to Keziah Parke, daughter of Robert Parke and Mary Rose on November 3, 1720, in Preston. Their children were Kezia Davison, Jonathan Davison Jr., Thomas Davison, Hezekiah Davison, Mary Davison, Hanna Davison, Cyprian Davison and Margery Davison. Jonathan Davison died in 1752 in Preston. The second child of Thomas Davison in having children was Thomas Davison Jr. who was born on January 30, 1702, in Preston and got married to Lydia Herrick, daughter of Stephen Herrick and Elizabeth Trask on August 31, 1726, in Preston and their children were Andrew Davison, Zephaniah Davison, and Asa Davison. Then Thomas Davison Jr. died on February 2, 1784, in Horton, Nova Scotia.
The third child of Thomas Davison in having children was John Davison, who was born on January 23, 1708, in Preston, he got married to Elizabeth Babcock, daughter of James Babcock Jr. and Sarah Vose, on February 5, 1736, in North Stonington, New England. Their children were Lucy Davison, Sarah Davison, Nathaniel Davison, Elizabeth Davison, John Davison, Timothy Davison, James Davison, Christopher Davison and Grace Davison. Then, John Davison died on September 1799 in Falmouth, Nova Scotia. The last child of Thomas Davison in having children was Hannah Davison, who was born on February 23, 1711, in Preston and got married to Jedediah Williams, son of Charles Williams and Hannah Geer on September 9, 1731, in Preston. Their children were Benaijah Williams, Joseph Williams, Jesse Williams Jedidiah Williams Jr. Nathan Williams, Hannah Williams, Molly Williams, Eunice Williams, Lydia Williams and Samuel Williams. Then Hannah died in 1758.
The record of this family continued with the sons of Thomas Davison Jr, the first one was Andrew Davison, who was born on June 17, 1727, in Preston, New England. He got married to Eunice Kimball, in 1729 and their children were Thomas Davison, Anna Sarah Davison, Andrew Davison, Eunice Davison, Asa Davison, Mercy Ann Davison, John Davison, Nathan Davison, Sabra Davison and Daniel Davison. Then, Andrew Davison died on February 15, 1784, in Canada.
Then there is Zephaniah Davison, who was born on March 5, 1729, in Norwich, New London. He got married Susannah Durkee, daughter of Elizabeth Ford with and an unknown man, on July 16, 1752. They had three children, Thomas Davison, Elizabeth Davison and John Davison. Then, Zephaniah Davison died on April 17, 1793, in Canada. The last child of Thomas Davison Jr. in having children was Asa Davison, who was born on September 1, 1756, in Norwich, New London. He got married to Sarah Pride and then had a son together, Ezra Davison on August 12, 1765, in Nova Scotia, Canada. Asa Davison died on January 29, 1831, in New York.
Early American and New World Settlers
Once the Europeans found out about America after the first voyage of Christopher Columbus, many of them decided to do their own travel to the new continent and looking for a new life. When they arrived they brought their cultures and their surnames, and it was like this that the last names of Europe, started to be used in the America. Some of the first bearers of Davison in arriving in the United States in the 17th century were Alice Davison, who arrived in Jamestown in 1624, that same year Christopher Davison landed in Virginia, then it was the chance of Tho Davison, who arrived in Maryland in 1637, John Davison landed in Virginia in 1642 and Nicholas Davison arrived in New England in 1648.
During the next century, more bearers of Davison landed in the United States, such as James Davison, Samuel Davison, William Davison and John Davison, who landed in Augusta County, VA in 1740 and Benjamin Davison who landed in Boston in 1764. In the 19th century other bearers of Davison also did their travel to the United States like Eliza Davison, James Davison and Robert Davison who landed in America in 1805, Pima Davison who arrived in New York in 1812, and Christ Davison who also did it but in 1816.
Canada was also among the favorites destiny for some bearers of Davison and some of them arrived at this country in the 18th century such as James Davison, John Davison, Jonathan Davison, Cyprian Davison and Samuel Davison who arrived in Nova Scotia in 1760. At the next century, others bearers of Davison did their own voyage to Canada like Robert Davison and Mary Ann Davison who arrived in Quebec in 1815, Joseph Davison who landed in Nova Scotia in 1829 and Solomon Wright who arrived in Canada during 1840.
Mottoes
Mottoes were used by families to express something about themselves like their religion, their code of conduct, their rules of honor and to whom they were loyal. Sometimes they included this phrases in the coat of arms of the family. In the case of the surname Davison, we were only able to find one single motto, which is "Merses profundo puchrior evenit" which can be translated into English like "sink him in the sea he comes out fairer".
Grantees
The only grantee that we could find of Davison, is actually a spelling variation, this is Sir Alexander Davyson of Newcastle-upon-Tyne in Northum in 1631.
Notables
Some of the bearers of Davison who have played a key role in different fields are Aidan Davison (b. 1968) a football player from the north of Ireland, Alex Davison (b. 1979) a racing driver from Australia, Gerald Davison (b. 1939) an American psychologist, John Davison (1870-1927) a British politician and Member of the Parliament, Gerard "Jock" Davison (1967-2015) an Irish who was a Provisional Commander of the IRA, Liam Davison (1957-2014) an Australian author, Peter Davison (1928-2004) an American poet, Wild Bill Davison (1906-1989) an American jazz cornet player, Rosanna Davison (b. 1984) an Irish model who was Miss World in 2003, Thomas Davison (1794-1824) a British journalist and printer, Bryce Davison (b. 1986) a Canadian pair skater who won the national championship on three occasions, Sir Ronald Keith Davison (1920-1951) a jurist from New Zealand, who was the 10th Chief Justice of New Zealand from 1978 until 1989 and Frederick Trubee Davison (1896-1976) a American CIA Director of Personnel.
Blazons & Genealogy Notes
1) (Newcastle-on-Tyne). (Pierepoint, near Farnham, Surrey). Or, a fesse wavy betw. six cinquefoils gu. Crest—On an earl's coronet or, a dove rising ar. holding in the beak a wheat stalk, bladed and eared, all ppr.
2) (Lanton and Swarland, co. Northumberland). Same Arms and Crest, a crescent for diff. Motto—Merses profundo pulchrior evenit.
3) (Brandhall, co. Salop). Sa. three garbs or, on a. canton ar. a martlet gu. Crest—An eagle displ. ar. collared gu. holding in the beak an ear of wheat or.
4) Gu. a stag trippant or. Crest—A stag's head couped betw. two wings endorsed or.